Meghan Markle and Chrissy Teigen actually have a whole lot in common. They're both very famous, attract a lot of fans and enemies, and every single move they make is noted and reported on by the press.
They've also both experienced miscarriages and generously shared their stories publicly. Markle wrote an op-ed about her experience in the New York Times, discussing how important it is to be public about loss.
"Losing a child means carrying an almost unbearable grief, experienced by many but talked about by few," she wrote. "In the pain of our loss, my husband and I discovered that in a room of 100 women, 10 to 20 of them will have suffered from miscarriage. Yet despite the staggering commonality of this pain, the conversation remains taboo, riddled with (unwarranted) shame, and perpetuating a cycle of solitary mourning."
Similarly, Chrissy Teigen was extremely open about her loss and the ongoing challenge of recovering from her grief after she lost her son Jack:
On Sunday night, Meghan Markle and Prince Harry were interviewed by Oprah Winfrey, and they discussed how Markle had been subjected to racist harassment and scrutiny which she believes is fueled by the Royal Family itself:
It's a harrowing story and a lot of people felt sympathy for what the couple was going through because of their connection to the British monarchy.
Chrissy Teigen seemed to feel especially disgusted with the tabloid media continuing to harass Markle.
She tweeted, "this meghan markle sh-t is hitting too close to home for me. these people won't stop until she miscarries. f–king stop it."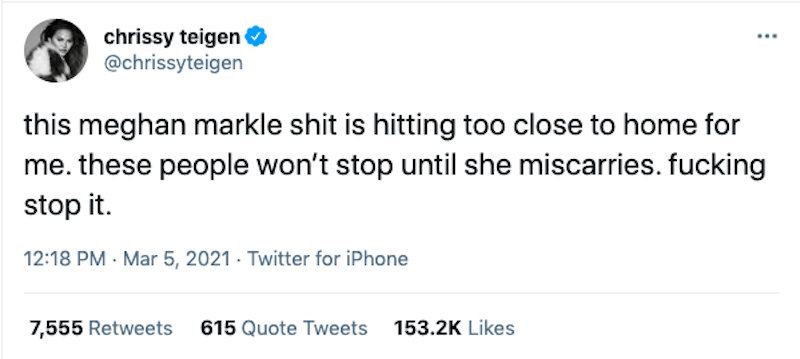 A directive from Chrissy Teigen might not be noted by the UK media, but it is probably comforting for Meghan Markle to know she has someone who can understand what she is going through.