Tiger King is the docuseries that keeps on throwing twists and turns at us even long after we've finally turned Netflix off and tried to process all the insanity that we just witnessed.
And the latest post-series reveal to throw fans a curveball is that one of Joe Exotic's ex-husbands now claims they were never actually married.
By all accounts, Joe married John Finlay and Travis Maldonado in a three-way ceremony back in 2014.
You can even watch the video up on YouTube.
But same-sex marriage wasn't actually legal across the United States until a year later.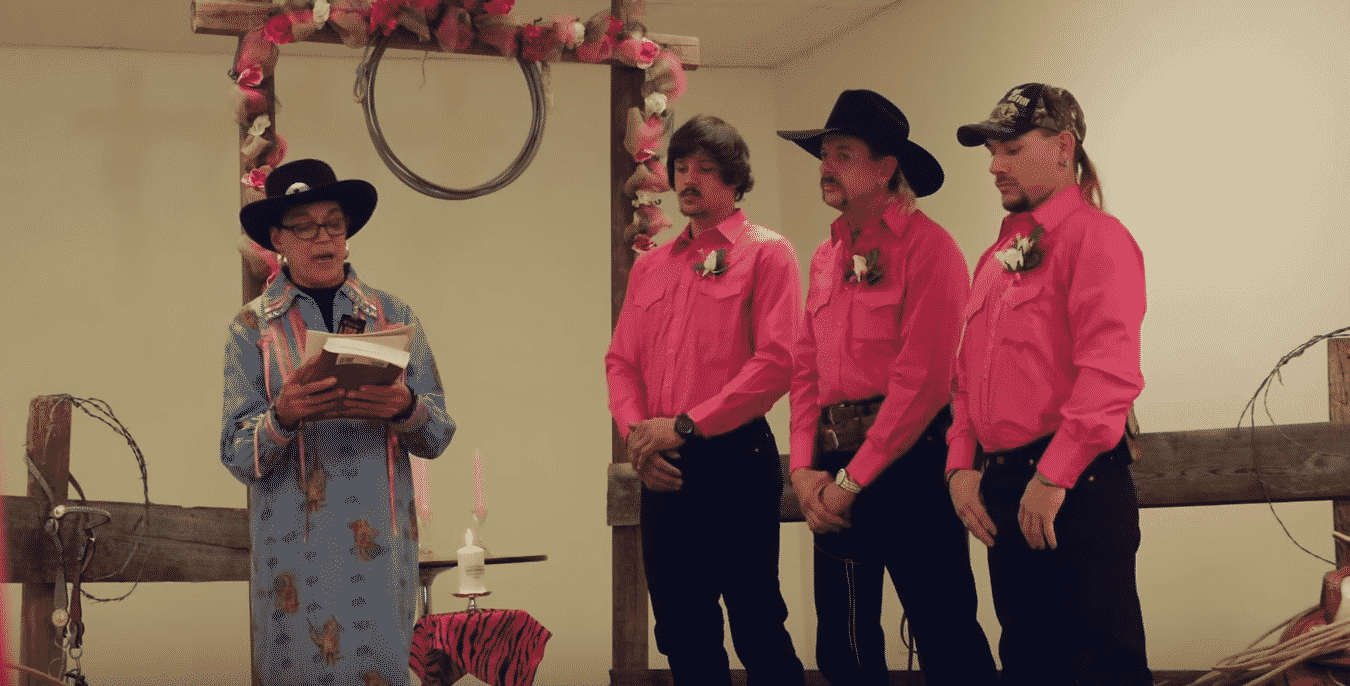 The Supreme Court's ruling in Obergefell v. Hodges officially legalized same-sex marriage in June 2015. Joe and Travis reportedly made their marriage official at that time, but John was already long gone in pursuit of a woman he had gotten pregnant.
There's alot of crazy in #TigerKing but why is no one talking about how Joe's husband John left him for his secretary after he knocked her up & Joe's other husband Travis shot himself in the head & 2 months later Joe remarried again & invited his dead husbands mom to the wedding?

— Macenzie Seymour (@MacenzieSeymour) March 27, 2020
It kind of feels like a cop-out to claim Joe and John weren't actually married.
They went through the ritual of marriage, and it was only because the United States hadn't given everyone equal rights yet that this is even being called into question.
Although viewers have certainly spent a lot of time debating whether either of Joe's husbands was actually gay or bisexual at all, as both claimed at various points to be straight.
Joe Exotic coming home to his two straight husbands every night #TigerKing #TigerKingNetflix pic.twitter.com/yJ81sMdMGx

— TB (@__TB____) March 25, 2020
But John is the one who wants it made clear that he wasn't technically ever married to Joe.
"Right now I have a fiancée," he told David Spade in an interview after Tiger King premiered. "But just to clear the record, me and Joe were never legally married. Ever."
Finlay also revealed he didn't end up marrying the woman he left Joe for, either.
"The girl I ran off with, we had a kid, we spent three years together. We never got engaged, never got married, anything like that," he said.
If it hadn't been for Tiger King Joe,
John'd be married a long time ago,
Where's Carol's husband, where did he go?
Where did you come from, Tiger King Joe?

— Thomas John Jaspers (@thomasjohn86) April 1, 2020
If there's one thing we've learned, basically nothing revealed by anyone on this show can surprise us anymore.
TBF, Finlay saying he was never married to Joe Exotic is the 1,273rd most wild thing about #TigerKing

— Courtney Theriault (@cspotweet) April 8, 2020
But please, keep trying. We desperately need the entertainment right now.
More stories about Tiger King: