The fact that sexism is still rampant, especially in Hollywood, isn't news.
Despite the strides women continue to make towards equality, there are still plenty of men out there who believe that the opposite sex exists purely as an accessory for their own lives.
Turns out, even Reuters isn't immune to that. The news organization shared a ridiculously misogynistic tweet about Kirsten Dunst last week that was infuriating but also launched one of the best Twitter memes in recent memory.
It all started when Kirsten Dunst was awarded a well-deserved star on the Hollywood Walk of Fame. Given that her successful career has spanned more than 20 years at this point, I'd say it was high time it happened. However, when Reuters reported on the event, they claimed that Dunst is best known as "Spider-Man's girlfriend."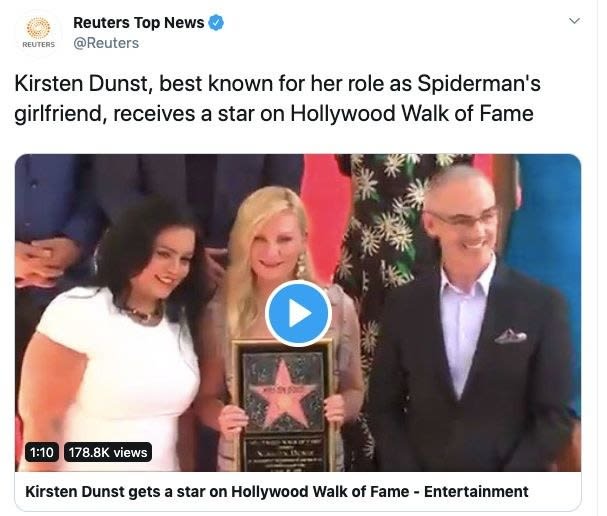 Uh, hold up. First of all, Dunst has had lead roles in everything from Interview with the Vampire and Little Women to Marie Antoinette, Virgin Suicides, Bring It On… I think you get my point.
Appearing as Mary Jane Watson in Spider-Man 3 was but a blip on her radar, so framing this as the pinnacle of her career is not only disrespectful, it's completely misguided.
Thankfully, Reuters was shamed into deleting the tweet and Twitter users responded to their nonsense by creating one of the best, most wholesome memes in recent memory. It highlights all the talents of female actresses as well as their versatility while pointing out just how little credit they receive for their work.
Here are some of the best tweets that popped up because of Reuters' misstep.
1.
kirsten dunst could do once upon a time in hollywood but leonardo dicaprio couldn't do bring it on

— meg zukin (@bymeg) September 1, 2019
2.
meg ryan could do INCEPTION but leo dicaprio couldn't do WHEN HARRY MET SALLY

— jourdain TIFF (@jourdayen) September 1, 2019
3.
rachel weisz could do james bond but daniel craig couldn't do the favourite

— nicole (@chastaen) August 31, 2019
4.
Judy Greer could do Wolf of Wall Street but Leo couldn't do 13 Going on 30

— Caroline Darya Framke (@carolineframke) September 2, 2019
5.
Nicole Kidman could do 'The Shining' but Jack Nicholson couldn't do 'Practical Magic'

— Brittney ✨ (@brittneyplz) September 1, 2019
6.
hilary duff could do inglourious basterds but brad pitt couldn't do cadet kelly

— sam (@filmIesbian) September 1, 2019
7.
nicole kidman could do national treasure but nicolas cage couldn't do moulin rouge

— josy (@josywill19) August 31, 2019
8.
meryl streep could do the wolf of wall street but leonardo dicaprio couldn't do mamma mia

— Jacob Sherer (@JSherer13) August 31, 2019
9.
Megan Fox could do fight club but Brad Pitt couldn't do Jennifer's Body

— Gwyneth Paltrow's assistant (@rihannasgayson) August 31, 2019
10.
lena headey could do walter white but bryan cranston couldn't do cersei lannister

— no one (@_agirlisnoone) September 1, 2019
11.
amy adams could do the godfather but al pacino couldn't do enchanted

— angel (@dykesinfilm) August 31, 2019
12.
anne hathaway could do american psycho but christian bale couldn't do princess diaries

— (@elliepeek) August 31, 2019
13.
Anne Hatheway could do Darkest Hour but Gary Oldman couldn't do Devil Wears Prada.

— Joel Kim Booster (@ihatejoelkim) September 1, 2019
14.
Julie Andrews could do terminator but Arnold Schwarzenegger couldn't do Mary Poppins

— Ag(ony) (@Titbrains) August 31, 2019
More in Tweets: