After Game of Thrones Episode 5, "The Bells," fans were convinced that Cersei and Jaime Lannister died within the walls of the Red Keep after Daenerys' Mad Queen assault on King's Landing.
At the end of the episode, Jaime brings Cersei down to the dungeons of the Red Keep after Tyrion told him of an exit strategy: Tyrion had placed a boat off the beach behind the Red Keep and explained to Jaime that if he moves quick enough, he, Cersei, and their unborn baby could escape and live a life of freedom together.
However, Jaime wasn't quick enough and by the time he and Cersei made their way underground, Drogon had already started destroying the Keep, causing rubble and rocks to completely block the exit.
The last time we see Cersei and Jaime in the episode the ceiling is collapsing on top of them, leading us to believe the twins are buried and killed under all the rubble.
While many people were angry that Jaime's character had gone through seven seasons trying to redeem himself, only to die in Cersei's arms, one Tumblr user, WeedsAreFlowersToo, is convinced that Jaime is still alive. And she brought receipts to prove it.
I swear I'm not an insane person (yet) but LISTEN:
First, she makes a case for the fact that not one cast member from the show has mourned his death yet.
Why isn't ANYONE acknowledging that Jaime Lannister just died??? Why is nobody in the cast thanking Nik for his performance? Why did Pilou and Lena's insta post not say anything about Jaime dying? Why isn't Nik saying anything about what he thinks of the scene? Why did he make a post saying goodbye to Lena, and not to the character he played for 8 years? Why is there no talk of Jaime's death in the game revealed?
In fact, WeedsAreFlowersToo isn't wrong. Nikolaj Coster-Waldau, who plays Jaime, posted a sweet goodbye to Cersei (Lena Headey), but did not get one in return, nor did any other cast member post a goodbye to his character.
Additionally, WeedsAreFlowersToo pointed out that Entertainment Weekly writer James Hibberd has yet to release an interview with Coster-Waldau, like he has with the previous cast members whose characters have died so far in Season 8. Hibberd had done interviews with both Lena Headey and Rory McCann, who played The Hound, but not one with Coster-Waldau. When asked about Coster-Waldau's interview, Hibberd gives a mysterious reply:
She also added:
Apparently James Hibberd also said there was a character he was surprised to see alive in episode 6. I don't think there is any other character at this point that we would be shocked to see alive except Jaime.
And, WeedsAreFlowersToo also pointed out that Gwendoline Christie, who plays Brienne, never mentioned anything about Jaime's death—especially since the two were incredibly close on the show.
Why didn't Gwen say anything about Jaime dying? Nikolaj is one of the person she loved working with the most. Jaime was an incredibly important character for Brienne. Why wouldn't she say anything?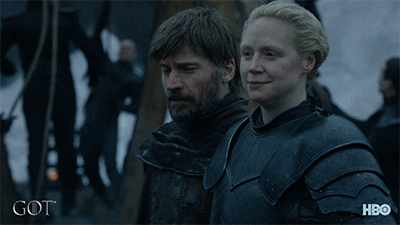 Which, is a pretty fair point. Seeing as Jaime was a huge character on the show and Coster-Waldau was an iconic actor on the series—you would think that the cast would give him a proper goodbye. But, thinking that Jaime (who has one hand and was wounded by Euron) would be able to escape the destruction of the Red Keep is a lot to fathom. I guess we'll have to see on Sunday.
The series finale of Game of Thrones airs on Sunday, May 19th, at 9 P.M. on HBO.