Disney is entering the streaming market in a major way with the release of their new on-demand service. Here's everything on Disney plus (AKA Disney+), including Marvel movies, Disney classics, Star Wars programming, Pixar films, and The Simpsons.
How much does Disney+ cost?
Disney+ costs $6.99 a month after a 7-day free trial period and offers an obscene amount of content for the price, some of which will be available immediately and some of which will be rolled out in the future. Viewers can also choose to bundle Disney+ with Hulu and ESPN+ for $12.99 a month and a savings of around $5 compared to the price of the three separately. All told Disney+'s five major offerings include over 7,500 TV episodes and 500 films, with more on the way.
What's available? Here's everything on Disney+.
Disney+ has an enormous catalog, which includes Pixar and the entire Star Wars and Marvel Cinematic Universes. Disney plans to introduce original episodic content for each of its five major categories, launching with the new Star Wars series The Mandalorian.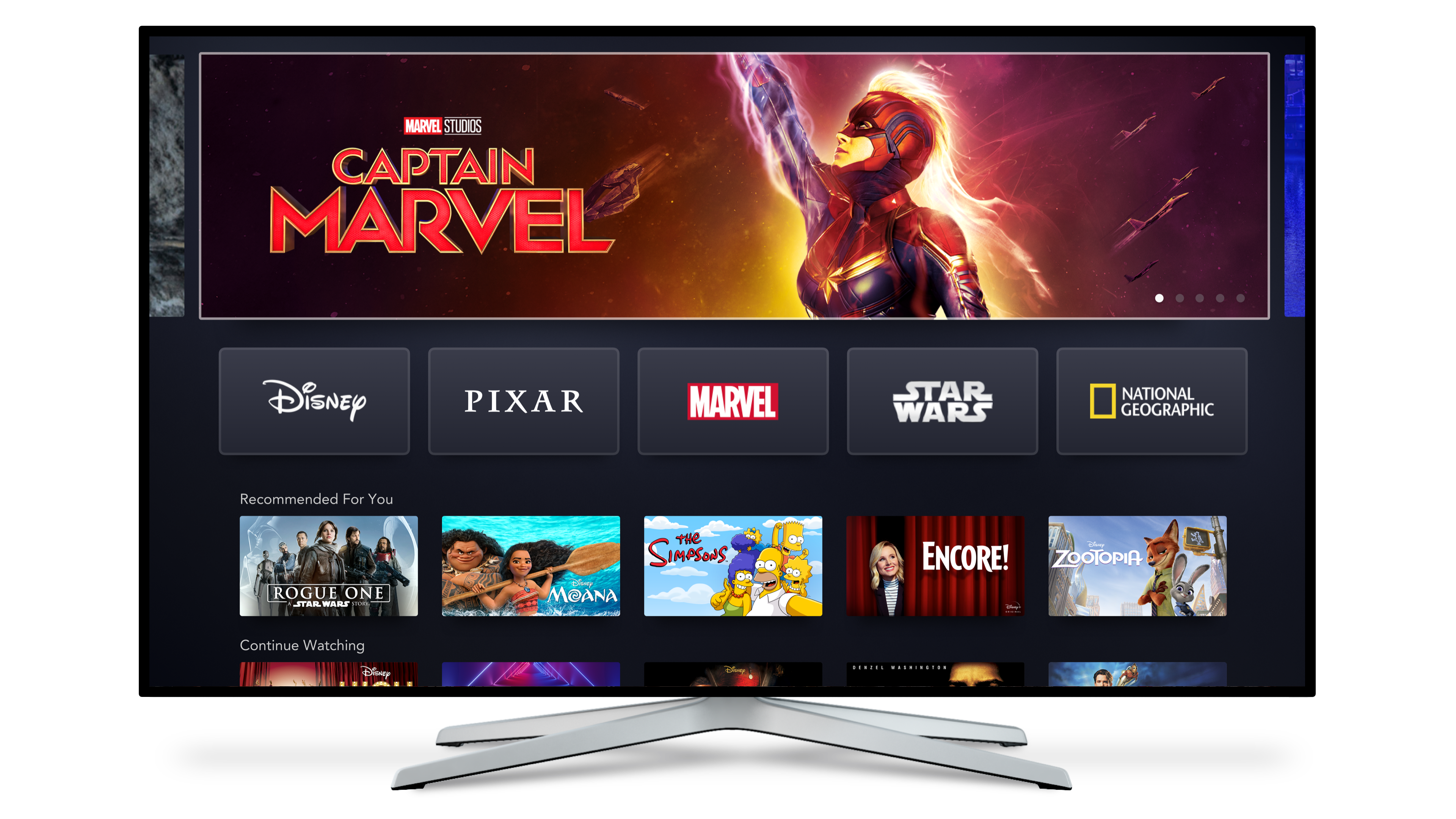 Marvel
With Disney+, viewers will be able to stream Marvel movies such as Captain Marvel, Iron Man, Guardians Of The Galaxy, and Avengers: Endgame from Day 1. They'll also be treated to original spinoff series set in the Marvel universe such as Falcon and the Winter Soldier, Hawkeye, Loki and more. Viewers can even indulge their nostalgia with bygone animated Marvel shows like 1992's X-Men and 1996's The Incredible Hulk.
Star Wars
Star Wars fans will be drooling like Jabba the Hutt when they realize that Disney+ offers viewers complete access to the entire Star Wars pantheon, from classic films like The Empire Strikes Back and Return of the Jedi, to more recent additions like The Force Awakens and Rogue One: A Star Wars Story.
On top of that they can watch a number of Star Wars series from Star Wars: The Clone Wars and Star Wars Rebels to LEGO Star Wars: The New Yoda Chronicles.
Finally, Disney+ subscribers can enjoy the new live-action Star Wars series (and Disney+ exclusive) The Mandalorian.
Pixar
Disney+ is offering a similar combination of beloved Pixar films and new shows, as well as shorts. Pixar classic hits like Toy Story, Up, Wall-E, and Finding Nemo will be available to stream. Newer options include a series called Monsters at Work (a spinoff of Monsters Inc.) and Forky Asks a Question which will see the popular Toy Story 4 character Forky answer life's big questions in a series of Pixar shorts.
National Geographic
For viewers looking to be informed as well as entertained Disney+ will also include a number of National Geographic productions such as Wild Yellowstone, Hidden Kingdom, and Gordon Ramsay: Uncharted.
We see you, Mother Nature. 👀🏞
Take a moment to watch and start your week off on a relaxing note.#DisneyPlus pic.twitter.com/lC6trFd6fd

— Nat Geo Channel (@NatGeoChannel) November 4, 2019
In total Disney says the service will launch with more than 250 hours of NatGeo content, including a show called The World According To Jeff Goldblum in which the eccentric actor travels the world exploring a wide variety of topics.
And of course…Disney!
Before it bought up nearly everything else Disney was, well, Disney and with Disney+ viewers will gain access to all of the company's classic films. That means nostalgic viewers can watch classics from the Disney vault, like Cinderella, The Little Mermaid, or The Jungle Book, and an entirely new generation can see these films for the first time.
There are also a slew of Disney animated series on offer that are hard to find anywhere else like Ducktales, Darkwing Duck, Kim Possible, and TaleSpin in addition to brand new series including a show called Into the Unknown: Making Frozen 2 which will offer a behind-the-scenes look at the animated filmmaking process.
New updates of beloved Disney shows and films have also been announced including a remake of Lady & The Tramp and new takes on series like Lizzie McGuire and High School Musical.
In addition, Disney bought the entire Simpsons catalog so every episode is available.
More stuff for Disney, Marvel, and Star Wars fans: