In the Golden Globe-nominated Marriage Story, Noah Baumbach's new film, we see Scarlett Johansson and Adam Driver as a married couple, mired in tension and seeking a divorce. The film explores the emotional fallout of a failing marriage (with children), the wild legal process and effects of divorce, and the relationship between parent and child. A fist goes through a wall at some point.
After a scene from the movie was released — without context — the Internet exploded. Is Adam Driver overacting? Is the scene realistic? Is this movie too painful for people to watch? Would they get an Oscar?
I liked the fight scene in Marriage Story, because I too have been with a guy who threw a temper tantrum, yelled horrible things in my face, and then cried expecting to be comforted by me 🤷‍♀️

— Sophy Romvari (@SophyRomvari) December 7, 2019
that scene from Marriage Story really is as powerful as everyone says pic.twitter.com/vhaam2VnY5

— brianna "friend of jimmy hoffa" zigler (@briannazigs) December 10, 2019
The Netflix-released movie is garnering tons of chatter and talks of awards, but mostly it made its mark on the Internet for bringing us the perfect material for a meme (which prompts the question: Was this an elaborate social marketing strategy?)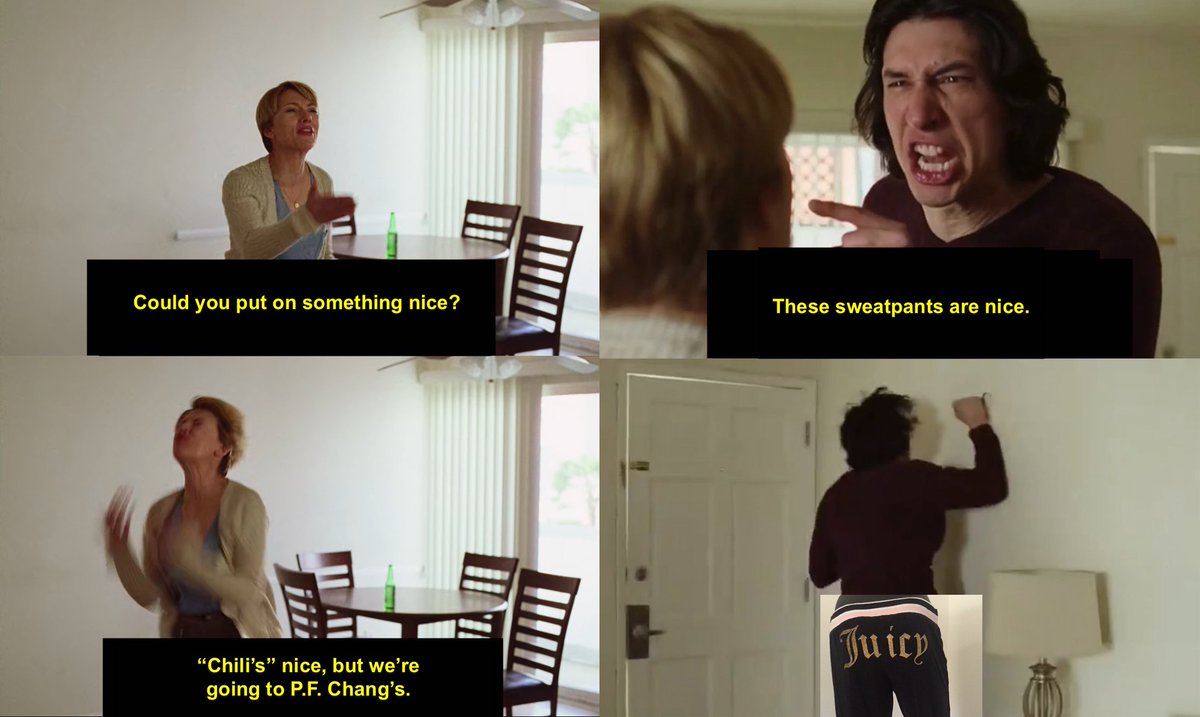 There's also some obligatory cross-breeding between Star Wars and Marriage Story because of course there is.
Well, I saw "Marriage Story" today.#KyloRen #MarriageStory pic.twitter.com/LeUr9jDWR4

— Ꮶǟƈ (@Gabuszkaa) December 7, 2019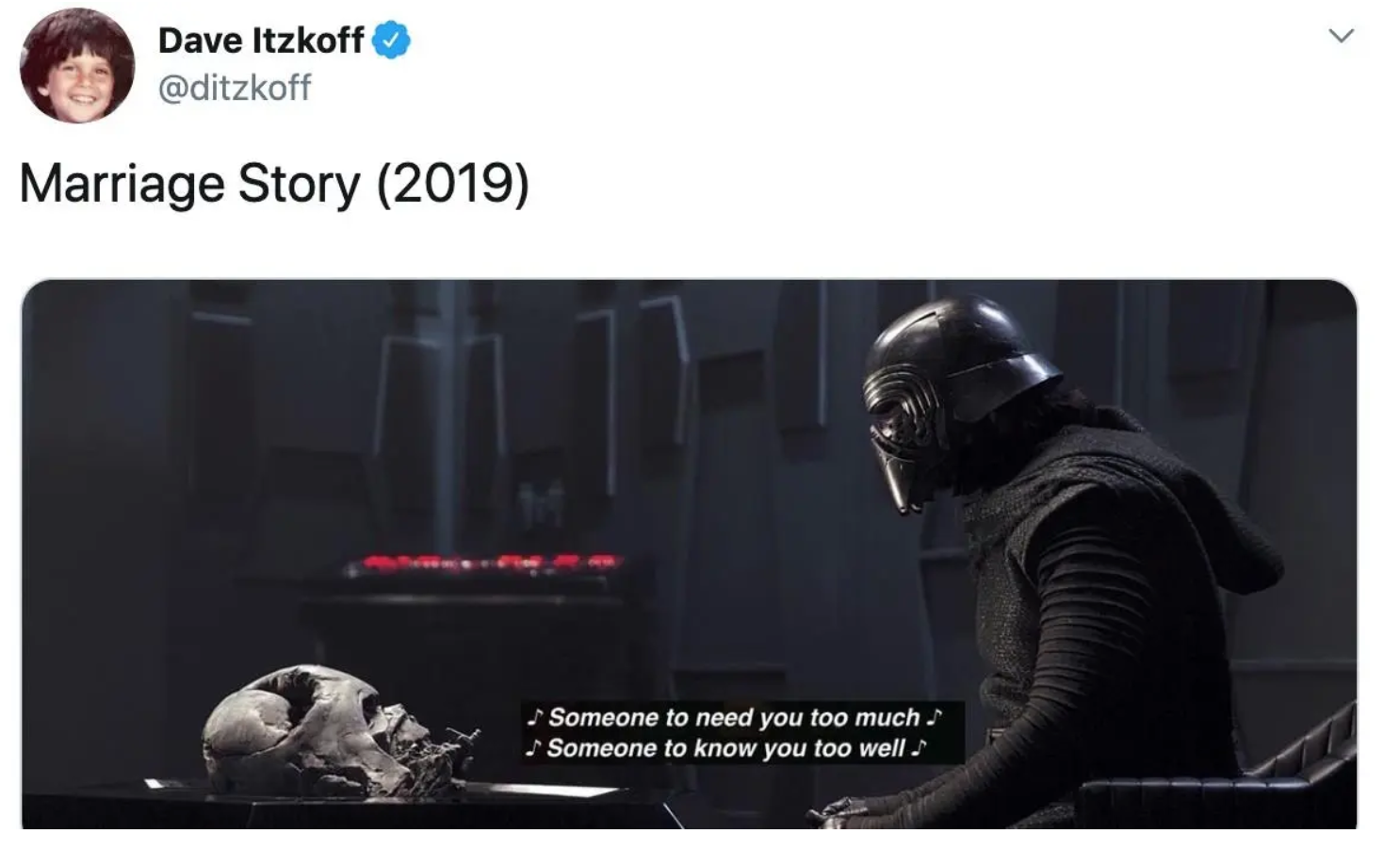 But mostly, people are just using the 'fight scene' template' to meme-ify the Internet because that's where we're at as a species:
1.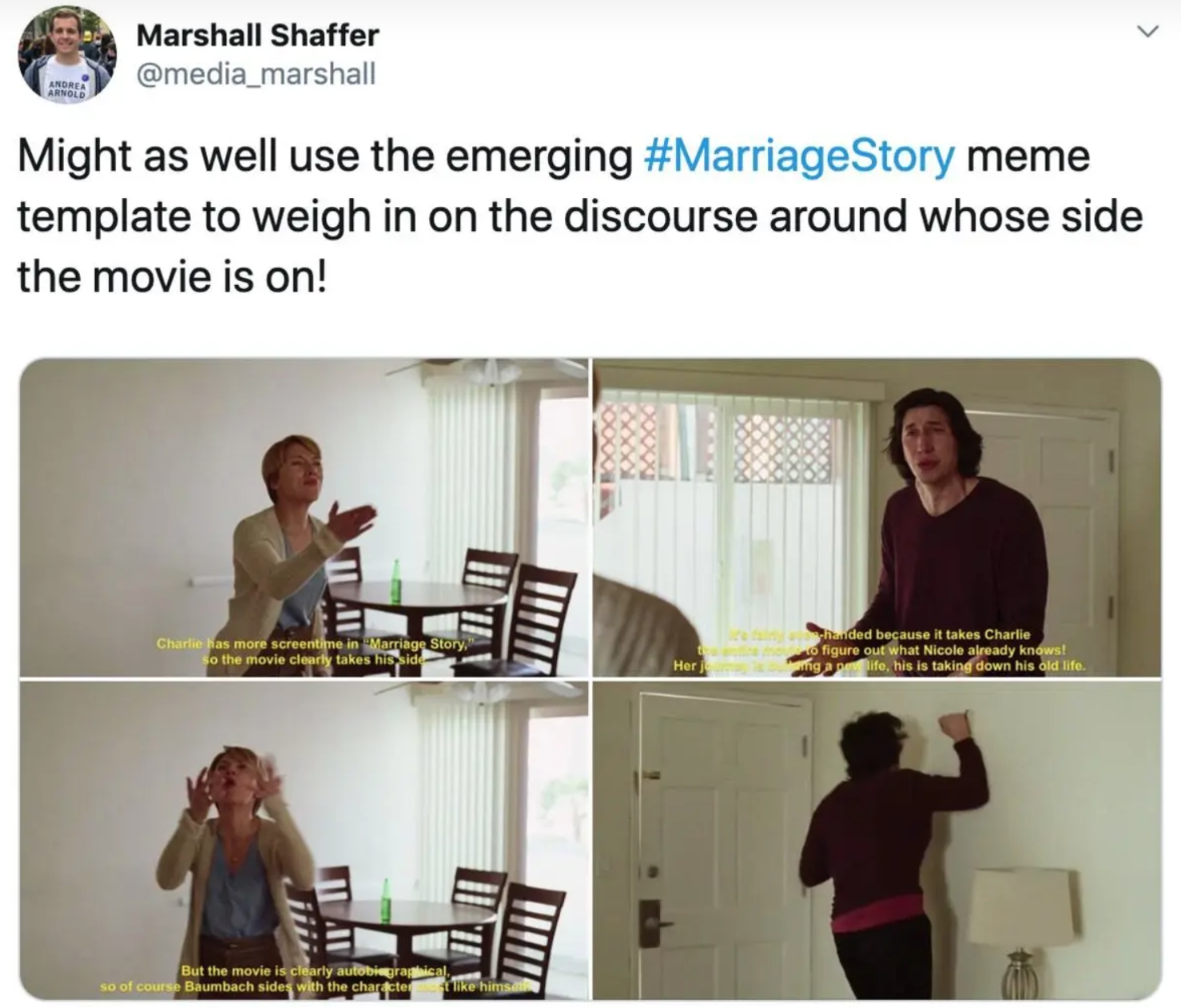 2.
please enjoy my oddly specific advertising industry marriage story meme. i hope you can relate pic.twitter.com/dEZCSzJIor

— taylor rebhan (@trebhan) December 10, 2019
3.
Wow, this movie looks powerful pic.twitter.com/N0wCDarmlh

— Lincoln Michel (@TheLincoln) December 8, 2019
4.
The best meme about Marriage Story. pic.twitter.com/eqT1AnXYAJ

— Piramidal funesta ✍🏼 (@_EdgarVargas_) December 9, 2019
5.
— Mike Trapp (@MikeWTrapp) December 9, 2019
6.
AND WHAT WAS HER SISTER? A PRINCESS, THE WICKED WITCH OF THE EAST BRO pic.twitter.com/h0X169nda0

— olive mcgowen (@olivemcgowen) December 7, 2019
7.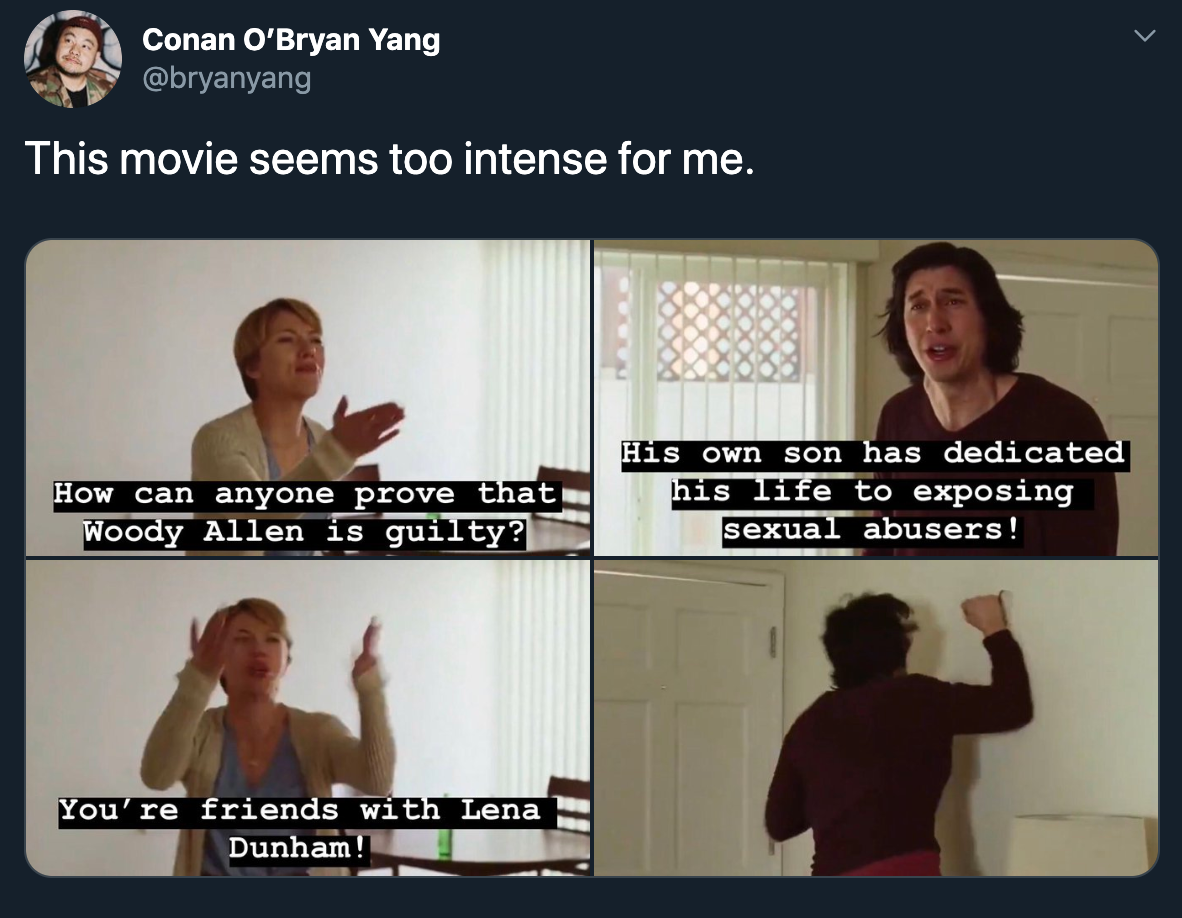 8.
eventually all of adam driver's roles come full circle back to kylo ren pic.twitter.com/npW3sotdr5

— mary goore (@dunwaIl) December 6, 2019
9.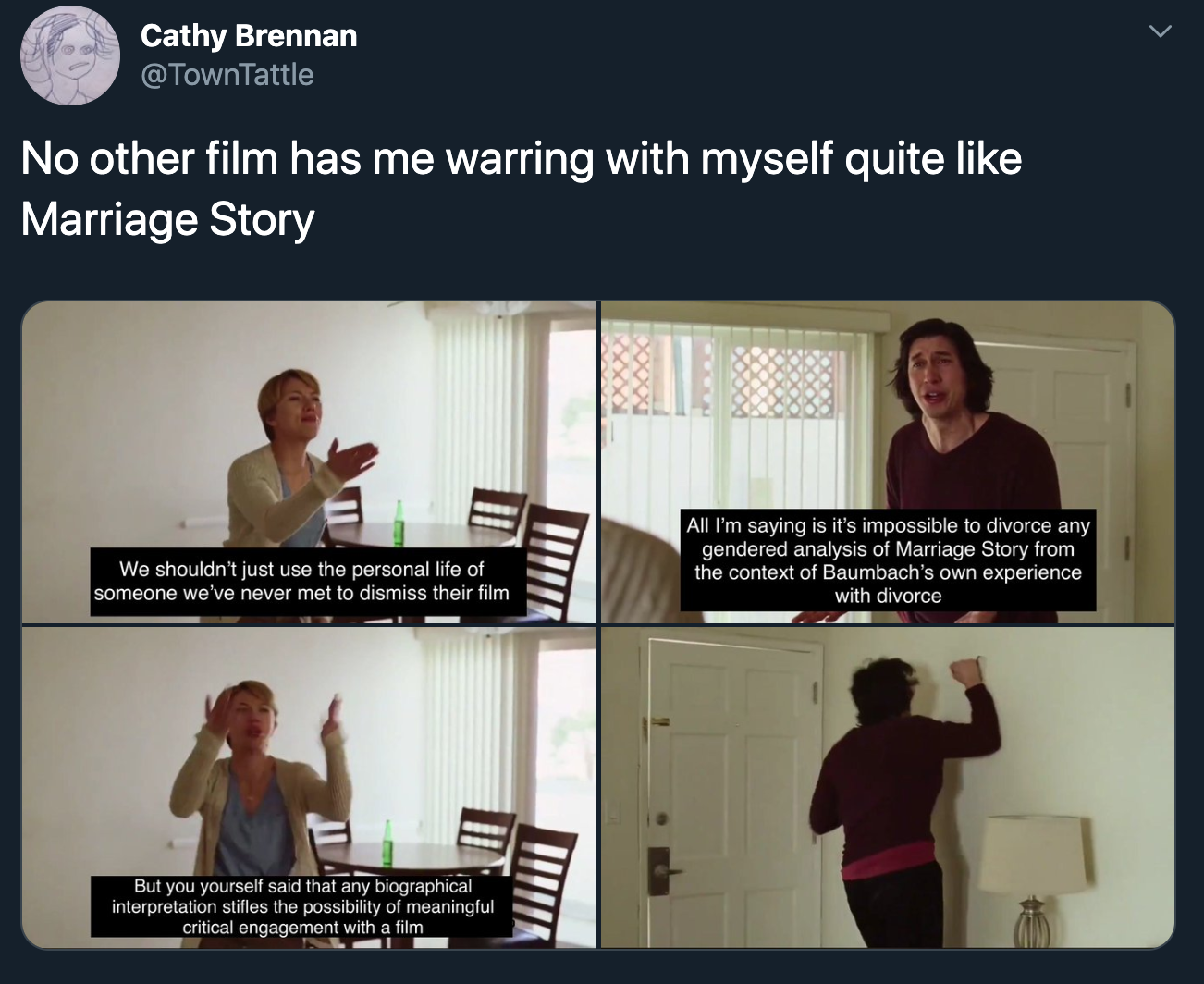 10.
marriage story spoiler without context pic.twitter.com/sTU3MoPTEd

— rachael (@benduartesolo) December 6, 2019