After the longest January in history we are getting ready to begin a brand new month of staying home and binging Netflix. February may be the shortest month of the year but it sure doesn't fall short of new shows and movies to watch.
Netflix just announced it's February new releases and THANK GOD because let's face it, we're all burning through shows like it's our job (since most of us don't have jobs right now anyway).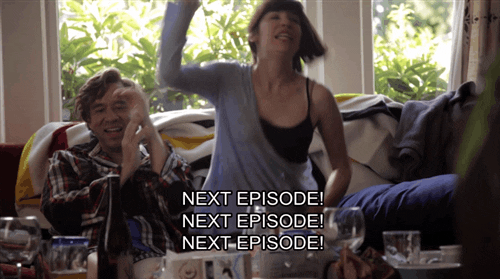 The benevolent Netflix overlords have blessed us with a fresh supply of shows and movies.
Here's what's new on Netflix in February 2021.
---
Firefly Lane (Season 1) – Netflix Original
Tiffany Haddish Presents: They Ready (Season 2) Netflix Original
Heartland (Season 12)
Love Daily (Season 1)
My Dead Ex (Season 1)
The Unsettling (Season 1)
Zac and Mia (Seasons 1 & 2)
The Sinner (Season 3)
Crime Scene: The Vanishing at the Cecil Hotel (Season 1) Netflix Original
Buried by the Bernards (Season 1) Netflix Original
Nadiya Bakes (Season 1)
The Crew (Season 1) Netflix Original
Good Girls (Season 3)
Behind Her Eyes (Season 1) Netflix Original
Hello, Me! (Season 1) Netflix Original
MeatEater (Season 9 part 2) Netflix Original
Thus Spoke Kishibe Rohan (Season 1) Netflix Original
Tribes of Europa (Season 1) Netflix Original
Kid Cosmic (Season 1) Netflix Original
Mighty Express (Season 2) Netflix Original
iCarly (Season 1 & 2)
Canine Intervention – Netflix Original
Ginny & Georgie (Season 1) Netflix Original
Two Sentence Horror Stories (Season 2)
Movies
Malcom & Marie (2021) Netflix Original
My Best Friend's Wedding (1997)
The Patriot (2000)
Inception (2010)
Eat Pray Love (2010)
Beverly Hills Ninja (1997)
The Girl On The Train (2021) Netflix Original
Money Talks (1997)
National Lampoon's Christmas Vacation (1989)
All My Friends Are Dead (2021) Netflix Original
The Bank Job (2008)
Zathura: A Space Adventure (2005)
Strip Down, Rise Up (2021) Netflix Original
War Dogs (2016)
The World We Make (2019)
Middle of Nowhere (2012)
Animals On The Loose – A Your Vs Wild Movie (2021) Netflix Original
No Escape Room (2018)
Heroes: Silence and Rock & Roll (2021)
I Care a Lot (2021) Netflix Original
Operation Finale (2018)
The Conjuring (2013)
The Conjuring 2 (2016)
Brian Regan: On The Rocks (2021)
Made You Look: A True Story About Fake Art (2020)
Pelé (2021) Netflix Original
Captain Fantastic (2016)
No Escape (2015)
Our Idiot Brother (2011)
---
More in Netflix: