Love Is Blind, Netflix's outrageous new Black Mirror-esque dating show, is already a cult favorite. The premise is that people go into "pods" (rooms) and talk to a person on the other side of a vibey blue light wall. They cannot see the other person, they can only hear them. Then guys choose the chicks they want to propose to, they get engaged, and only then do they meet each other for the first time.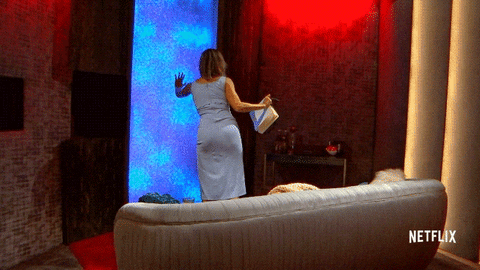 The idea behind the show is somewhat cool: you get to know a person and judge them on their personality rather than their physical appearance. Of course, realistically speaking, getting engaged to someone before you've physically seen them or lived with them is dumb as hell and a recipe for drama. Drama that we are here for.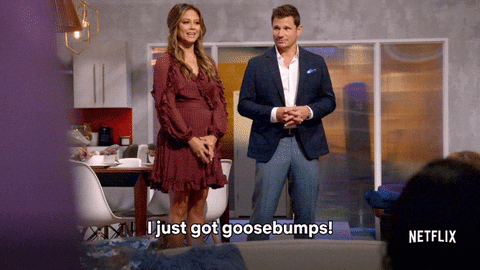 Here are 30 of the funniest "Love Is Blind" tweets from unwilling and obsessed fans across Twitter:
1.
No one:
Absolutely no one:
Every couple, after 2 dates, on Netflix's Love is Blind: pic.twitter.com/ehnGe86Ohi

— Vee Gordon (@VeeGordie) February 13, 2020
2.
I'm excited for people to watch Love Is Blind, legit one of the worst shows I have ever seen. On the pilot, one woman says, "I'm not saying i want to marry Shrek, but if Shrek had a good personality…" which is literally the plot of Shrek.

— Margaret Lyons (@margeincharge) February 13, 2020
3.
The face you make when 24 year old Mark is more mature and emotionally stable than 34 year old Jessica #LoveIsBlind #LoveIsBlindNetflix pic.twitter.com/xG4pGjxTR0

— Car Maximus (@TheCarMaximus) February 15, 2020
4.
i just started that chaotic ass netlifx show "love is blind" first of all its cute that nick lachey was like "obviously im nick lachey" — obvious to whomst sister??

— clarke humphrey (@_clarkekent) February 14, 2020
5.
me when im on Love is Blind in the rafters making sure my partner isnt ugly pic.twitter.com/f68oX2Q7HI

— Ryan (@ryanntweets_) February 17, 2020
6.
#LoveIsBlind #loveisblindnetflix

Jessica: I want to connect with other people.
Mark: ok…
Barnett: I want to connect with other people.
Jessica: pic.twitter.com/pXfqhmTfr1

— shadé (@shadypalmytree) February 15, 2020
7.
Me seeing Lauren introduce her white man to her bonnet#LoveIsBlind #LoveisBlindNetflix pic.twitter.com/WHUKo61fxk

— CeejSocial (@xtraceej) February 14, 2020
8.
I'm sorry but LOOK at Barnettes shoes!!! I don't understand them, love is apparently blind pic.twitter.com/1gna3ZHLUR

— longboi (@Sarah22684186) February 14, 2020
9.
These people on this Love is Blind Netflix show just said "I love you" after speaking to each other 3 times through a wall….. pic.twitter.com/zJZlY6Hp7S

— jess (@whatevkev) February 13, 2020
10.
"Love is Blind" is by far the corniest and most cringe show on Netflix. It's unrealistic and so stupid….
I'll take 3 more seasons please #loveisblindnetflix

— Harrison Potvin (@swimmerboy98) February 14, 2020