In a remarkable instance of Good News, the beloved show Parks and Recreation has announced it will be reuniting the cast for one last episode to air Thursday, April 30th, at 8:30 p.m. ET/PT on NBC, according to Rolling Stone Magazine. And yes, it will likely be conducted over Zoom, since it's supposed to be set in modern times as Leslie Knope tries to check in on all of her friends from the old days as they shelter-in-place.
The Parks and Rec reunion episode will raise money for Feeding America's COVID-19 Response Fund, which is contributing to much-needed food pantries around the U.S.
Next Thursday: an all-new Parks and Rec Special, starring the entire cast + special guests. Written by me, @DaveKingThing, @eeshmu, @meganamram, @jenstatsky, @JoeMande, and Matt Murray. Produced by a lot of people working very hard under impossible circumstances. All for charity. https://t.co/vytYqkc8Hv

— Ken Tremendous (@KenTremendous) April 24, 2020
Parks and Rec always presented a world where good people could turn politics in their favor, or at the very least local politics. Though the series finale did make Leslie Knope the governor of Indiana—so wouldn't she be Donald Trump's Vice President right now? Maybe Pence took office after her, as the pendulum swung back towards conservatism.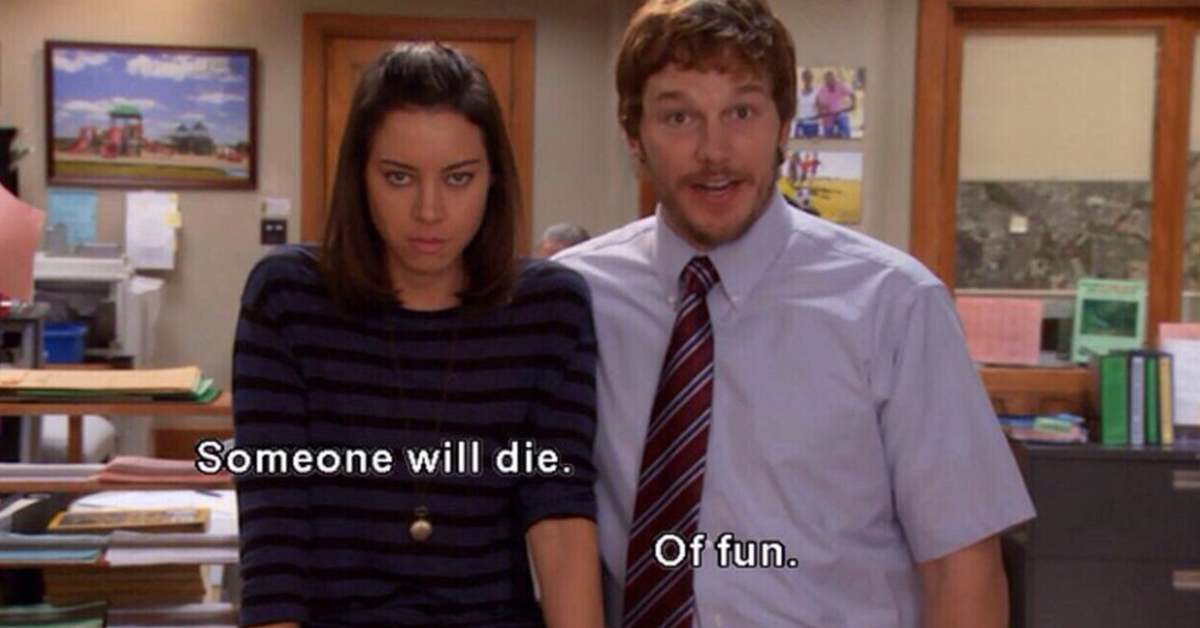 Honestly, the show exists in a much better reality than the one we currently live in, which might be why people are losing their absolute minds over the news:
I gotta say, I'm a bit offended you all think I would JOKE about something like this. Another word for "jokes" is "lies" I do not lie. Therefore, I do not joke.

— ooc parks&rec/ NEW EP APRIL 30TH (@nocontextpawnee) April 24, 2020
WHY WOULD I JOKE ABOUT THIS?????

— ooc parks&rec/ NEW EP APRIL 30TH (@nocontextpawnee) April 24, 2020
one week till parks and rec special
one week till parks and rec special
one week till parks and rec special pic.twitter.com/DDzqYjymbR

— clarice (@barrybIock) April 23, 2020
corona / parks and rec pic.twitter.com/JNkLNv23O2

— tessa thompson emmy campaign manager (@doloresabernthy) April 23, 2020
Parks and Rec fans right now be like: pic.twitter.com/s8w0BWDSux

— Liana Angela Severino (@lianasevvv) April 24, 2020
PARKS AND REC COMING BACK I AM GONNA CRY pic.twitter.com/w40qsfEyOw

— matt (@RealMattGannon) April 23, 2020
Cast members who will appear in the episode are Amy Poehler (obviously), Rashida Jones, Chris Pratt, Nick Offerman, Rob Lowe, Aziz Ansari (interesting), Adam Scott, Aubrey Plaza, Jim O'Heir, and Retta. And apparently Ben Schwartz, unless he's been misinformed:
Not cutting my hair for months has finally paid off. April 30!!! A Parks and Rec special!!! For charity!!! I miss this show so much!!! #ParksAndRec https://t.co/q9T43yZdHh https://t.co/dQxsSkQQpB

— Ben Schwartz (@rejectedjokes) April 23, 2020
A press release also states that "special guest stars from the Pawnee universe may pop in" to the Parks and Rec reunion episode. I hope that means a newscast from Perd Hapley, who would actually be well suited to covering the Trump era.
Parks and Rec creator Mike Schur shared a statement, saying, "Like a lot of other people, we were looking for ways to help, and felt that bringing these characters back for a night could raise some money. I sent a hopeful email to the cast and they all got back to me within 45 minutes. Our old Parks and Rec team has put together one more 30-minute slice of (quarantined) Pawnee life and we hope everyone enjoys it. And donates!"
For thirty minutes of distraction and nostalgia, I'll gladly give to charity.
More TV tweets: