A TikToker's frustrations with a ranch that turned her away for horseback riding escalated dramatically after an employee responded with his own video.
If you haven't happened upon one of her viral videos, Remi Bader, is a 26-year-old plus-size model with more than 2 million followers on TikTok and 400K on Instagram.
Remi (@remibader) says she went out to Deep Hollow Ranch in Montauk but was turned away for weighing over 240 pounds.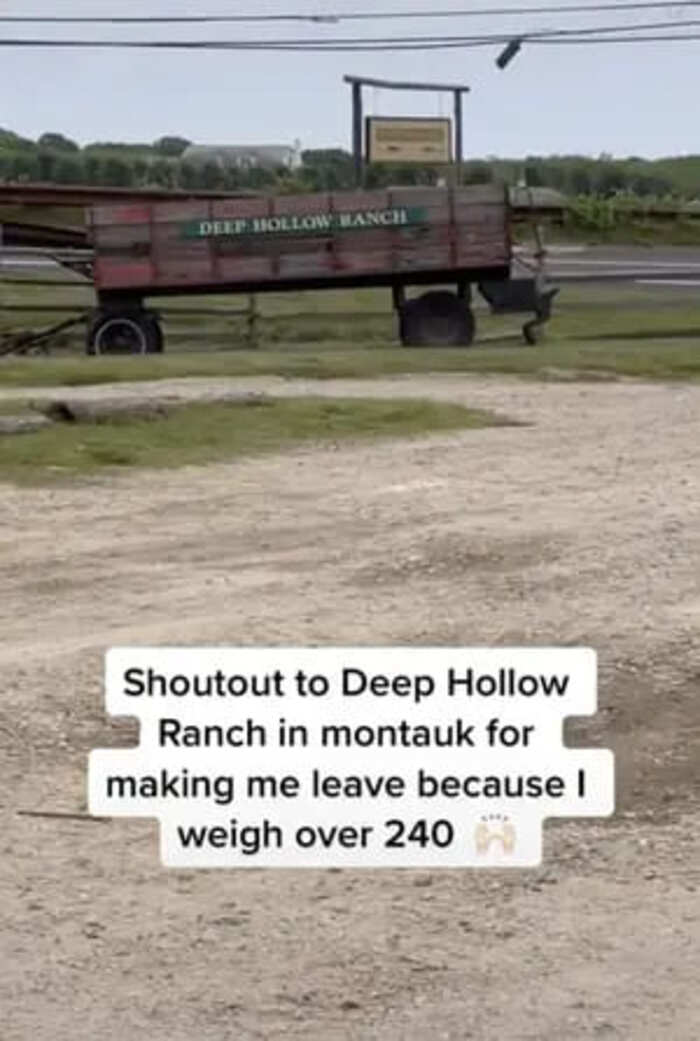 "I've ridden horses before and have never had this issue," she wrote. "Please advertise this on your signs for the future."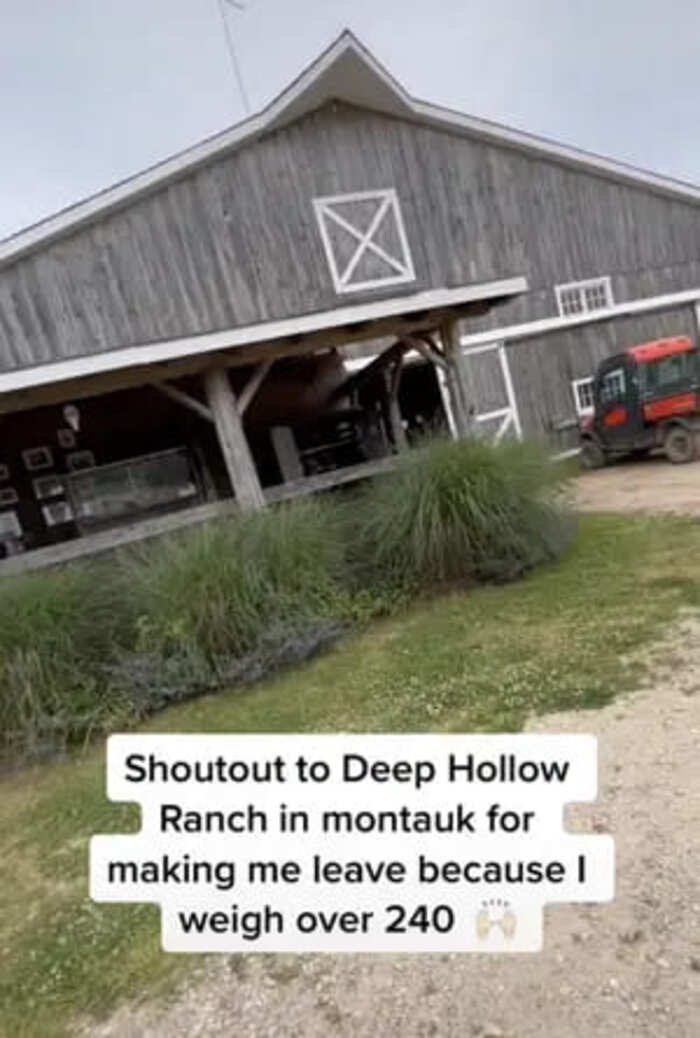 Having a clearly stated and available policy on something like this could have prevented the ensuing dust-up, but rather than acknowledge that, an employee of the ranch decided to clap back with a video of his own.
@broudy.keogh highlighted a comment Remi had written that read, "I don't really need any opinions on this one. It's the fact of how it wasn't advertised and how poorly it was handled.
This was my experience, not yours." His actual video in response showed him on the ranch, with horses, saying, "When you're not a fat b*tch, you can ride at Deep Hollow Ranch."
Regardless of how he felt about Remi's review of their customer service, it's a pretty appalling way to respond to anyone, and viewers of Remi's duet calling out his video were shocked at the audacity.
"It took this dude 3 seconds to ruin his families [sic] business," wrote @the_lindsay_love.
Read also: Famous Plus-Size Model Explains How She Shut Down A Fat-Shamer In Viral TikTok
"Are we read to leave those one star yelp reviews ladies??" @mistyrayann asked.
"I am truly speechless at the cruelty! Absolutely unacceptable in every way," @justclassiccassidy added. "I am so so sorry Remi!"
Another viewer who claimed to be a former employee of the ranch said "they treat [their] customers like absolute garbage."
Deep Hollow Ranch tried to do some damage control after the incident, writing an underwhelming apology on Facebook about a "teenage employee" who "posted a response that in no way represents nor is aligned with the views that the owners of the ranch hold."
Commenters on that post were quick to point out that Broudy Keough, per the ranch's website, is actually the son of the owners, something they seemed to hope people wouldn't realize when referring to him as a "teenage employee." His actual age is unclear.
Calls to fire him and take responsibility flooded the comments, as did concerns about how many other customers may have been treated this way.
One person asked if the "'weight maximum' standard" will be held for men as well while another pointed out that "The most horrifying part of this whole thing is that I can't imagine how many more people have endured this misogynistic disrespect from your employees, who didn't have the following that Remi has in order to build awareness of this issue."
"This is so embarrassing and truly shows the culture of your business— his behavior was learned somewhere!" another wrote. "Outside of that your policy is just plain incorrect."
Read also: