Millions of people trapped in COVID-19 quarantine have been passing the time experimenting with crazy food challenges on social media platforms such as TikTok. First, it was Dalgona coffee, then it was frog bread. Now it's … cloud bread??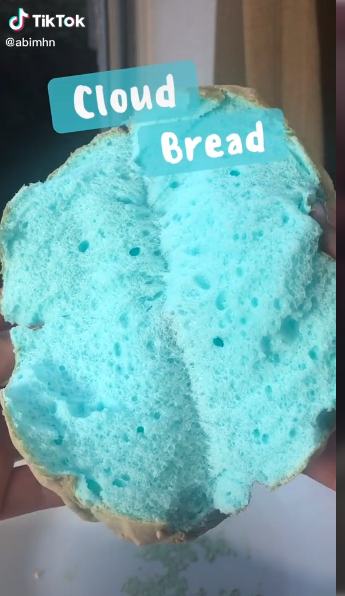 Interestingly enough, cloud bread isn't even really "bread," per se, but a very basic combination of egg whites, sugar, and cornstarch whipped together and baked to create an airy treat, similar to a meringue.*
(* In fact, nearly identical to a meringue? It appears that the basic differences between the two are cornstarch in lieu of cream of tartar, and making loaves instead of cookies. I digress!)
Though "cloud bread" may not sound particularly interesting, people are finding ways of making it look cute and fun for the internet using ingredients such as food coloring, vanilla, and toppings such as sprinkles and nuts.
In fact, by perusing the #CloudBread hashtag on TikTok, there is no shortage of varieties to be found, as you can see in just a few of the examples, below.
The flavor of cloud bread is said to resemble something close to a marshmallow or cotton candy, only "kind of eggy," although you can probably avoid the egginess by adding vanilla or some other kind of flavor extract.
Check out a recipe for cloud bread here for tips on how to make it yourself, or watch the video below. Happy cloud-breading!
Enjoy More Trending Memes & News, Or Don't, Your Choice