Tinder is a gaping maw of garbage pile humans and cat-fishing spam bots, but every now and again a legitimately great profile rises to the top and capture's the Internet's heart.
24 year-old Mandy Horvath is that profile, and for a great reason. She's unflinchingly honest and hilarious about the fact that she lost both her legs.
In 2014, Mandy lost both of her legs in a train accident.
She says she had been drugged at a bar and, feeling hazy, went outside to smoke when she lost all memory and consciousness from the night. She woke up in the hospital with both legs amputated after being run over by a train.
For years, Mandy has avoided the dating scene, but after watching inspirational videos from another woman with disabilities, Mandy decided to get on Tinder. She said that while the trauma of her accident haunted her at first, she has been able to cope by constantly making jokes about her situation. She added, "so it was only right to do so on my dating profile to connect with people in my own way."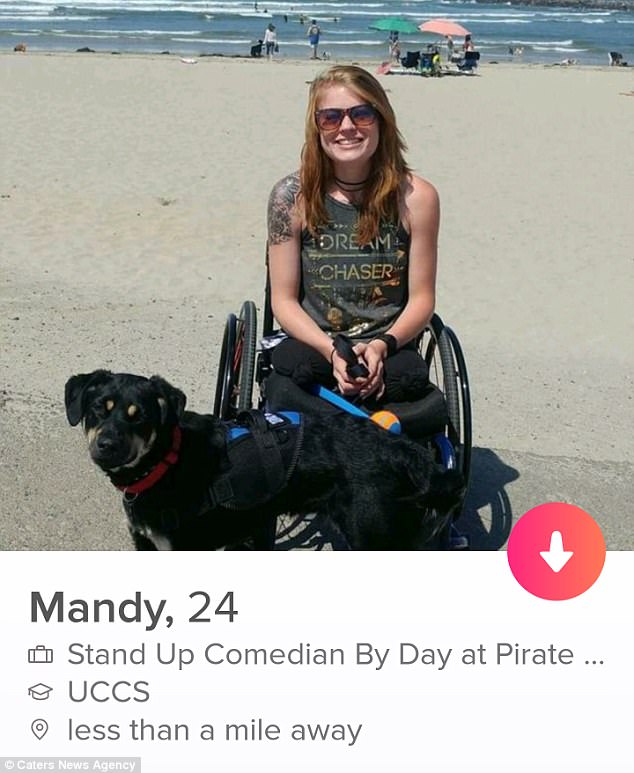 Mandy stresses that it was difficult at first because of how men reacted to her condition.
"When I tried to date after I lost my legs I would always get guys asking me 'how does sex work for you?', and it completely put me off dating. I was completely alienated from any sort of romantic opportunity due to my own lack of insight. But now that I've broken the ice and sexualised my disability with my humor, I am acknowledged as an individual rather than someone bound to a wheelchair."
Her Tinder bio is full of witty puns and punchlines about being an amputee and has directly led to dozens of dates.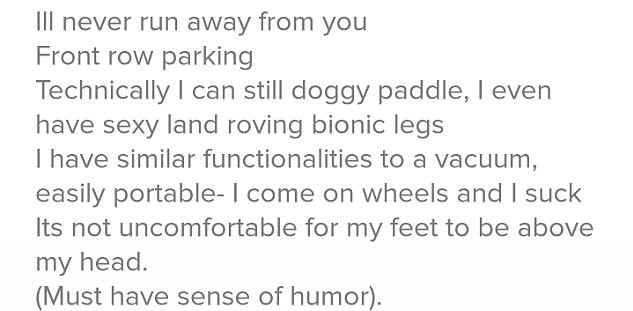 She's the queen of one-liners, with matches swiping right because of gold like:
"It's not uncomfortable for my legs to be above my head.
Technically I can still doggy paddle, I even have sexy land roving bionic legs.
"I don't have legs, but don't worry – I'm taking it in stride. Just roll with it okay?
My life was a train wreck (literally hit by a f****** train).
I have similar functionalities to a vacuum, easily portable – I come on wheels and I suck."
"Since my accident happened, humor has been the driving force and it has made my recovery a lot easier. My sense of humor in my Tinder bio is so funny, the jokes people send back have me in fits of laughter. People tend to love how open I am and it's definitely helped secure a few dates."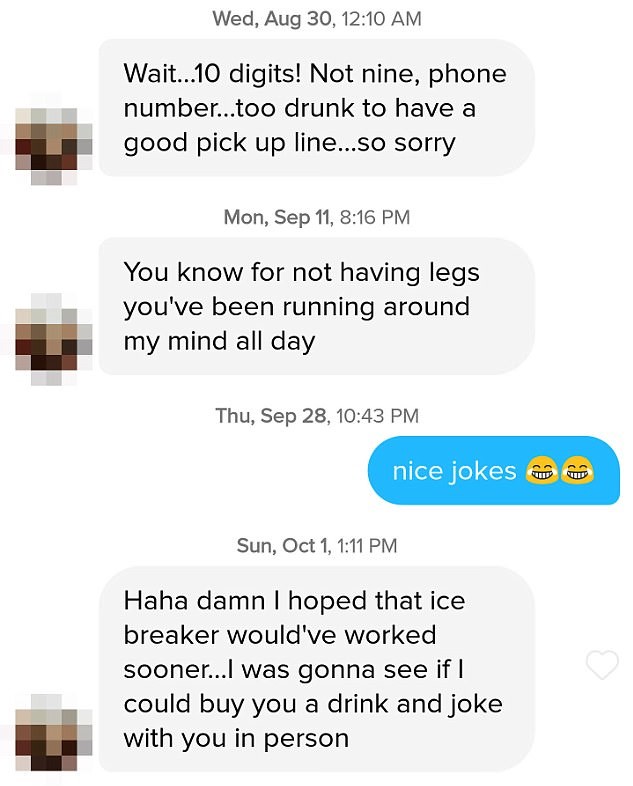 It's no wonder Mandy is absolutely crushing the dating game with her optimism and hilarity.
h/t: Someecards, Daily Mail UK