While engagement photoshoots are known for being corny, over-the-top, and even bordering on cringe-worthy, this couple's engagement photo fail has gone viral for all the right reasons.
Alyssa Snodsmith and Collin Hewett have been dating since college. They both played soccer at Olivet Nazarene University in Illinois and while it wasn't love at first sight, Snodsmith eventually fell for Hewett and they've been together for three and a half years since.
So me and Alyssa took our engagements pictures yesterday. She found a Pinterest picture that she wanted to try and recreate
.
.
.
I botched it pic.twitter.com/oSSUCB4o6A

— Big Stack Dibbles Jr (@collinhewett17) October 20, 2019
The couple plan to get married in June 2020, so they've started to organize all the important details required when planning a wedding. One of the most important first steps was sending save the date cards to their guests, and Snodsmith and Hewett wanted some nice engagement photos to go along with them.
They asked their photographer friend Chandler Lefever to accompany them to Greene Valley Forest Preserve in Naperville, Illinois for a romantic photoshoot.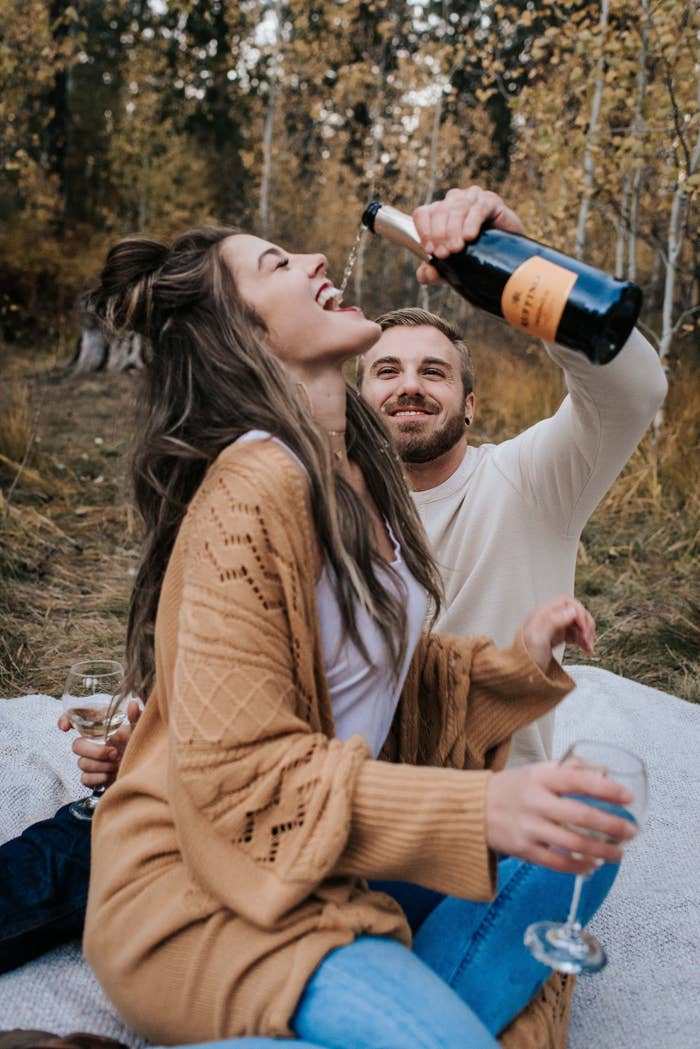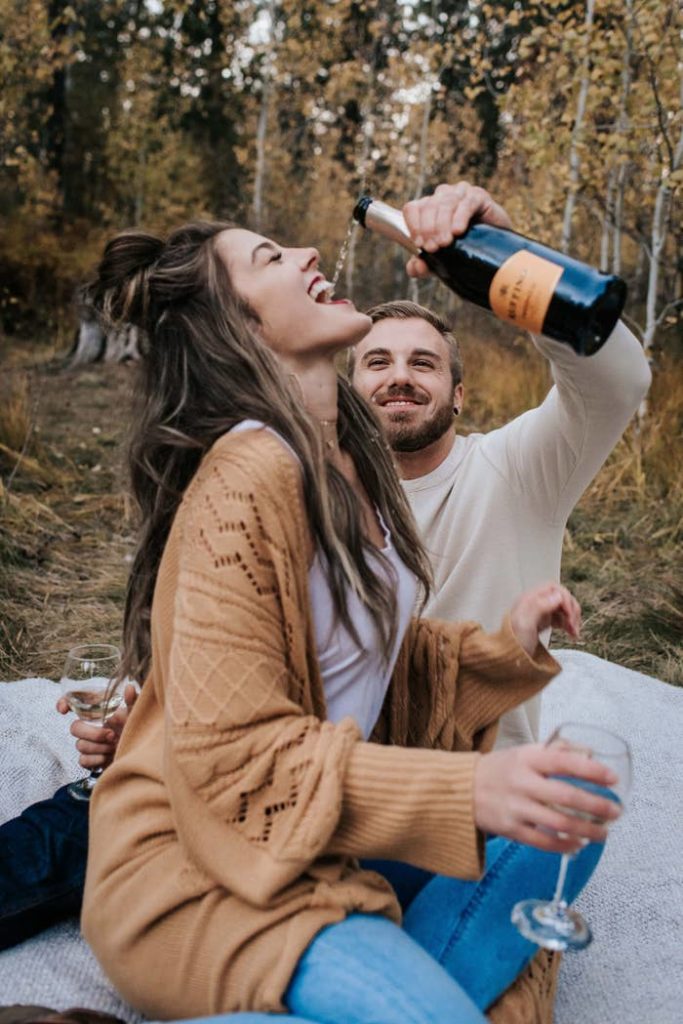 They came prepared with plenty of inspiration; Snodsmith had seen one on Pinterest that caught her interest showing a couple celebrating their engagement with champagne. The original photo was taken in Bend, Oregon in 2018 by Brianna Bender, whose specialty is couples photos and boudoir shoots.
As Snodsmith explained to Buzzfeed News, "We just thought it was fun. It kinda just matches us. We just like to have fun."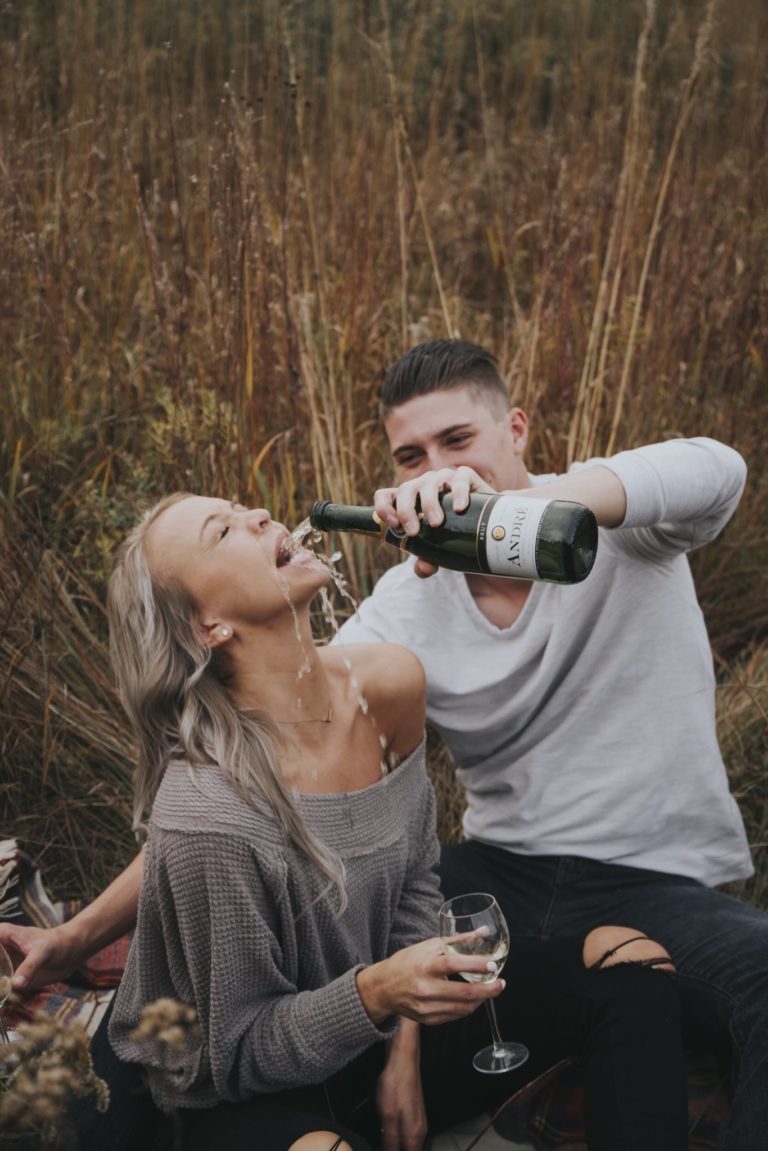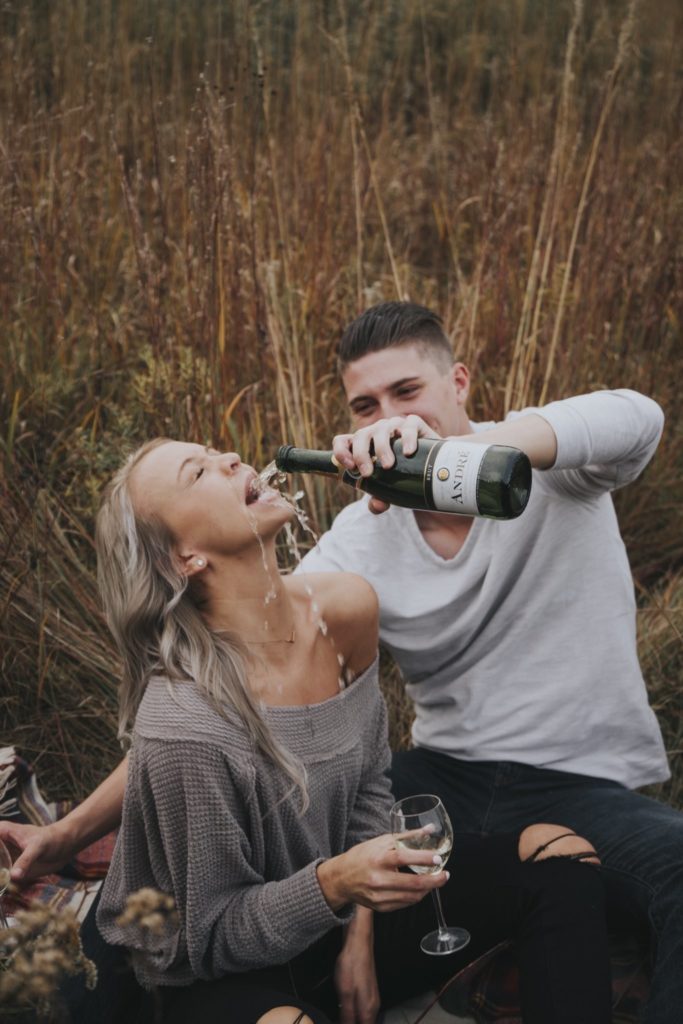 They decided to put a blanket down and pop a bottle of champagne, but after Hewett tried to pour some into Snodsmith's mouth, they realized it wasn't quite working.
"Well, we found the right angle, but I didn't find the right angle with the bottle," Hewett recalled. "I was super hesitant the whole way and then it started to just dribble out the end. So I kind of over-adjusted."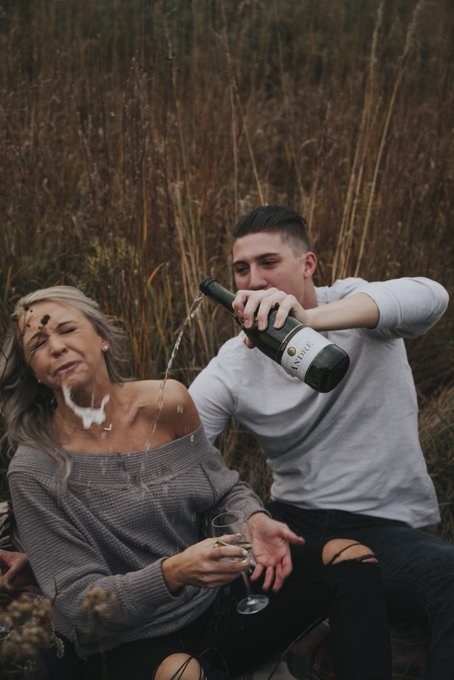 The result? A good portion of the bottle spilled all over Snodsmith. Thankfully, Lefever caught it all on camera so they have the moment saved for posterity forever.
"We were dying laughing. Our photographer fell on his butt because he was laughing so hard. He managed to still snap pictures of us!"
I'm literally dying man. But this lowkey sums up y'all fun relationship. Some might say #RelationshipGoals …. SOME…

— Herbert Clay Miller (@Herbi_HighLife) October 21, 2019
Hahahahaha this made me laugh so hard. Thank you for sharing 🤣💕

— 👻🎃SpoopySquish🎃👻 (@SquishiiSquish) October 21, 2019
Oh damn… I haven't laughed like that in a while.

👍👍👍

Best wishes for you marriage!

♾

— AG (@MyMDSoapbox) October 21, 2019
#relatable pic.twitter.com/vH5mZ71vRk

— Sydney Brown (@Syd_tha_kidd) October 20, 2019
Thankfully, the couple had a great sense of humor about the whole thing and love the positive responses they've received since posting the pictures on social media. Se? Romance isn't dead!
More funny pictures, memes, and tweets: