Cartoonist Emily Flake took everyone down a nostalgic walk along memory lane, to a time when we had lots of friends who were allowed in our houses. She shared pictures of a party plan she made for her slumber party when she was a kid, and it's really bringing everything back. "I've never planned a better party than the one I planned when I was 8," she wrote.
The time table is titled "Plans for my 8th Slumber Party." The heading is followed by a list of "geusts." the event begins at 4:30 and by 4:33 they've should have run up to Emily's room and laid out sleeping bags. Then there are 12 minutes set aside for talking and giggling.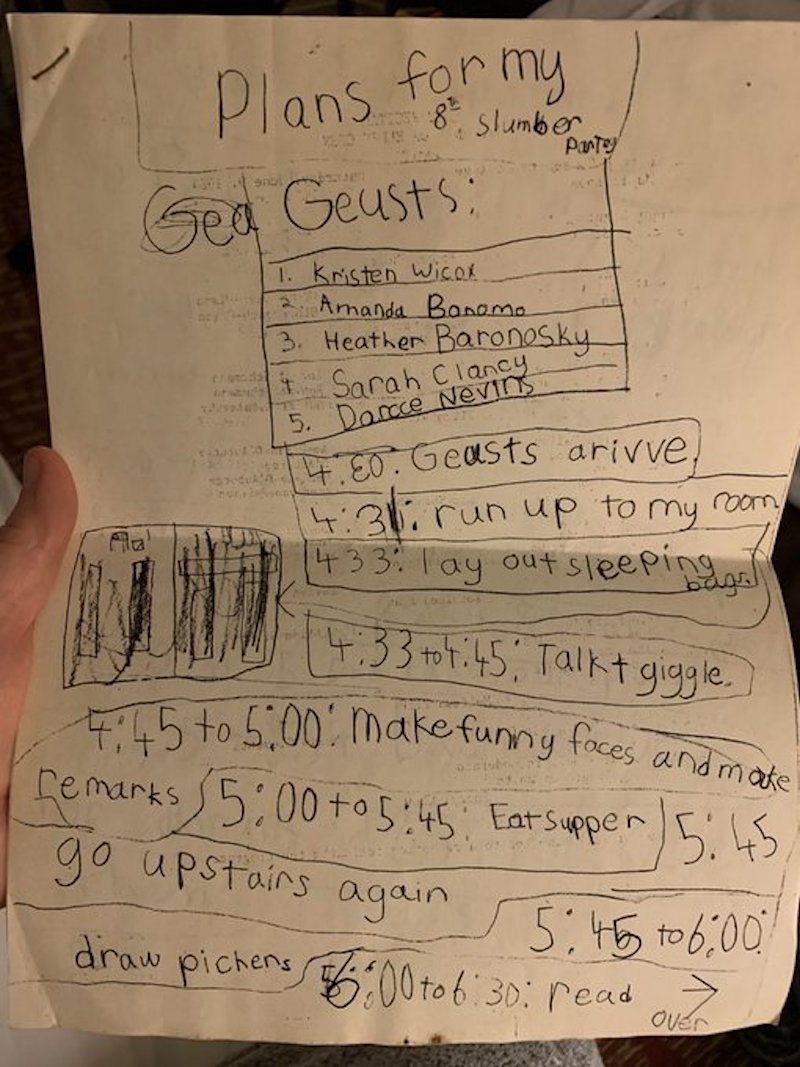 While I might need more time for talking and giggling, I can't argue with the rest:
4:45 to 5:00 make funny faces and make remarks

5:00 to 5:45 Eat supper

5:45 go upstairs again

5:45 to 6:00 draw pichens [???]

6:00 to 6:30 read over
Stuff is just heating up. At 6:30, the guests are instructed to bring the radio upstairs and then DANCE. Then from 7:00 to 7:30, the gals have time to "lie arond taking about how some things are so mean."
Then there's a cool-down period of reading, applying makeup, and more giggling. After that, Emily's dad was scheduled to take some pics of their new faces and then go get some donuts. Obviously, that is followed by some hide-and-seek and more dancing.
That would be more party than I can handle at my age, but an eight-year-old has got a lot more energy. The night has barely begun. There are multiple pillow "fites" ahead, plus 28 minutes of pretending to be animals before it's even bedtime. Phew!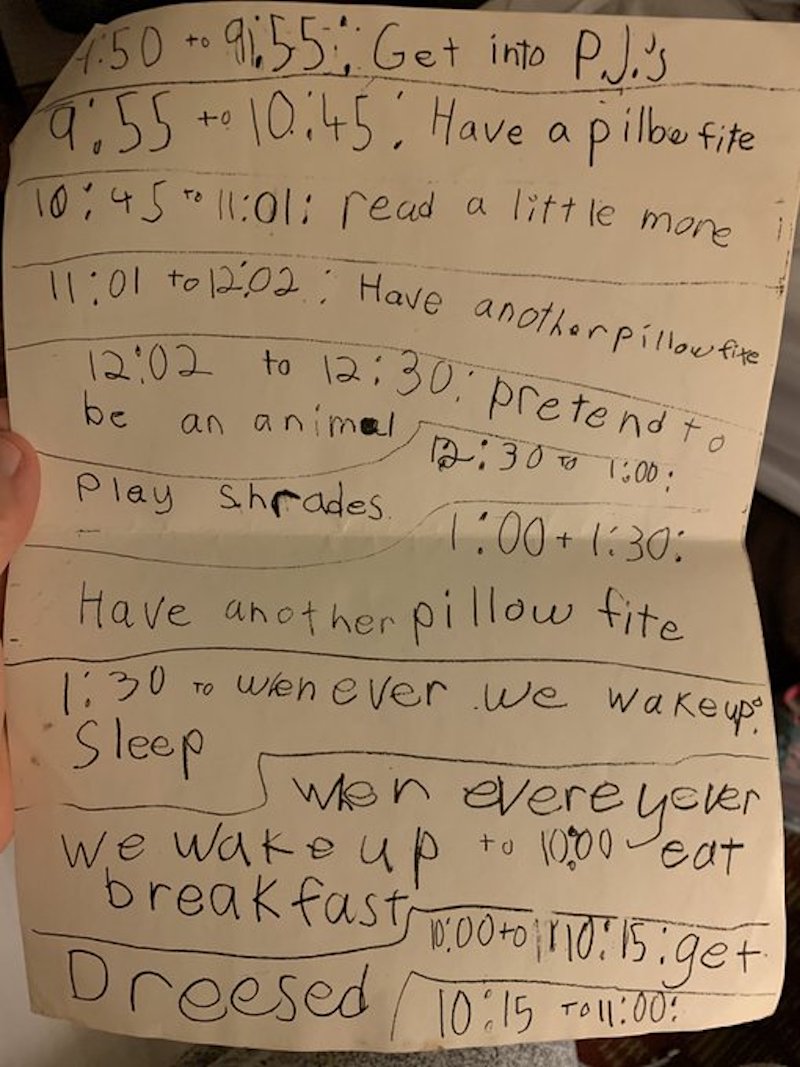 if I had the stamina, this might be the perfect party. No drama, just giggling and pillow fights and donuts. It's not surprising Emily hasn't been able to plan a party like this since, but the replies are full of people who are grateful she had the plan to share now:
exactly what kind of remarks is one expected to make between 4:45 and 5:00?

— matt (@laceupyrboots) November 23, 2020
I honestly don't think I devoted enough time to that discussion.

— Emily Flake (@EmilyFlake) November 23, 2020
*fites

— Rachel (@rachelhlav) November 23, 2020
whispering to each other that they never should have invited her anyway because all she does is bring drama.

— Sharon Stewart (@SagansMommy) November 23, 2020
That's only half the time allotted for lying around talking about how things are so mean, which tbh is still my favorite activity

— Emily Flake (@EmilyFlake) November 23, 2020
For my kids slumber parties- which are ridiculous- usually around 12 kids total, I set up stations where they can do stuff. Lay out food and let them go nuts.
Usually one twin cries at least twice, the introvert goes in her room after a bit. No one leaves early, all have fun.

— Aileen Mitchell (@aintist) November 23, 2020
You've never seen me house a donut, it's not a slow process

— Emily Flake (@EmilyFlake) November 23, 2020
She also checked in with her own eight-year-old daughter on how this event sounds:
My daughter, a current 8-year-old, has thoughts pic.twitter.com/VTTioo3SgA

— Emily Flake (@EmilyFlake) November 23, 2020
You know what? After COVID-19 is over, I AM going to have this party.
More funny kids: