It's social distancing time, folks. That means staying at home as much as possible, not hanging out with friends or going to parties, and spending time with your own thoughts. HELP! For extroverted people, this is a difficult task. We need the feeling of constant activity, attention, conversation, and new experiences. We're not ready for this.
The introverts are and they're here to remind you of that. Introverts stay home and watch TV instead of hanging at the bar all the time. You call it self-quarantine, they call it Saturday night. None of this is a problem for the ole introverts out there. And they really, really want you to know.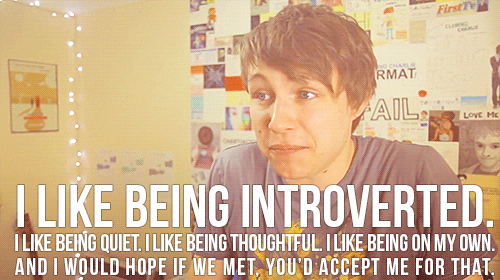 Every introvert on Twitter (most of Twitter) is laughing over what a breeze this social distancing thing is gonna be. Two weeks? Four? Months? They don't care. It's their moment and they're crowing from the rooftops! Or just tweeting from bed:
1.
'social distancing' please i've been training for a pandemic my entire life introverts rise up we're finally valid

— Daniel Howell (@danielhowell) March 11, 2020
2.
Social distancing level: EXPERT #introvert #corona pic.twitter.com/TeIM5oB0xL

— Marzi (@IntrovertDoodle) March 14, 2020
3.
oh nowwww everyone wanna know what introverts do for fun

— Aparna Nancherla (@aparnapkin) March 13, 2020
4.
To prevent #Covid_19 stay home, avoid physical contact and don't go into large crowds.

Introverts: I've been preparing for this moment my entire life. pic.twitter.com/EUxnBsr4PP

— IBRAHIM (@ibrahimyounaspk) March 12, 2020
5.
Me, an introvert, learning social distancing is the only way to stop the corona virus: pic.twitter.com/s0gX0nZdxm

— Anna Rasmussen (@arasmussen918) March 11, 2020
6.
Introverts watching the whole world forced to stay indoors due to Corona virus while they've been doing that for years#Covid_19 pic.twitter.com/JdbHugacoL

— no name (@kmh_1992) March 12, 2020
7.
Introverts are desperate for social distancing to end so everyone they live with will leave the house.#introverts #SocialDistancing #Quarantine #SundayFunday

— Jenn Granneman (@JennGranneman) March 29, 2020
8.
social distancing pic.twitter.com/0khfja6t2h

— JP (@jpbrammer) March 14, 2020
9.
government: [cancels mass gatherings cause of coronavirus]

me, a huge introvert: "oh darn"

— Benjamin A. Vorwerk (@bvorwerk) March 12, 2020
10.
Introverts will win the year, for the first time ever 😀#Covid_19 #CoronavirusPandemic pic.twitter.com/wvZqkieMlF

— 🎶 Ezereal 🎶 (Trials of Mana : April 24th) (@So_Ethereal) March 12, 2020