Moms are the best, there's no denying that, but sometimes they do some truly "mom" things. Say, for instance, calling us 12 times in a row just to chat or asking us repeated questions about our dating life that make us want to bang our head into a wall.
It's all with good intention, of course, they wouldn't be moms if they didn't do these things. That's why these incredibly "mom" tweets are making us laugh and want to call our own moms.
1. Moms are known to contradict themselves.
Mom: Why don't you go out more? Don't be a homebody.
Me: Okay.

Then…

Mom: You're going out again? Save some money!

— r♡⎔⁰⁹🌵🌹🎀 (@dandanie112) February 6, 2015
2. They rely on you for important information.
#momquotes pic.twitter.com/CgVNLhAsP8

— Regina (@xdregina) May 10, 2017
3. The internet can be a mystery to them.
https://twitter.com/TommySailer/status/727968705599160320
4. And so can technology in general.
My mom once asked me to close the patio door because I was "letting the WiFi out" #MomQuotes

— Lina (@lbibzzz) May 4, 2016
5. They always have our best interests at heart.
My mom texts me "lol" when I'm having a bad day because she STILL thinks it means "lots of love" #MomQuotes

— Keely Dulaney (@keelsondarealz) May 4, 2016
6. They count on us.
Mom: did you take the chicken out of the freezer?
Me: yes mom
Mom: I'll be home soon
Me: *runs to freezer* https://t.co/B9jZ1Lftcm

— IT'S TayBTW (@taylor_typical) September 29, 2017
7. We run to them for advice.
Conversations with my mom usually look like this: #MomQuotes pic.twitter.com/LREfV2NTZG

— Lily Pedlow (@lily_pad26) May 10, 2017
8. Again, with the internet.
Every time I email my mom something with a link in it, she always calls right away and asks, "will this destroy my computer?" #MomQuotes

— Hoot (@NateHoot) May 10, 2017
9. Moms don't always know the whole story.
#TypicalMom pic.twitter.com/I71hwwIVFQ

— Cinema (@514Alexa) July 22, 2014
You May Also Like:
— Ruin My Week (@RuinedWeek) February 5, 2019
10. They'll put the fear of God in you.
https://twitter.com/SimpIy_Teens/status/916375802425544706
11. They know when you're ready to be out on your own.
Me Making Food Makes My Mother Think I Am Gonna Leave House Soon . #TypicalMom

— Sayali (@mhatresayali) December 18, 2015
12. Moms take good care of your pets.
#talkswithmom pic.twitter.com/g6slfYCFee

— Matty !! (@fatthewmergs) August 17, 2017
13. They'll always think of you as a baby.
#talkswithmom pic.twitter.com/4boxti1Xiw

— ⸘ (@micahvalerio) December 14, 2016
14. Moms like to think they know everything even when they don't.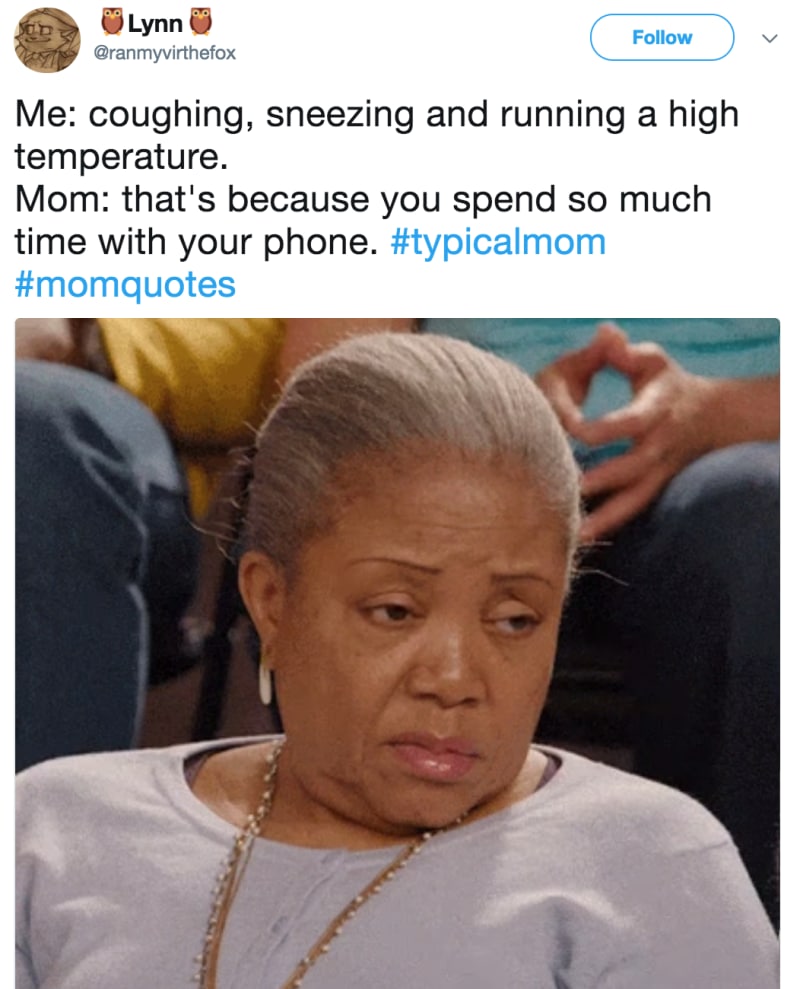 15. They never let you off the phone.