Police departments often use social media and social networking to catch criminals by posting wanted signs and photos to their accounts. And, many times, they catch the people they're looking for with the help of regular citizens looking to participate in law and order. But, recently, Richland WA Police Department posted a wanted poster for a criminal for "failure to comply" and, had no idea they'd receive help from the wanted man himself.
The department announced they were looking for Anthony Akers for failure to comply, and, before they knew it Ankers himself had responded to their post.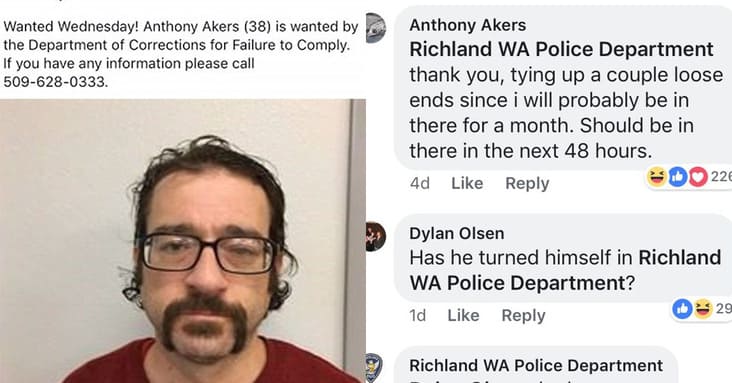 The 38-year-old said he was going to turn himself in. And, the department even replied with their business hours to be accommodating. On top of it, they offered Akers a ride to the station if he needed one.
But, he admitted he couldn't turn himself in just yet—he had to "tie up a couple of loose ends." And, he left the department still wondering where he was.
So, Akers left a pretty honest response.
And, officially, the department issued a public statement of being ghosted by Akers.
Eventually, though, Akers did turn himself in.
All in favor of Akers getting a smaller sentence for being absolutely hilarious? Same.