Comedian Abby Govindan made an observation on Twitter that went wildly viral because it's just so true.
Any eldest sibling has had the experience of being shocked by what their younger brothers and sisters can get away with. Govindan shared her tale of parental hypocrisy and a recommendation for how older kids should deal with these betrayals in the future. She wrote:
when my mom found my weed in high school she cried for 3 days, enrolled me in addiction therapy, grounded me for 2 months and took the car away. Yesterday, 6 years later, my mom found my little sisters weed and politely asked her to stop smoking and that was it.
In a second tweet, she recommended a little organization to demand basic eldest sibling rights, saying, "Little siblings don't read this, Older siblings we must unionize and demand better conditions and equal treatment."
The responses weren't from people willing to pay union dues, but there are plenty of hurt feelings out there. Turns out, kids have a long memory when it comes to injustice.
1.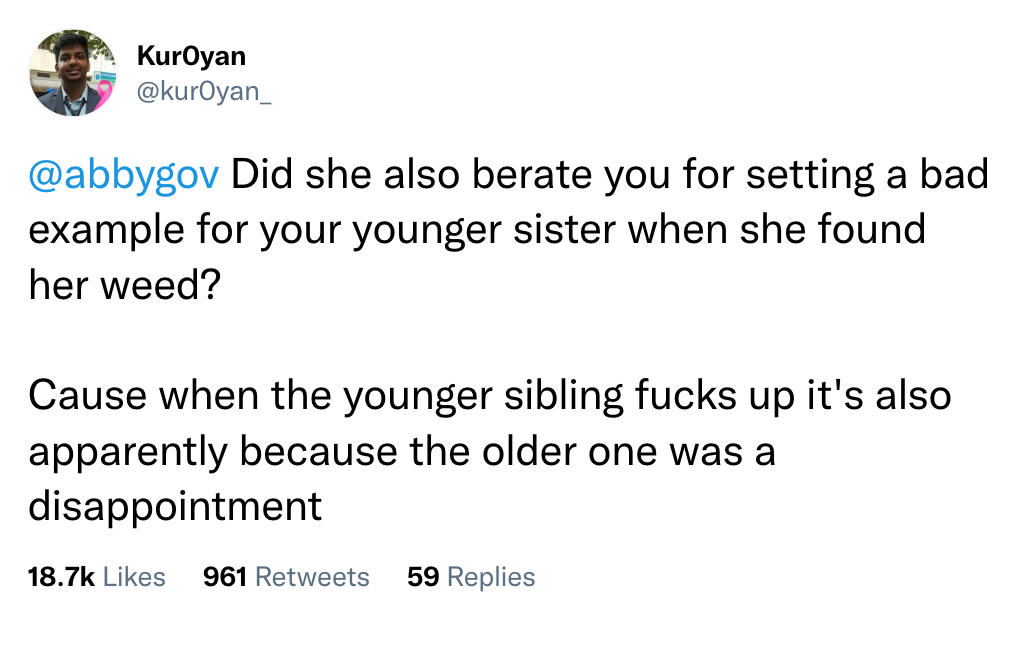 2.

3.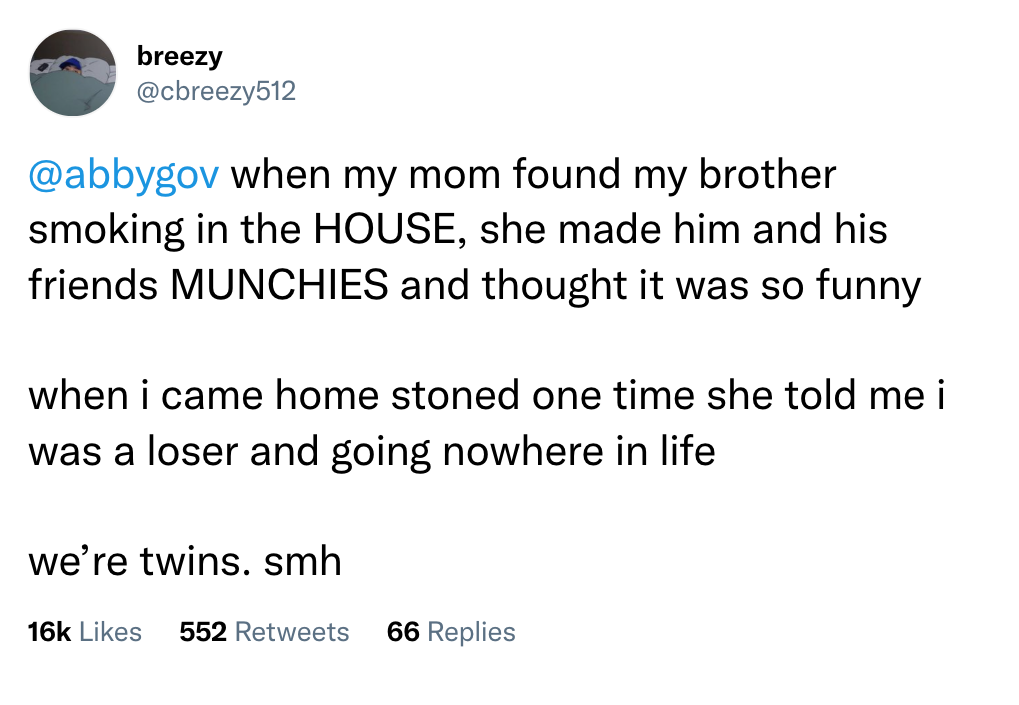 4.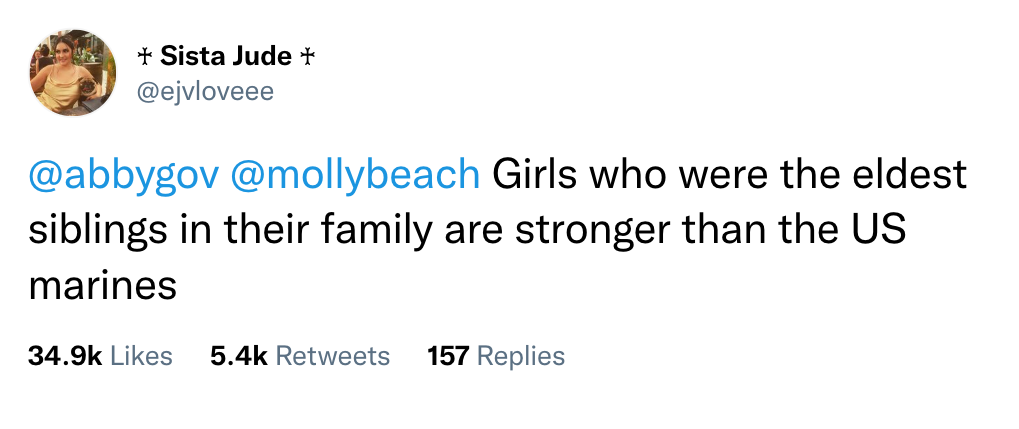 5.
Me, too. I had to pay 1/2 my birthday present when I wanted a bike when I was 13. My youngest sister got two before her 9th birthday. They wondered why she had tons of savings when she graduated high school even though she didn't work.

— Damn the White Patriarchy #khive4ever (@deniseisabroad) December 17, 2019
6.
my mom caught me reading PLL when i was fifteen and nearly grounded me. my little sister, who is sixteen was caught watching game of thrones and my mom just went "i can't control what you watch but i recommend you stop watching it"

— anika (@clevergirI) December 16, 2019
7.
My mom literally threatened to kick me out for smoking weed and now she CLEANS MY LITTLE SISTER'S BONG.

— Dana Donnelly (@danadonly) December 16, 2019
8.
Being the oldest is wildest I got a phone call that I was being sent to rehab while on vacation in the 9th grade cause my mom saw a Myspace video … years later my brother was on mushrooms at Christmas dinner lmao

— facts by JACK . (@HennyLane) December 16, 2019
I was like drunk at a party running around lmao it was not even that serious

— facts by JACK . (@HennyLane) December 16, 2019
9.
As a treat!

— Arcadia, The Delinquent (@ArcadiaATL) December 16, 2019
10.
My mom found out on Mother's Day that I snuck and made a Facebook account. The festivities came to a dramatic, tearful end and I was ordered to make an educational powerpoint pres about FB.

My sister had a Tumblr account at 12. Y'all know what goes on there.

— McKenzie Jean-Philippe (@McKenzie_JP) December 17, 2019
11.
I remember growing up how when I got Facebook my parents would literally monitor everything I did, and would randomly check my phone. They literally don't care at all what my sister does on her phone, and she was WAY younger than me when she was on social media. Like what?

— Diamond (@toxic__skulls) December 17, 2019
12.
i got a nokia phone at 11 to walk to school with, my younger brother got a touchscreen samsung & a tablet at 9 and didn't walk to school til he was 12. i had to pay for my own 2nd hand DS Lite at age 7 (£60), my brother got an xbox for his birthday at age 7 (£200)…

— (@SANSAPPHlC) December 16, 2019
13.
My parents spent (and still do) thousands of dollars on hockey equipment for my youngest brother… even a full on hockey camp 15 hrs away. I paid for most of my cheer uniforms and equipment myself working three days a week during HS

— Lyss Miller (@lyssmill06) December 17, 2019
14.
my mum swore she would never let her kids get phones until they turned 13, so i had to wait.
my little sister got one on her 9th birthday.

— poth (@isafunnyword) December 16, 2019
15.
When I was learning to drive my mom legitimately screamed at me on a daily basis while in the car and insists to this day I'm a bad driver. When it was my sister's turn she had the opposite experience. Whenever I say anything about her driving my mother says I need to be nicer.

— rae (@SaltySock) December 16, 2019
16.
My mom swore her kids would never get a personal laptop until they were 13. Immediately after I got mine at 13, my nine year old sister got one because she "felt left out." -.-

— Miss Mortis (@MementoMortis_) December 17, 2019
17.
My youngest sister is still on my Parent's cell phone plan. She is honing in on 40.

— nahbois (@nahbois) December 16, 2019
18.
my little sister is 2 years younger than me. when i turned 16 and got a boyfriend, it was no sleepovers, no sex, yada yada. my sister turns 16 and gets a boyfriend, "oh sure you can have a sleepover with him"
WHAT

— Morgan ⭐️ (@phanamvs) December 16, 2019
19.
I wasn't allowed to have a beer a month before my 21st birthday on the Fourth of July and my curfew at 20 was midnight. Came home that same Christmas to find my 17year old brother throwing a high school rager at my house that my dad gave permission for. I was so mad I puked

— Cali Rae (@caliraeofficial) December 17, 2019
20.
I was diagnosed with depression (& self harmed) & my mom screamed @ me for being "unappreciative & ungrateful" for the great life she's given me.

My brother said he was feeling a bit sad lately & she showered him w/ attention & took him out to lunches to cheer him up.

Yeah.

— Persephone (@flowerybtch) December 17, 2019
21.
I got shamed for 6 months the first time I drank at a party. My mom discovered my little brother had a SUITCASE full of booze in his room that he had stole and she let him keep it and didn't say anything to him

— Sarah Ostman (@Sarahostman22) December 16, 2019
22.
Small scale but we never got an allowance growing up because my parents "couldn't afford it" but the second I got a job as a teen my little bro starting getting $10/week. I am still mad

— ¯\_(ツ)_/¯ Izzy (@izzydrool) December 16, 2019
23.
When I had to choose subjects in high school, my mom said – how is that even a question you're obviously going to do the hardest thing available.

When my brother had to, my mom asks me – "we should ask him what he's interested in"

Older sibling discrimination

— Deedy Das (@debarghya_das) December 17, 2019
24.
Bro I feel my parents woulda killed me when I was a kid if I so much as even thought a curse word. Now my 14 y/o sister curses my parents out daily and they do nothing

— kerry (@snapkerrysnap) December 16, 2019
25.
my older brother ratted on me for smoking in the house and my mom said "oh like i don't know you used to do that shit in the house" and then told me to just go outside and smoke

— Dani (@babydanelia) December 16, 2019
26.
I paid for my own car with $3000 I had saved myself. I also paid my monthly insurance, gas and also put the money up when the transmission went out. Little sister wrecked her first two cars before leaving high school, and both cars were bought for her in addition to all expenses

— Toys R Us Kid (@MarshaMelloh) December 17, 2019
27.
lil sister kept ditching class and mom was mad at me so she took my little sis out to go eat at her fav restaurant and took her shopping lmao, the same night I came home at 12:30 after doing dishes at work all night only to get yelled at for being 2 tired to clean dishes at home.

— juulianna (@lee_ehn) December 16, 2019
28.
Yup. My parents thought that I was having premarital sex at *18*(I was not), kicked me out, disowned me. My little sister and her friend were driving drunk at 16 in a different state with weed in the car, and they are 10 years later still buying her groceries.

— Jinx Valentine (@Vjinxvalentine) December 17, 2019
29.
My mom thought I was on drugs and depressed in my room when I was like naw mom just let me work on this science project and practice my French horn meanwhile my baby brother was LIT AF

— Inappropriate Mommie (@Meldisny) December 17, 2019
30.
I got grounded for a week for being late coming home from school, it was 5 pm and I was 17. My brother got arrested for trying to shoplift a bottle of vodka and got a ride home and they never talked about it again.

— twin mom (@SGarnet87) December 17, 2019
31.
When I turned 16 I couldn't get a car because my parents "couldn't afford the insurance". But wouldn't let me get a job to pay for it myself bc they didn't want to have to dive me to/from work. My little brother turns 16 (22 months later!!) and immediately is given a car

— Lemon Snowcone (@DearMyrinda) December 17, 2019
32.
Back when I was in high school my mom found a bottle of whiskey in my closet and pulled me out of school for a semester.

This summer, my younger brother passed out drunk in our yard with no phone, keys, or truck, and she videoed it and made funny memes…

— ➳ ➳ (@libbyandrewss) December 17, 2019
33.
In middle school, everyone was dying their hair red and I wanted to also or at least get highlights. My parents would not let me even THINK about it. My sister turns 11 and they let her put a pink streak in her hair without a second though smfh

— sydney (@sydsketchaholic) December 17, 2019
34.
My mom at this point is accepting of the fact that my sister smokes weed, but if she ever caught me, she'd have a heart attack. Not looking forward to that day. My brother was upfront about it with my mom one day, and you could see her soul saying "aight imma head out."

— Aaron (@OnlineEyeDee_) December 17, 2019
35.
my parents used to straight up read my text messages weekly. i am the oldest female sibling (brother 4y younger) they don't CHECK SHIT on his phone

— cherry jam 銀蝶 (@shikyonohana) December 17, 2019
36.
This reminds me of when my mom saw my first tattoo when i was 18 and left the house crying and threatened to not pay for my college. Years later she pays for my lil bro's $500 tattoo and got two for herself

— emi (@emilyguelli) December 17, 2019
37.
I came home with a hickey at 16 and was told that I'm trash and will never be treated better than trash. My sister is 5 years younger than me and came home with a 18 year old boyfriend at 14 and mom likes him more than me. Moved him in this year.

— (@reiiichi) December 18, 2019
38.
This is too relatable.

I remember coming home from my first semester in college to find my younger brother cussing loudly because my mother wouldn't make him another white Russian and wondering why he wasn't dead for raising his voice, swearing, or drinking.

— This friggin' guy (@getmenewhouse) December 17, 2019
39.
My parents made me walk home and to school BY MYSELF when I was in 2nd/3rd grade.

Now my little brother is in 2nd grade and he can't walk to the house from the bus stop by himself.

It's really sad how much they favorite the little ones.

— horan♡ (@moonlightttbby) December 17, 2019
More of the funniest tweets of 2019: