21-year-old beauty YouTuber James Charles recently sparked social media backlash for a recent Instagram post and YouTube video in which he appears pregnant.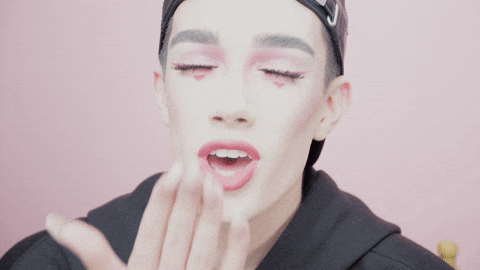 The new video, which is called "24 Hours Being PREGNANT!!" explores how James Charles deals with a day of doing chores and experiencing pregnancy via a fake pregnant belly and contraction simulator.
https://twitter.com/jamescharles/status/1360318214912176128
In the video, Charles explains, "This video is not being made in any way, shape, or form to make fun of, to make light of pregnancies and the sensitivities and the complications that come around it."
"It's obviously such a beautiful, beautiful thing that women go through with their bodies and it takes a whole lot of strength as well," he continued. "This is just a lighthearted video to see if I can last for 24 hours experiencing some of the 'challenges' that are even possible for me to actually experience today."
Charles decided to don the fake belly after his friend Laura Mellado said he could not deal with being pregnant for 24 hours. Charles also took part in a faux maternity shoot.
Some folks were not amused, though.
To pretend to be pregnant when there is women who cannot.

— ℋℯ ℬℯℯ✰ (@princesshaybae) February 12, 2021
A Twitter user shared a short clip from the video where someone behind the camera tells Charles that his faux maternity shoot is "very Halsey." The Twitter user wrote, "Halsey literally had endometriosis. for him or his team to say 'very halsey' while he's taking FAKE pregnancy photos is f–king disgusting and it mocks everything that she's been through."
https://twitter.com/HollyIfTrue/status/1360329690418921473
james please don't be insensitive saying "that's very halsey" when she has endometriosis and she has to work hard to have this baby. please watch your words

— ♥︎ (@aisling_43) February 13, 2021

Halsey, who announced last month that she was pregnant, has shared her struggles with infertility in the past, including a miscarriage and endometriosis.
Others thought critics were being too sensitive.
People here in the comments are like 'OMG stop pretending to be pregnant, some women can't even get pregnant, its such a sensitive topic' first of all there are so many youtubers who did this y'all never said anything to those youtubers but always come for James for literally

— OnlyMe (@OPaturday) February 13, 2021
doing anything. He never intended to make fun of anyone. Like stop being so overly sensitive. This has to do nothing with you. Don't take it so personally. It's literally so annoying at this point.

— OnlyMe (@OPaturday) February 13, 2021
"People here in the comments are like 'OMG stop pretending to be pregnant, some women can't even get pregnant, its such a sensitive topic' first of all there are so many youtubers who did this y'all never said anything…but always come for James…it's literally so annoying at this point."
Lead image: Instagram