Social media is going on and on about how everything is cake. That dog over there? Cake. The laundry? Cake. Our planet? Cake. That cake? Not cake.
oh my god pic.twitter.com/L51cw1V6g1

— Dak (@DakDeMarco) July 12, 2020
Instead of making cakes that look like real objects, makeup artist Mimi Choi transforms her body into one big illusion. She makes her legs look like cacti or bananas or slices of bread. Her hands become a sausage and egg breakfast or a plate of sushi.
Choi, who was formerly a teacher, explained that, "I've always been into art and makeup since I was a child, but never thought that I could ever make a career out of it. So after graduating from university, I studied to become a Montessori preschool instructor. While I love teaching and working with children, I felt suppressed in a way because I had to dress and act in a certain manner. I found that I would paint intricate details on my nails or doodle at home in the evenings as a sort of creative release. My mom had noticed this for a while and one day, she suggested that maybe I look into makeup school."
Choi eventually enrolled at the Blanche Macdonald Centre in Vancouver to study makeup. She says she "fell in love with makeup and met so many incredible friends and mentors" while she was at the school.
"During my first Halloween as a makeup student, I decided to try out an illusion look that I had seen online. It was a simple cracked face look and after posting it on Instagram, I received a lot of positive feedback. This encouraged me to explore the illusion genre further and I've been doing it ever since," Choi said.
"I feel that the possibilities are endless with this type of art and eventually, my style evolved into painting more than just my face. Since then, I've painted on my arms, fingers, legs, feet, and body as well. I've even painted on a pregnant belly!"
Here are some of Choi's most memorable illusions—and yes, one of them looks like cake. (More on
Instagram
and
Facebook
.)
1.
2.
3.
4.
5.
6.
7.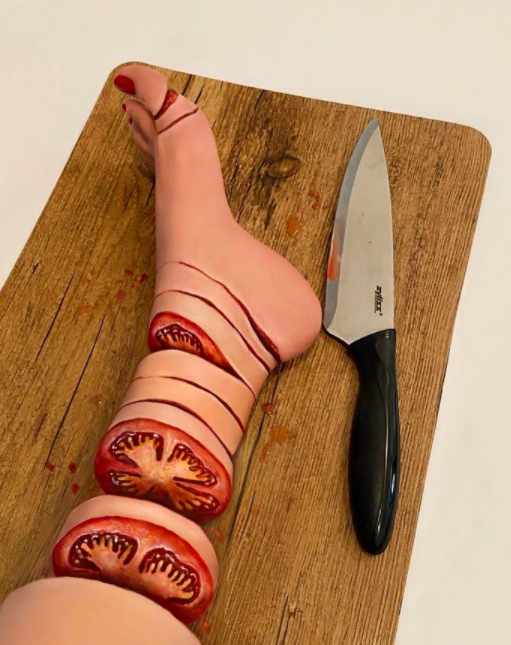 8.
9.
10.