41.
Joe Exotic putting on an EMS jacket when a trainer gets attacked by a tiger is the biggest flex #FreeJoeExotic #TigerKing pic.twitter.com/KuFjRmq4i8

— Ryan Fair (@ryguy_sexi21) March 22, 2020
42.
matthew mcconaughey watching the tiger king knowing that he can't start developing a movie where he plays joe exotic because the entire film industry is shut down pic.twitter.com/vdbHCENGHm

— nick usen (@nickusen) March 25, 2020
43.
Joe Exotic from "Tiger King" got TWO straight guys to marry him and I can't get ONE straight guy to call me his girlfriend!

— Eden Dranger (@Eden_Eats) March 25, 2020
44.
Joe Exotic wrote a country ballad about his nemesis Carole Baskin murdering her husband and feeding him to their tigers. I want to be that creatively petty. #TigerKing pic.twitter.com/QrhEu12Xx1

— Riza Hawkeye 🌙 (@_rizaelihawkeye) March 20, 2020
45.
I cannot believe that literal Scarface was the most sane and likable person from #TigerKing

— Zach (@Zach_United_412) March 25, 2020
46.
This is by far the most stunning part of #TigerKing for me. My man Exotic Joe got 19% of the vote running for Governor. #TigerKing pic.twitter.com/p8P3fHaH8v

— Dave Portnoy (@stoolpresidente) March 23, 2020
47.
5 minutes into every episode of #TigerKing thinking it can't possibly get any crazier like pic.twitter.com/a82gXck1tL

— Jeremy Beavers (@dudeitsjeremy) March 23, 2020
48.
Joe Exotic coming home to his two straight husbands every night #TigerKing #TigerKingNetflix pic.twitter.com/yJ81sMdMGx

— TB (@__TB____) March 25, 2020
49.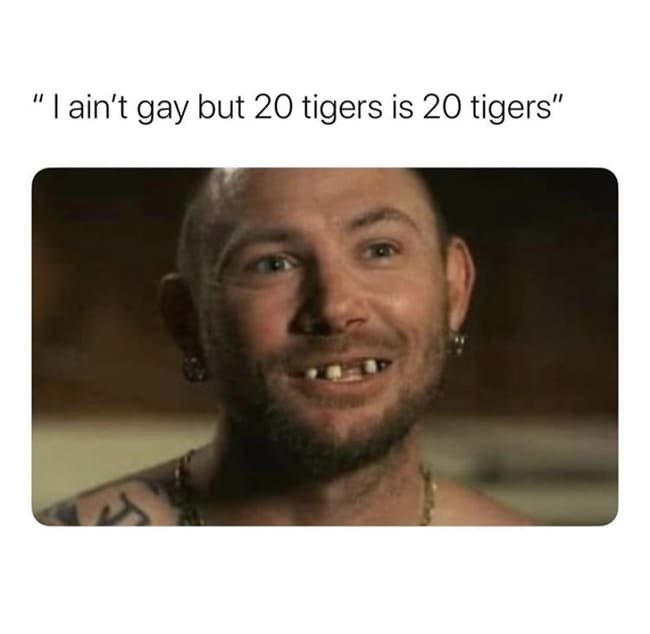 50.