Um, I don't know if you've been watching Twitter lately, but Chinese spy balloons aren't the only things flying around up there without our knowledge.
There have been a significant amount of UFO sightings lately, therefore the UFO meme has been on the rise as well. Seriously, everyone is joking and making memes about ACTUAL UFOs BEING FILMED AND SHOT DOWN.
Now, it's likely these are just crafts from other countries or one of America's many off-book military experiments, but still. This is happening, well, kind of a lot.
Twitter is all over it. Both breaking news and videos, plus some great jokes and memes. It honestly wouldn't surprise me if the aliens are already on Twitter enjoying the sh*t out of this all.
Here are the 17 best UFO memes from folks following all this alien news:
1. My guess is the aliens are just watching the last season of a great show. And I'm sure they're enjoying the UFO tweets.
I'm really hoping these UFOs are coming to save us from the dystopian nightmare we've created down here.

I know it's a big ask, but a girl can dream.

— Jolenta Greenberg (@JolentaG) February 12, 2023
2. Draw the UFOs some pictures, Amy.
STOP SHOOTING DOWN THE UFO's AND LET AMY ADAMS TALK TO THEM pic.twitter.com/8eOdYEJK2g

— wiLL (@willfulchaos) February 12, 2023
3. The aliens are next. Run, Rokulites!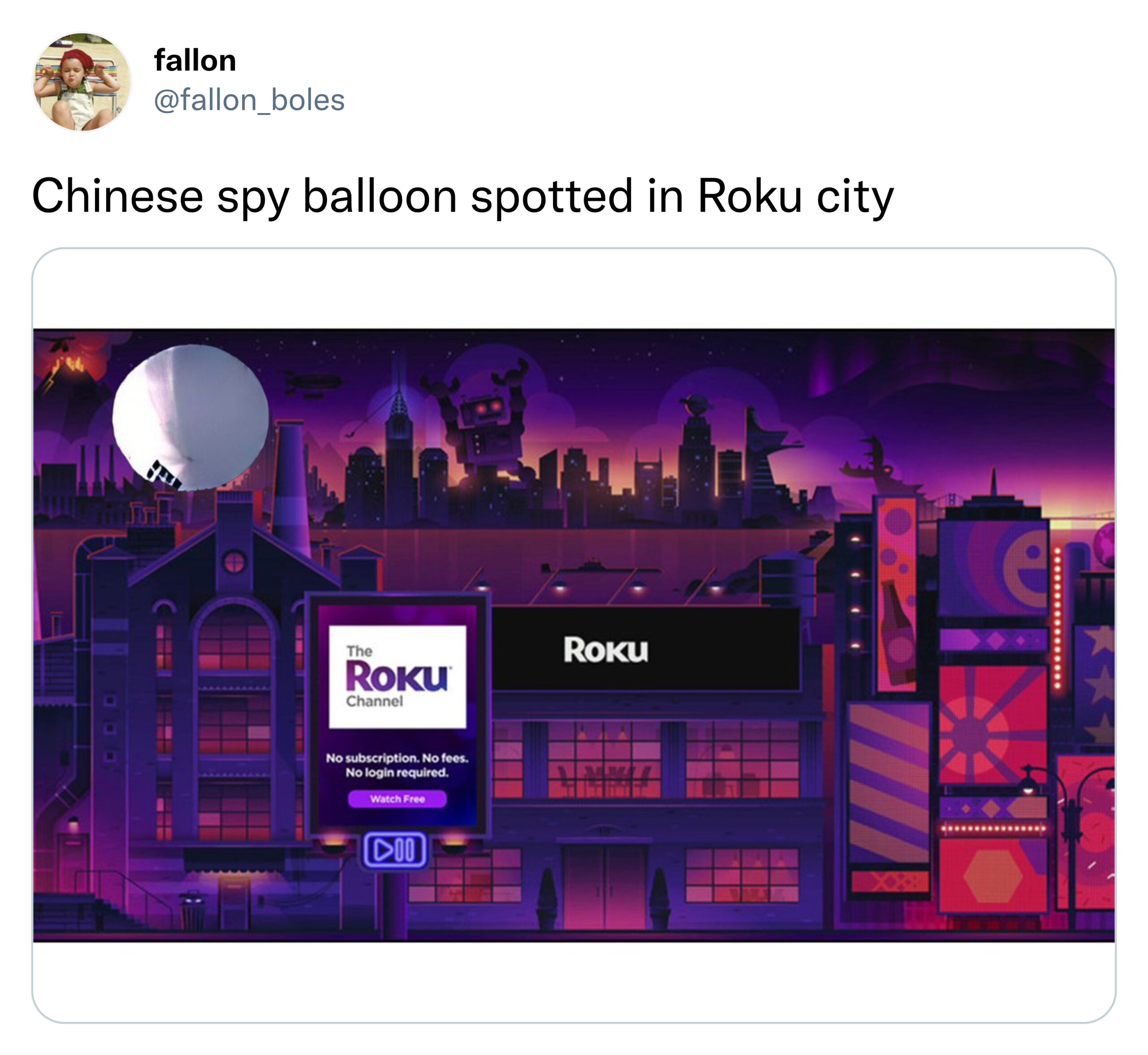 4. Who says yes to this?
Are you in the right headspace to receive information about aliens that could possibly hurt you?

— Elamin Abdelmahmoud (@elamin88) February 12, 2023
5. "I have identified it. It is a UFO."
I could have identified the object.

— Iva Dixit (@ivadixit) February 12, 2023
6. What a ride it has been. Please let me off.
7. Sounds like a cool dude. I'd park my UFO there.
if any aliens are reading this i think it's fucked up that humans are shooting down your spacecraft. if you make it to LA you are more than welcome to sit on my front porch with me and smoke a joint and listen to a "music that makes me feel like i'm in a movie" playlist.

— caleb hearon (@calebsaysthings) February 12, 2023
8. Gimme like 15
9. Thank you, Riri.
Waiting for Riri to come entertain us one last time before the aliens take over pic.twitter.com/ZUY8jLqiKr

— Omid Scobie (@scobie) February 13, 2023
10. Kinda rude tbh.
the aliens coming to see rihanna's halftime show before getting shot down pic.twitter.com/0qFv76hRrh

— stephen (@StephenOssola) February 12, 2023
11.
The Aliens trying to see Rihanna's Super Bowl performance while the US tries to shoot them down #FentyBowl #Rihanna #SuperBowlLVII #rihannahalftime pic.twitter.com/cufwhXJv9G

— Ben (@benfenty) February 12, 2023
12.
Me when the Aliens tell me I didn't make the cut and have to stay on 🌍 pic.twitter.com/IWAbfCuzDb

— Servi Barrientos (@ServiBarrientos) February 12, 2023
13.
14.
BREAKING NEWS:
First images of object shot down over Alaska. pic.twitter.com/FzqwEcTm6I

— Tobiwan (@nursernsurf) February 11, 2023
15.
UFOs and Chinese Spy Balloons seeing each other fly over Lake Michigan: pic.twitter.com/U1L694wGEG

— Danny Armstrong (@DArmstrong44) February 12, 2023
16.
All of the aliens running out of the UFO..after we shot it down.
pic.twitter.com/Cm6CiLkEyN

— Lord Zito (@VivalaZito) February 13, 2023
17.
What the ufo in Alaska was doing before the military shot it down pic.twitter.com/6tWBXs0s1T

— Dmitri 🐝 (@DMEECH97) February 11, 2023