The practice of paying people to take care of your kids and your household is always fraught with strange dynamics.
People can be very judgmental about well-off parents who have chosen to work and want to outsource the labor of raising their kids and take care of their home.
And some people don't really have a choice—they have to work. They likely can't afford to pay for lots of help either and have to make it work with daycare, family help, or after-school programs. Universal childcare, people, we need universal childcare!
This story is about a family that would probably never put their kids in a regular after-school program, even if there weren't a pandemic going on.
They posted an ad seeking a "household manager/cook/nanny," but those three descriptions barely encompass all the demands below.
The ad was originally screenshot and shared by Twitter user @honeystaysuper. It seems like they couldn't take the heat of a viral post and ended up deleting it.
It's hard to tell if they're a couple or a single parent, because they describe themselves as a "CEO family" with twins, though it's mentioned the mom is a CEO.
So, either there's no dad or he's a dad who just lounges by the pool because this is an ad for a full-time parent.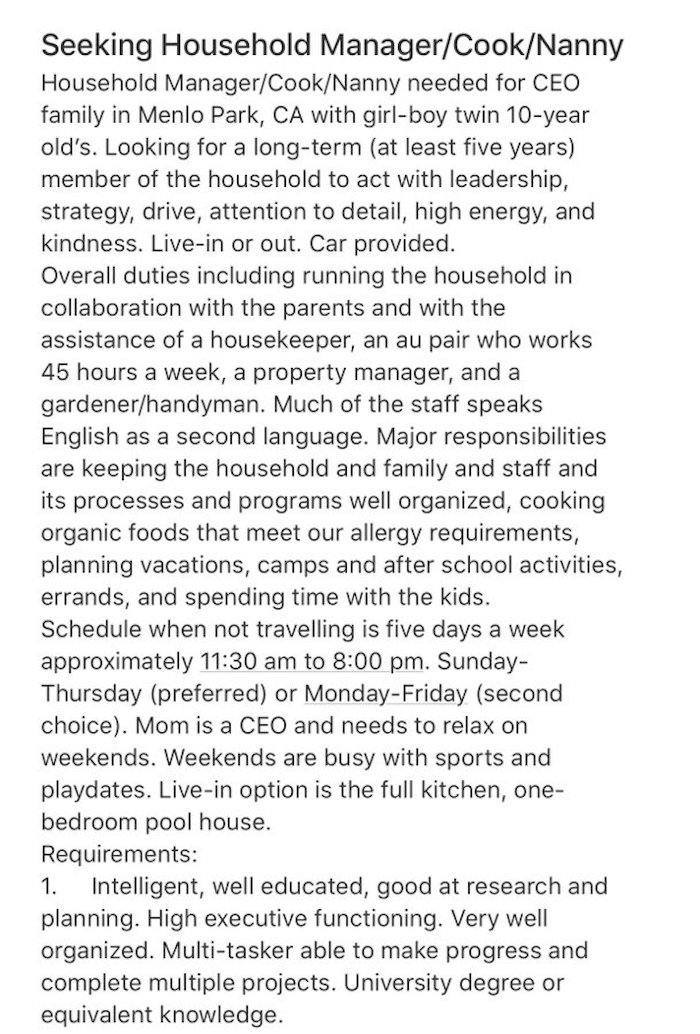 The ad wants someone who will stay with the family for at least five years and who has "room in their heart to love the kids and the mom" plus a "high capacity to be loved deeply by them." Yes, love must be a part of the package and it can be bought!
The candidate must also have a "university degree or equivalent knowledge" and that will certainly be necessary because it sounds like they'll be managing everything in the life of everyone who lives in the house. Including their diets, and this family is allegedly allergic to "cow and goat dairy, chicken eggs, green beans, and watermelon."
Don't worry. They can eat duck eggs.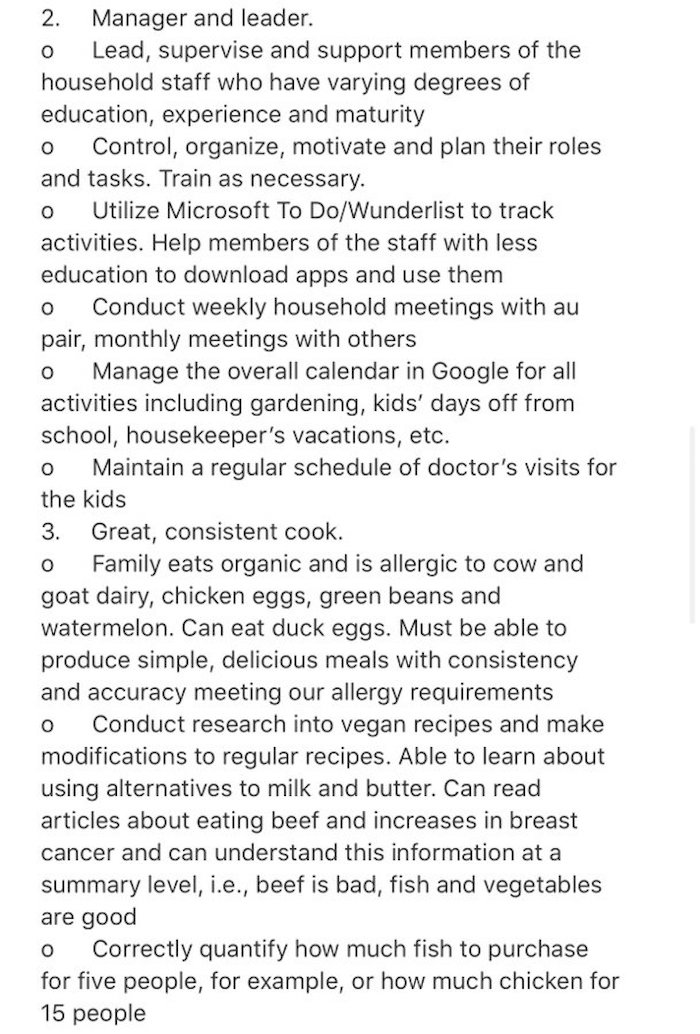 The candidate must teach the kids how to do math by using games, "strategically think through vacation options based on the developmental levels of the kids and the need for the mom to relax," make sure all meals are "relaxed, happy, family-style," and "track and administer allowance, clothing budgets, household expenses, etc."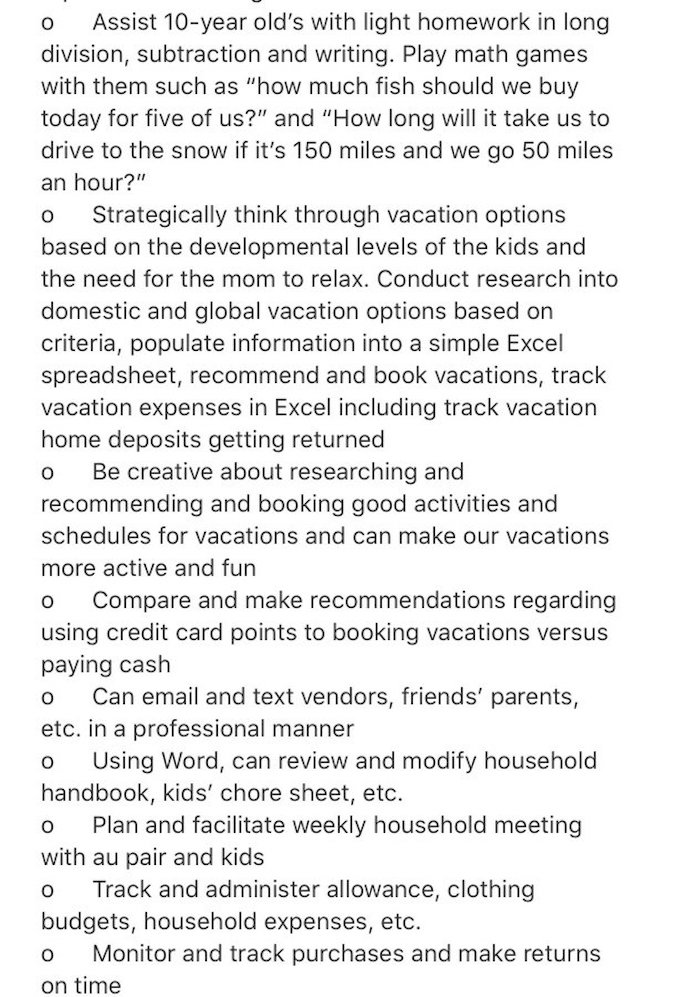 Don't forget they must "do calisthenics with the kids (sit-ups, squats, pushups) and generally play and roughhouse with the kids," "ski at least at an intermediate level," and have "experience driving in other countries."
They also have to take charge of the twins' social life and "can build alliances with other kids' parents and nannies and arrange playdates and joint travel with other families."
So, how much would you have to be paid to do all this? I think a million dollars for me, at a minimum. It's technically a five day per week job, but there's no way in hell you do all of these things for the family without committing yourself entirely to them. You know, like a parent would.
Most people are pretty astonished by the demands in this ad:
(the skiing/swimming/hiking/athletic part got me… Like, plan the vacations and be the "fun athletic parent" with the kids on vacations so the mom can travel along but chill somewhere without the kids? And do all that on top of normal work hours? That's a whole job right there.)

— Renee (@paix120) January 23, 2020
I see household manager/planner, cook/dietician, tutor, and sports camp counselor at a minimum in there.

— Renee (@paix120) January 23, 2020
this is one of my favorite parts pic.twitter.com/ErtLKSi7ep

— Jane 🍳🧺🦵 (@looks_last) January 23, 2020
So, this person has to swim, hike mountains, body surf, plan vacations enthusiastically with points, cook vegan, speak another language, have a degree, throw around random word problems about chicken and fish and let the mom relax on weekends? The pay has to be 6 figures!

— BeanFinga (@beanfinga) January 23, 2020
Yeah, the requirements for this are quite high. The person also needs to be CPR certified!

Also, do the parents spend any time with their kids or do any parenting?

— Patrick Thornton (@pwthornton) January 23, 2020
I was absolutely, 100% convinced this was going to end with "This is an unpaid internship."

— Emily Baselt (@emilybaselt) January 23, 2020

Others feel like the person who wrote it is a single mom with a high-stress job and she has a right to ask for what she wants:
The comments going around about the mom CEO household manager job posting are just making me sad. It seems pretty clear she's a single mom, no? And is looking for someone to basically … be a wife

— Doree Shafrir (@doree) January 24, 2020
That household manager thing seems fine to me, as long as they pay decently. The mom is a CEO! It would be great to have someone plan awesome vacations & take care of all home organization.

— Emily Nussbaum (@emilynussbaum) January 24, 2020
I guess people can put out an ad for whatever they want. If anyone will answer is another story.
Slate actually found the woman who supposedly wrote the ad for an interview, and she says it was originally intended for internal use only for a job placement firm. But then she posted it on a job board. She feels that the response has been pretty sexist, and what she's saying is she needs someone who is a good caretaker as a nanny and who can help with organizing. And I was kind of onboard until she started talking about what the job pays:
It's $35 to $40 an hour. Then there'd be time and a half for any overtime. And if the person wanted, they could live in our pool cottage, and the rental value for that is about $3,000 a month. They'd get a car that they could use exclusively for themselves; that's valued at about $800 a month. There'd be paid days off, paid holidays, vacation pay, health benefits and the person would get to travel with us. We do some pretty cool vacations. We go to Europe a lot. We always stay in really nice places and have a lot of fun. And we travel to Hawaii, Central America. And when that person would be traveling, that person would only be working eight to nine hours a day.
Only eight to nine hours a day of work on vacation? Wow! I'm sorry, I cannot imagine anyone with all of the abilities, education, and energy that is being demanded of this ad would settle for $40 an hour. Maybe a younger person who can watch the kids and make sure they get some Lunchables at noon.