Parenting is low key one of the most difficult jobs in the world, and you have to give serious props to moms who have the game figured out. Take, for example, one mom who went viral after disciplining her children in the most savagely creative way possible—by making her misbehaving kids do pushups on the disgusting floor of a Hobby Lobby public bathroom.
The scene in question was actually captured by another mother of young children, Molly Wooden from Killen, Texas, who shared it on Facebook.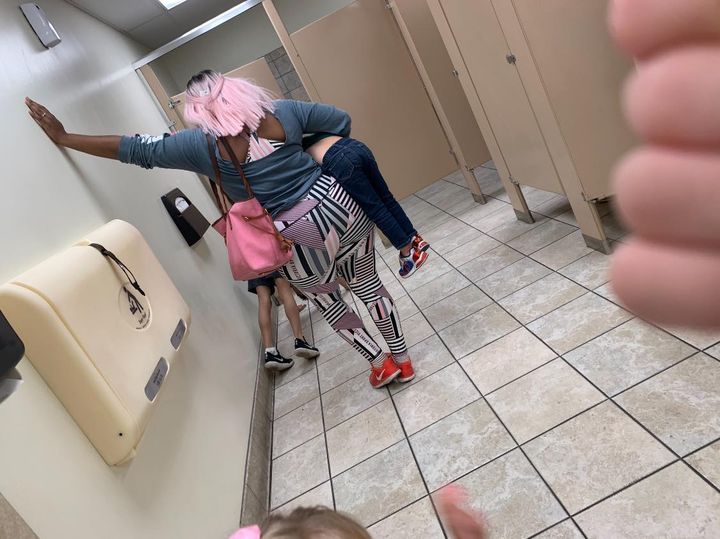 "To the woman in the Hobby Lobby bathroom," Wooden wrote. "If my hands weren't full of children I would have applauded you. As your son gave you the back talk of the century, you stayed calm and collected while adding 10 more push-ups to his already growing number."
"We need more parents like you, who aren't afraid to parent their own children because of what someone else might think," she added. "He said, 'Mama, this is the bathroom floor. Gross.'"
To which the mother replied: "Maybe you shouldn't have been acting obnoxious. Ten more." Wooden added, "They have soap for a reason."
"Random woman of Hobby Lobby, I love you," wrote Wooden. "Keep on raisin' them boys right!"
The post quickly proceeded to go viral and has since been "liked" and shared over a combined 100,000 times. Many other mothers took to the comments to commend the woman's no-nonsense parenting.
"Kudos to the mother. Yes soap and water to the rescue afterward. Maybe it'll make them think twice next time," wrote one mother.
"I use to make mine walk up and down the stairs for 30 mins when they were little. Now they are all grown so I splash them with a bottle of cold water when they get disrespectful. If their electronics get destroyed in the process… Oh well," added another.
In an update, Wooden added that "through the power of social media" she connected with the mother, who promptly thanked her for posting it.
"She says she appreciates the support and positive comments, and we're hoping to grab coffee sometime," Wooden added, "While supervising push-ups, that is." But maybe just not in the public bathroom this time?
More viral parenting posts: