Some teachers go above and beyond to engage their students. We've all had that teacher who really tries to energize students and explain ideas in a fun and memorable way.
And that's what third-grade teacher Verónica Duque did.
Muy orgulloso de este volcán de ideas que tengo la suerte de tener como mujer😊😊
Hoy ha explicado el cuerpo humano a sus alumnos de una manera muy original👍🏻
Y los niños flipando🤣🤣
Grande Verónica!!!👏🏻👏🏻😍😍 pic.twitter.com/hAwqyuujzs

— Michael (@mikemoratinos) December 16, 2019
The 15-year teaching veteran recently donned a full-body suit showing the human body to give a class on anatomy—and folks are praising her ingenuity and dedication.
"I was surfing the internet when an ad of an AliExpress swimsuit popped up. Knowing how hard it is for kids this young to visualize the disposition of internal organs, I thought it was worth it giving it a try," she told Bored Panda.
Duque and her lesson went viral on Twitter after her husband Michael tweeted some pictures of her at work. The tweet currently has over 65k likes and 13k retweets.
Aside from teaching natural and social science, Duque also teaches art, English, and Spanish.
"I decided long ago to use disguises for history lessons," she said. "I'm also using cardboard crowns for my students to learn grammatical categories such as nouns, adjectives, and verbs. Different grammar kingdoms, so to say."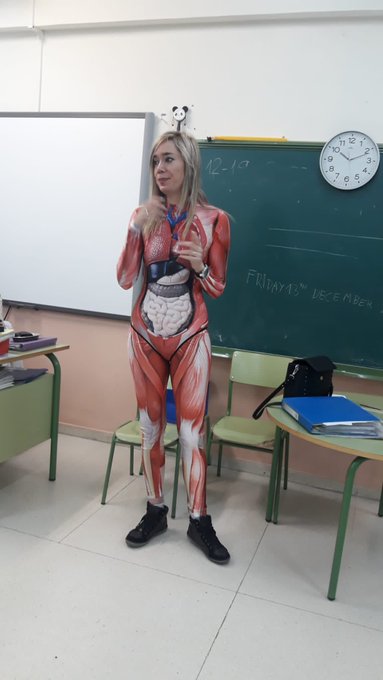 Duque wants everyone to know that teaching is a job that requires creativity, hard work, and dedication. "I'd like society to stop considering teachers to be lazy bureaucratic public servants," Duque said. "We're certainly not."
Brilliant idea, yes😊she ordered by
AliExpress.

— Michael (@mikemoratinos) December 17, 2019
The future of children is in the hands of their #Teachers. The creativity of teachers like this gives #hope to the every generation. Thank you https://t.co/9rpflQ9E0P

— Hussain Ali Mirza (@hussainstweet) December 23, 2019
I need this teacher https://t.co/qqPzkANeX8

— Lu (@Lulovesyou03) December 19, 2019
More awesome teachers: