We all know everything is covered in germs all the time, but the most common way to deal with it is to ignore it. The next level is washing your hands regularly with soap and hot water. The level above that is dousing yourself in Purell every time you touch something that didn't just come out of a disinfected bag. After seeing this experiment conducted by a bunch of elementary schoolers, you might be at whatever level four is for the rest of your life—maybe purification through fire?
The Facebook post shared by Jaralee Metcalf, who is an Idaho-based behavioral specialist according to Buzzfeed News. She primarily works with a group of students in kindergarten through sixth grade who have autism. She and special education teacher Dayna Robertson decided to lead the kids through an experiment they found on the C.S. Mott Children's Hospital website. Metcalf explained the process in her post:
We did a science project in class this last month as flu season was starting. We took fresh bread and touched it. We did one slice untouched. One with unwashed hands. One with hand sanitizer. One with washed hands with warm water and soap. Then we decided to rub a piece on all our classroom Chromebooks.

As somebody who is sick and tired of being sick and tired of being sick and tired. Wash your hands! Remind your kids to wash their hands! And hand sanitizer is not an alternative to washing hands!! At all!

This is so DISGUSTING!!!
And she shared the various moldy bread slices, growing hand and item germ mold that had turned into yeasty Petri dishes.
Every student touched every piece of bread except the control piece, so no one got called out as having particularly filthy hands. It took 3-4 weeks for results, because of "preservatives," according to Metcalf.
Here is what the "fresh and untouched" control bread looked like: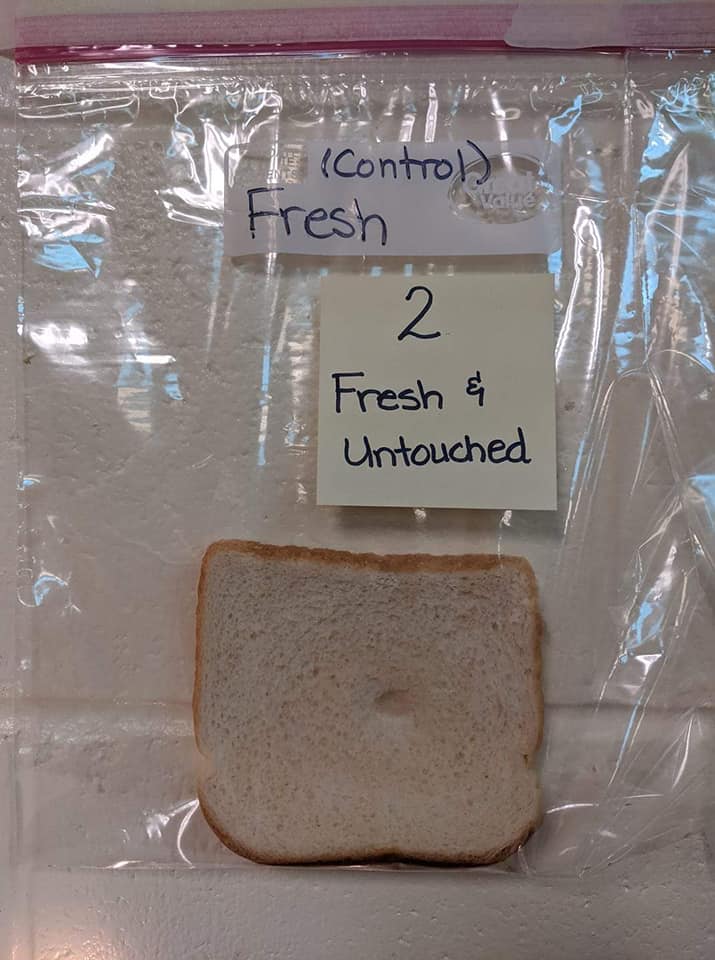 The bread mold that formed after being wiped with hands that touched Chromebooks: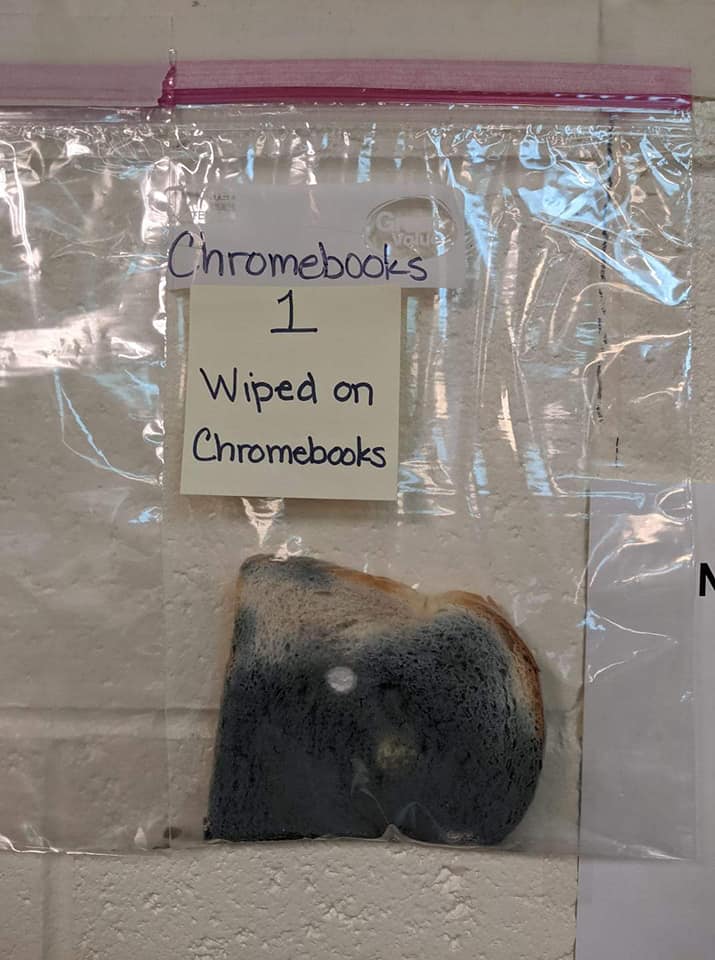 The moldy bread after being touched with dirty hands: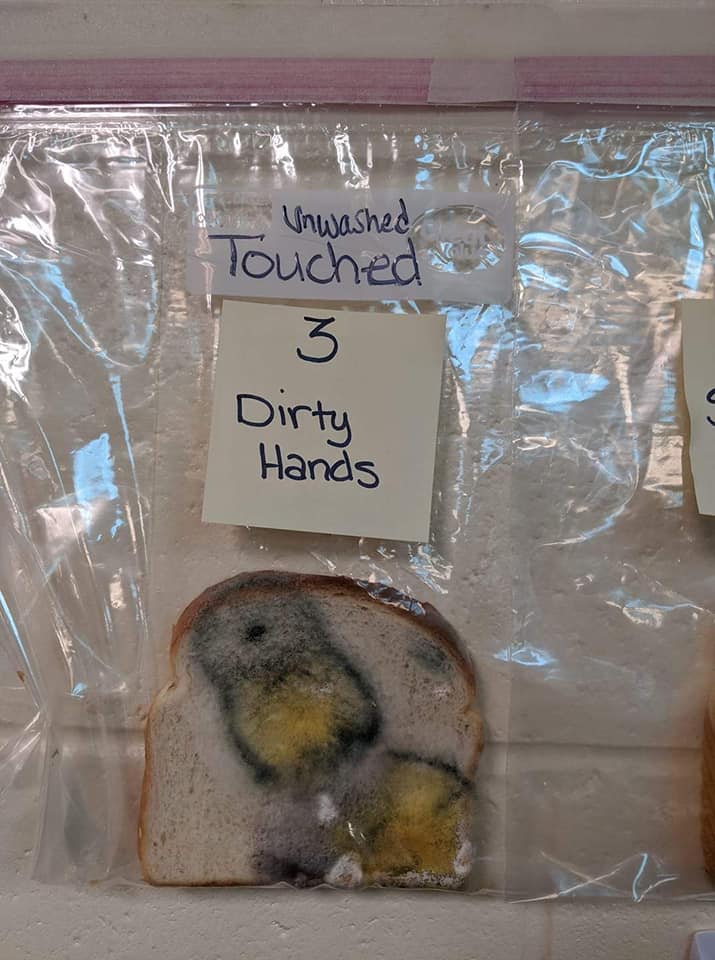 The bread slice touched with hands washed with soap and water: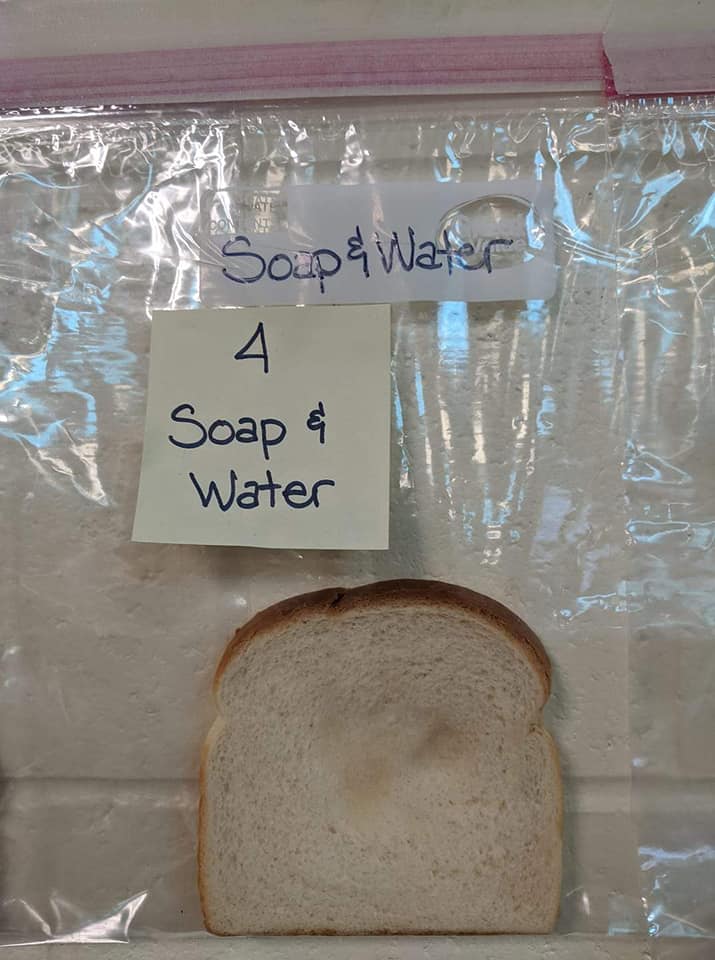 Bread touched after using hand sanitizer: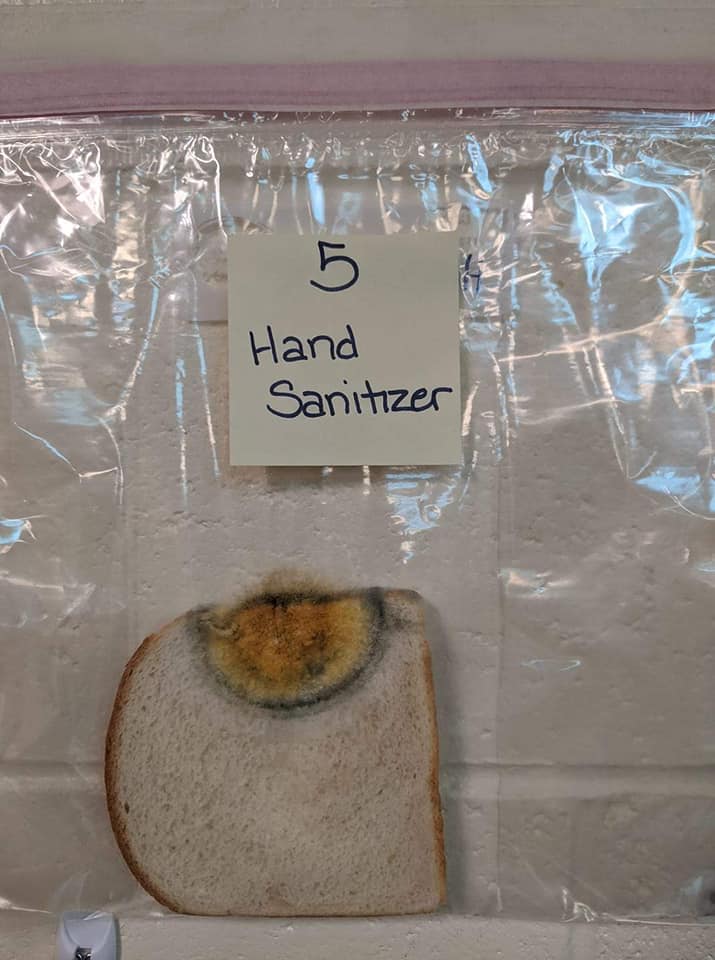 It all looks disgusting: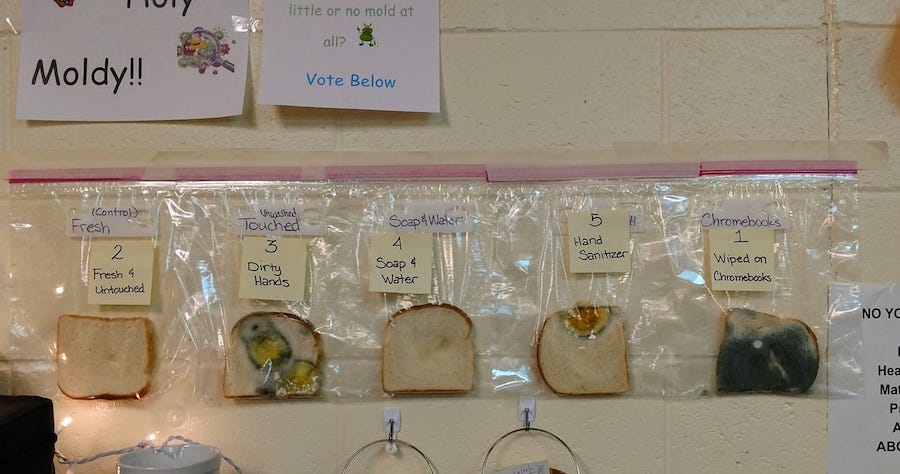 She had to edit to clarify a few things as the story went viral. People had a long of strong opinions about the moldy bread experiment, particularly concerning handwashing and Chromebooks, apparently:
** Editing again to clarify: The control piece wasn't fresh when we took this picture. It just wasn't ever touched with naked hands and it was moved immediately from the bread bag to the zip lock baggie (every piece of bread here is from the same loaf and same day)**
**They're freezer ziplock bags meant for raw meat and they're sealed tight**
**We do sanitize our Chromebooks, obviously we did not do that for this experiment 🙄**
**We are an elementary school. Not a fancy CDC lab, so relax a little and WASH YOUR HANDS**
🚨🚨 Again! This is an elementary school classroom experiment, try not to get upset! 🚨🚨
**I am in no way trying to make Google Chromebooks look bad, all laptops have germs, the amount is based on the person/people using them and not the brand (can't believe I need to specify this)**
**It is just plain soap. Not antibacterial or anything fancy**
**You're all entitled to your opinions. But they may be deleted**
In conclusion, wash both your hands and wipe down electric equipment that follows you around all day. Like into the bathroom. Smartphones, I'm looking at you.
More cool and funny teachers: