You can choose a funny Halloween costume, a sexy Halloween costume, or you can go full-on galaxy brain and choose a meme Halloween costume.
Whether they're clever, stupid, or funny for no discernible reason, memes are the language of the internet. So it's no surprise that there are meme-based Halloween costumes for those who want to dress up as their favorite meme of the moment from "Surprised Guy" to "And I Oop."
Here are some meme Halloween costume ideas you can try whether or not your brain has been ruined by memes.
---
1. "Change My Mind"
2. Chalkboard Mom
3. Woman Yelling At Cat
4. Me And The Boys
5. #Filter vs. #NoFilter
6. Slapping Batman
7. Confused Woman
8. Y Tho
9. Nathan Apodaca, the viral "Dreams" TikTok guy
Or the pumpkinhead equivalent…
Lol my buddy was the "Aight Imma Head Out" Spongebob meme for a Halloween Party 😂 best costume of the night! 🔥 #AightImmaHeadOut #SpongebobMeme pic.twitter.com/PrWS4LvAJQ

— Jesus Martinez (@jesusthegenius) October 26, 2019
11. Distracted Boyfriend
Meme costumes age well, right pic.twitter.com/6jUUJ9a6EP

— Chase Mitchell (@ChaseMit) October 29, 2017
12. Squinting Woman
View this post on Instagram
13. Disintegrating Spider-man
14. "This Is Fine" Dog
15. Is this a…?
is this a halloween costume? pic.twitter.com/dqU1dksNdQ

— Nicole Zhu (@nicolelzhu) October 28, 2018
16. The Ancient Aliens Guy
17. Google Street View Cat
「Googleストリートビューに写り込んだ変な猫」のコスプレ。 #ハロウィン pic.twitter.com/AqEjcyXjco

— セブ山 (@sebuyama) October 31, 2017
18. Tide Pod
19. Moth & Lamp
20. 1990s Rock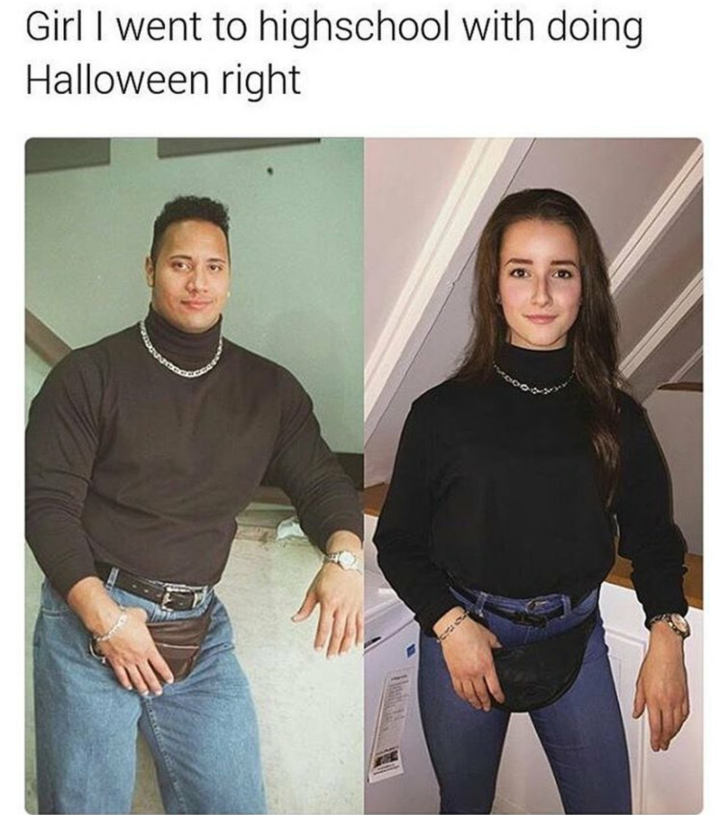 21. Kermit Sipping Tea
View this post on Instagram
22. Hello Fellow Kids
23. Arthur
24. Al Sharpton's Gym Selfie
I am sick of y'all pic.twitter.com/iJJ2pLzdRB

— philip lewis (@Phil_Lewis_) October 31, 2017
25. The Most Interesting Man In The World
#dosequis @DosEquis #halloweencostume #mostinterestingman #worldsmostinterestingman #mostinterestingmanintgeworld #dosequisman #memecostume pic.twitter.com/QRKrcNCyo6

— Getti (@getti_hulahoops) October 28, 2017
26. If all else fails…Salt Bae is still pretty easy to throw together
More Halloween costumes and content: