Without friends to mess with us, life would be so empty. Most of my friends aren't doing much right now, so I appreciated living vicariously through this goofy prank Imgur user jheld5475 put his buddy Matt through. He posted the pics of their back-and-forth texting for all of our enjoyment.
It started with Matt having lent his buddy shoes so he could be a properly attired groomsman without buying a pair of leather wingtips he'd never wear again. Matt asked for picture updates of the ceremony and "especially the shoes," seemingly as a joke.
But the joke wouldn't end.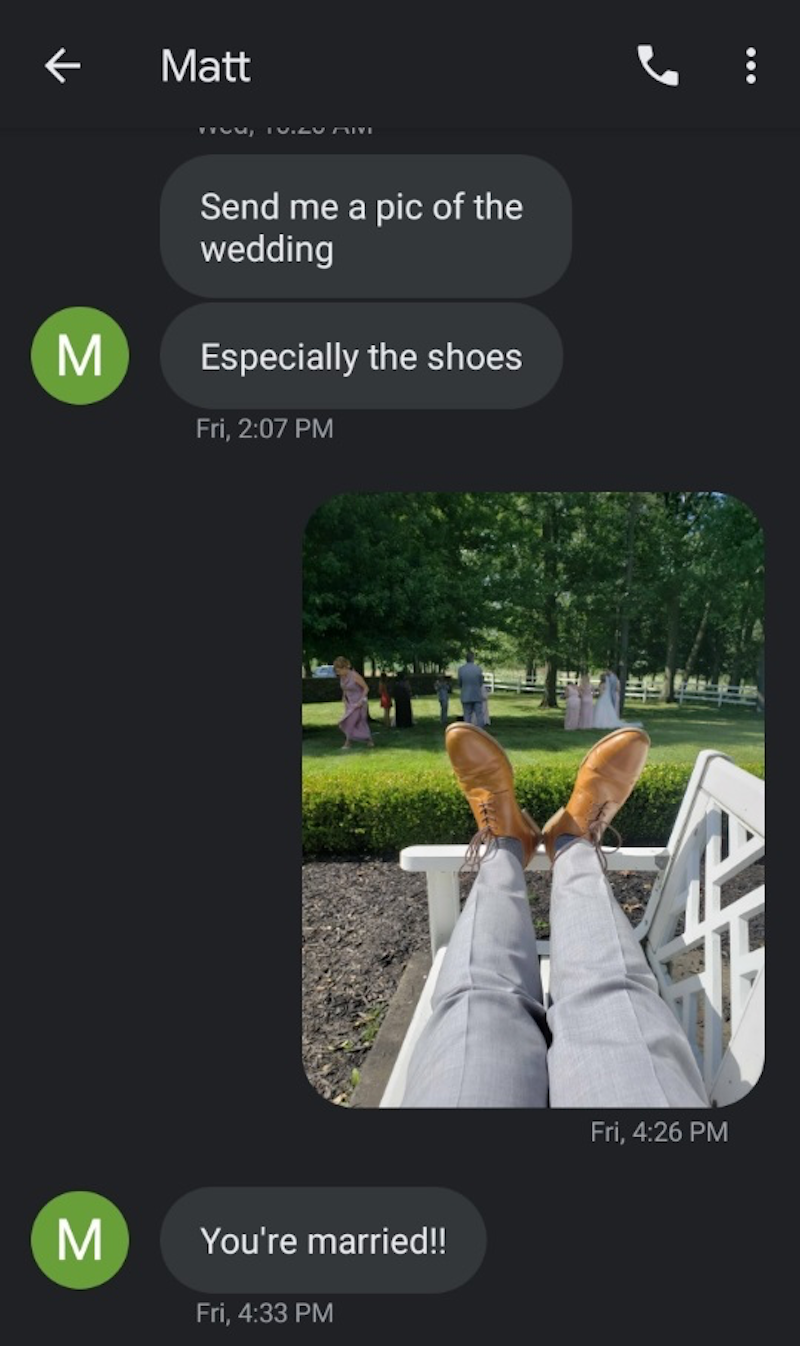 Soon the groomsman was sending shoe pic after shoe pic, in the background of which the wedding could vaguely be seen happening. People danced, took pictures, and wandered the grounds as the shoes watched.
At first, Matt was playful about all the shoe photos, responding, "It's the new planking!"
But as shoe pics flooded his messages, his tune changed.
"I hate you," Matt wrote to the groomsman. "Such an a**hole."

Other shoes made appearances, too, as the groomsman roped in other wingtip wearers for unlikely poses, like the shoes are hanging out instead of the people.
"I'm experiencing this wedding in the worst way," wrote Matt.
"Cutting the cake," the groomsman responded. With a picture of his shoes of course.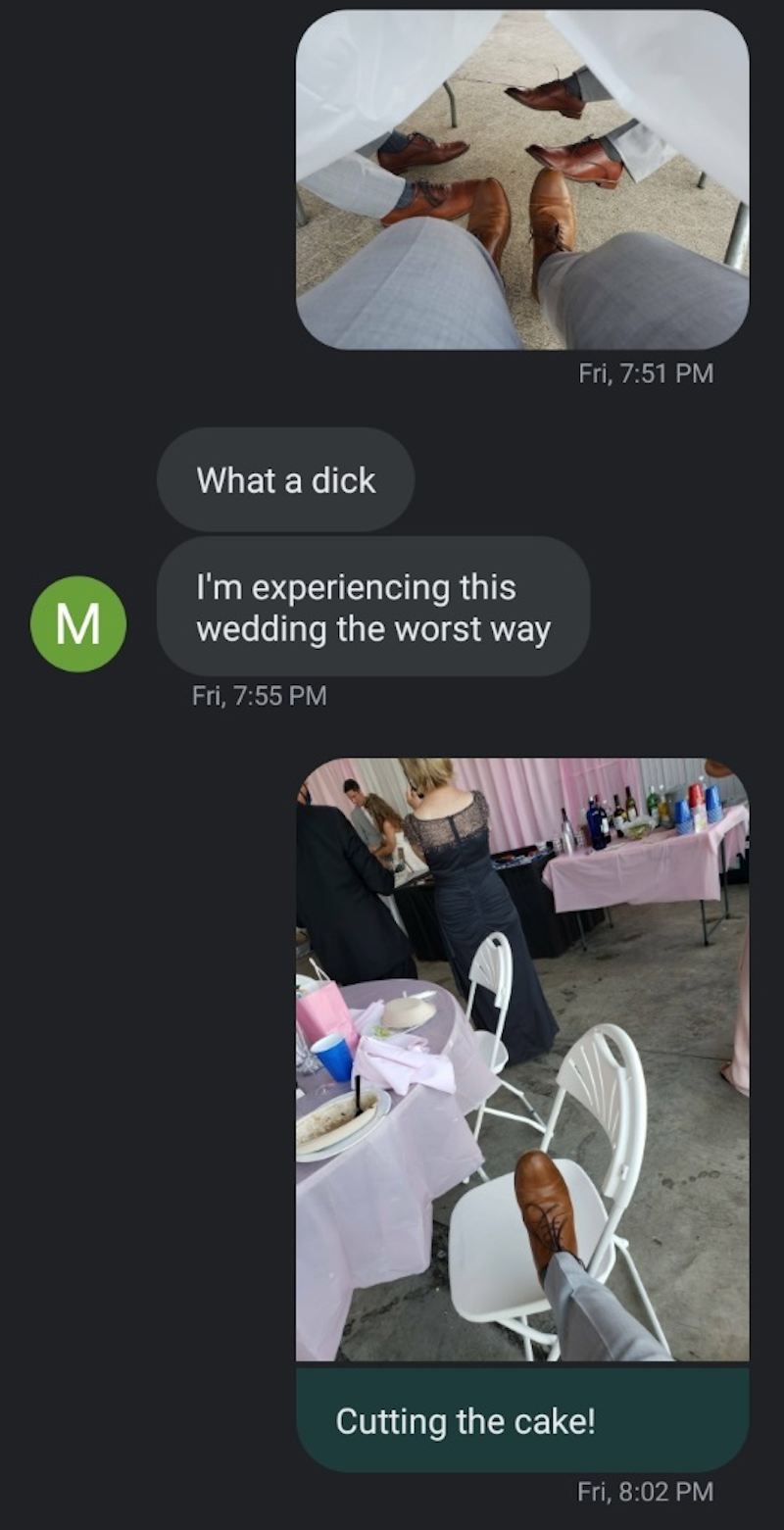 The shoe pictures started to get better in quality, as the groomsman figured out how to show them to their best advantage. Matt noticed, asking about a picture of a cow with the shoes, "Why is the framing getting better?"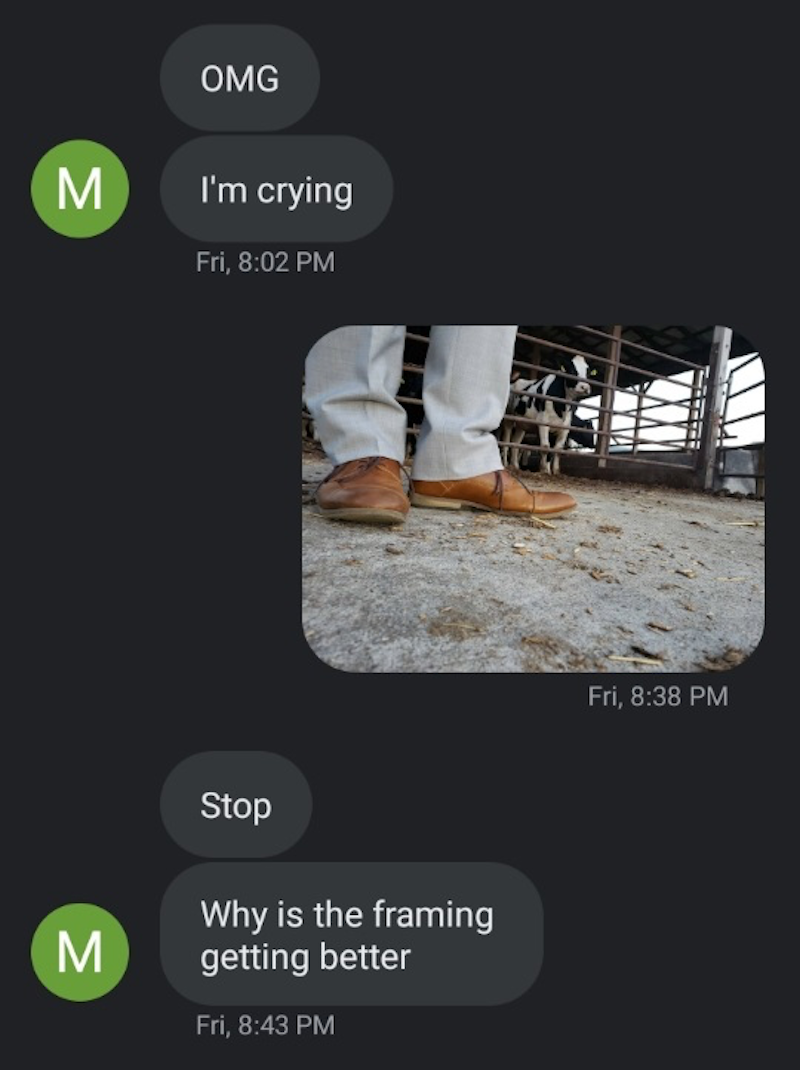 "I'm getting mad," Matt wrote of the high-quality photos.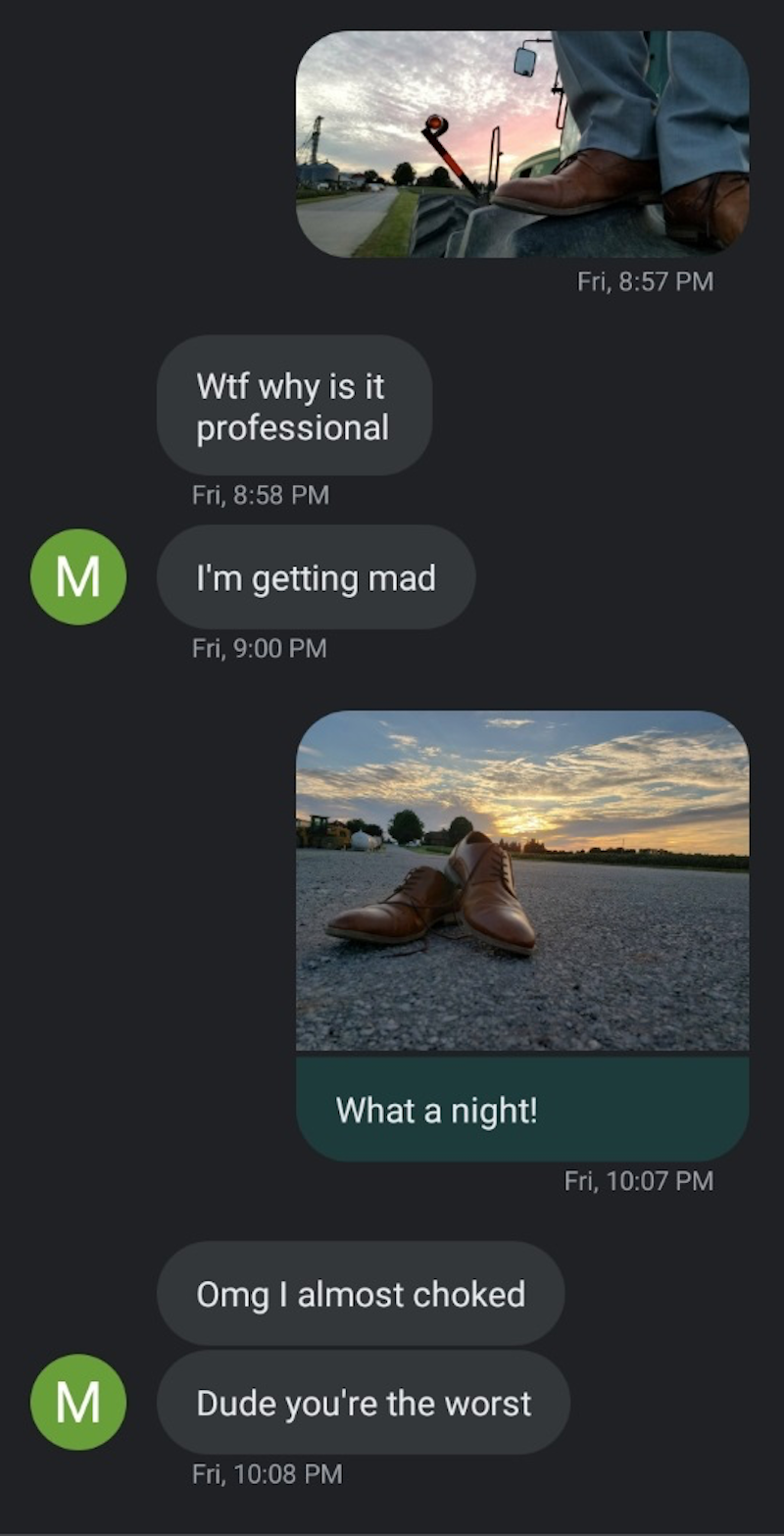 Bored Panda interviewed the Imgur poster to ask about the wedding and the compulsive shoe pics.
"The wedding was nice, it was a small ceremony because of the pandemic, but they have plans to do a proper celebration for their anniversary, COVID-permitting," the groomsman said. "I had to be a bit crafty to get the photos during the ceremony, but I think I was pretty sneaky for most of them. I did require a photographer for some of them to get the proper angle, But I would like to claim that last photo as my own. Pretty proud of that one."
He also said that he's been friends with Matt since college, so enraging him over shoe pics didn't do any actual damage to their friendship.
"He kept saying he was upset but I think he thought it was pretty funny as well," the groomsman said. "We had fun documenting the wedding in an unconventional way."
Yes, the memories the two of them share of this wedding will last forever.
You may or may not also enjoy these high-quality links: