Sometimes Bridezilla posts seem like a cry for help.
This one has gone viral multiple times on Reddit, though it was most recently posted in part u/subrossanc on /r/ChoosingBeggars, because the woman writing the Facebook rant is having a meltdown because her guests wouldn't contribute $1,500 each to her wedding day. Oh boy.
The person to originally shared the story has deleted their account; perhaps they've been murdered by the Bride. But it lives on, on Imgur, in all its deranged glory. The Facebook post begins with "dear friends" though it soon becomes clear she hates everyone she's talking to.
After saying her wedding is canceled, she adds, "Before I begin this mini-novel, I invite all of you (including the C–TS who have ruined my marriage and life) to put yourselves in my shoes.
"For once, let me take the stage and voice the most painful few months of my life."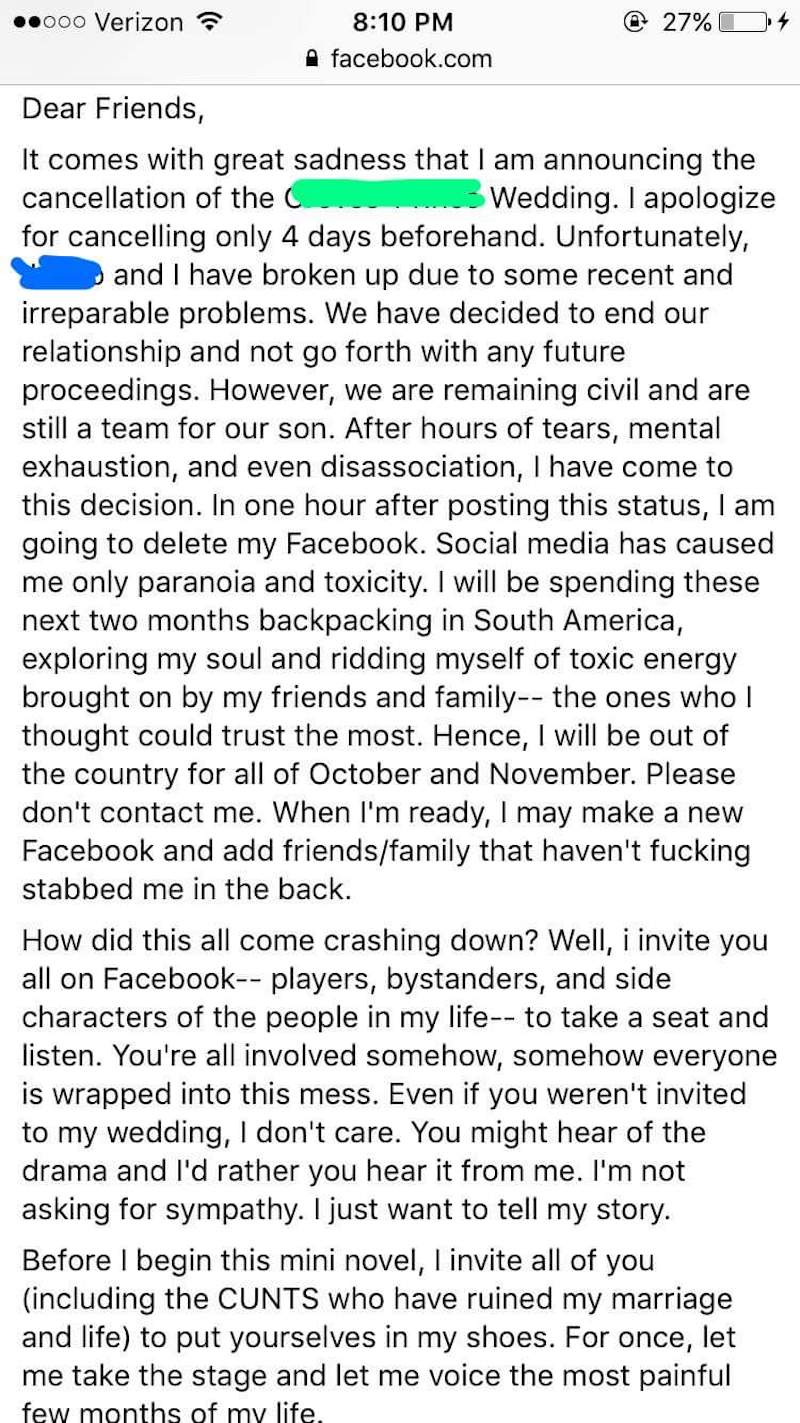 The bride says she and her fiancé have broken things off and claims anyone reading this post is "involved somehow" because everyone is responsible for her life mess except her.
She goes into detail about how she and her fiancé had scrimped and saved and sacrificed to pay for a "blow out" wedding, but to bring the party home they need each guest to "donate" $1,500 if they wanted to be invited.
"I SPECIFICALLY, I mean SPECIFICALLY asked for cash gifts," she wrote. "How could we have OUR wedding that WE dreamt of without proper funding?"
A really special detail in this story is that the bride and groom went to a psychic to ask for advice on which venue to choose—and the psychic told them to go for the more expensive one!
But they were shocked when only eight people out of everyone they invited sent an RSVP and a check. Soon afterward, people began reneging on promises of money, including her fiancé's family and her now FORMER best friend. They tried setting up a GoFundMe, which only garnered $250, which sounds like a lot for the circumstances, actually.
But what really pushed out bride over the edge was when her fiancé acknowledged reality and suggested they get a cheaper Las Vegas wedding. She absolutely freaked.
"He wanted one of those cheap, raggedy, filthy, whore-like Vegas weddings. Was he out of his mind? Am I some hooch piece of f-cking trash, a hooker?" she asked. "Am I supposed to like the idea of getting married in the heart of shady gamblers, alcoholics, and the get rich fast fallacy? Suddenly my body began to shake as a I entered a mini panic attack."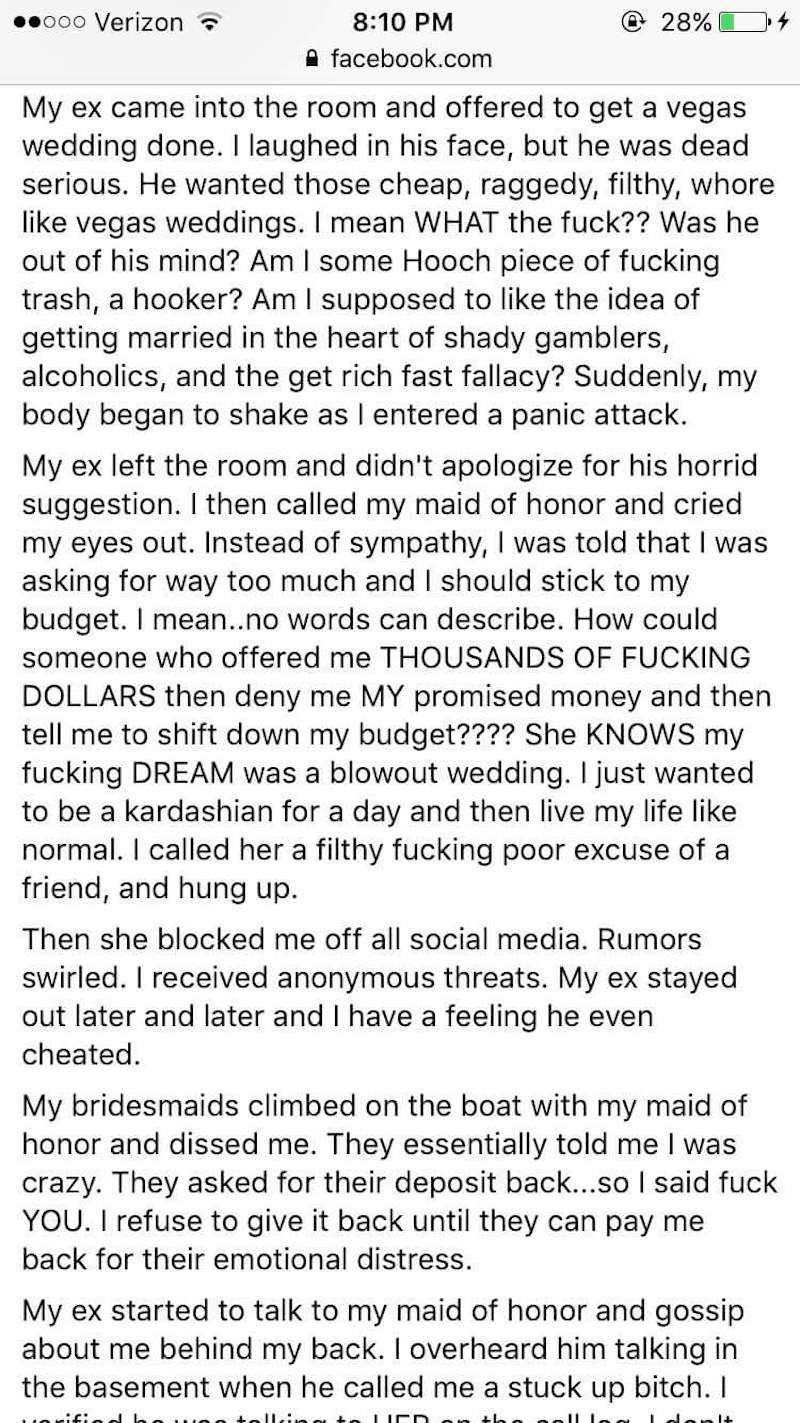 Soon, everyone was turning on her or blocking her, completely over wedding talk. She began to suspect her fiancé had even cheated.
"I am exhausted. I am bone tired. My heart is not the same. It's stone cold. Fragmented. Empty," she began her conclusion.
"I need to get away from this awful society," she said. "How hard would it to have been to f-cking donate friends? Do I matter to you? Just f-cking give me money for my wedding. I won't even sugarcoat. I won't even pretend that's not what I wanted. It was for a dream. I was stabbed, cheated on, and Wrk'd."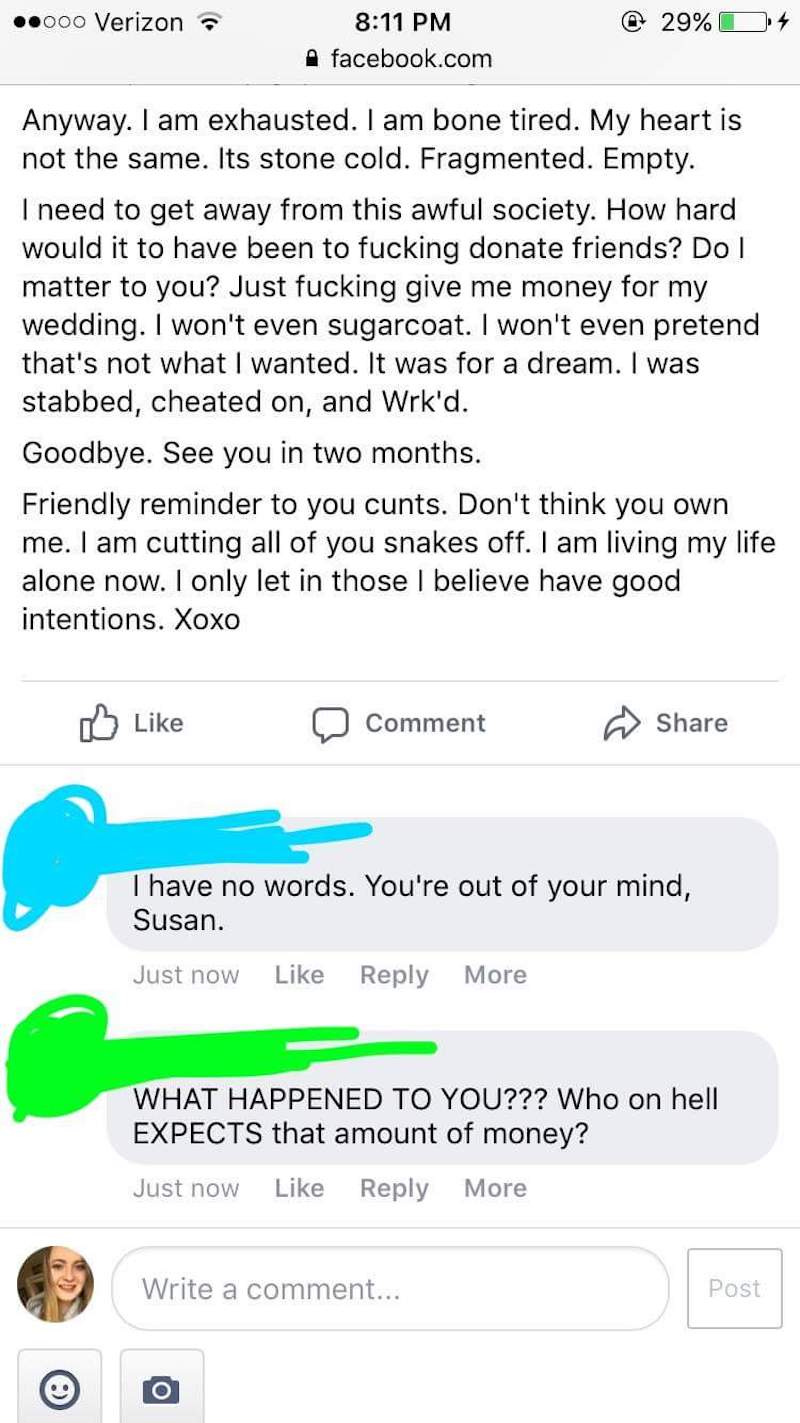 There are only a couple of visible comments, sadly, one of which reads, "I have no words. You're out of your mind Susan."
"WHAT HAPPENED TO YOU???" the other reads. "Who on hell EXPECTS that amount of money?"
There were, however, plenty of comments from people reading the story, including Chrissy Tiegen: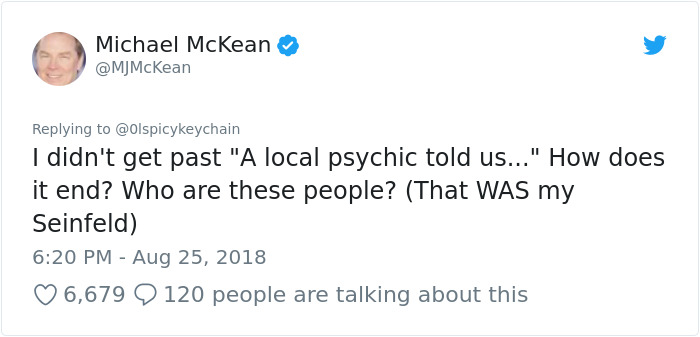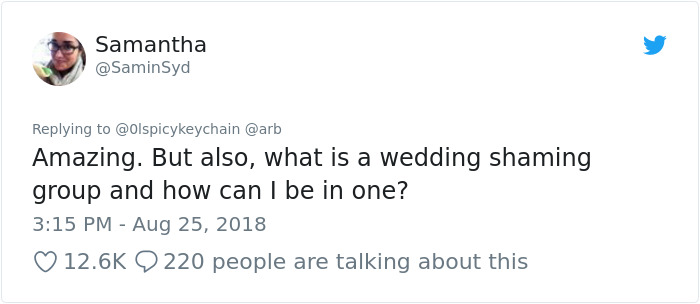 It's hard to be really sympathetic to the bride here because she is asking absolutely unreasonable demands and seems pretty judgmental of anyone who can't afford a fancy wedding, even though she is one of those people. But if she had a GoFundme for therapy costs, I'd donate.
More Bridezillas:
Cover photo by Christopher Campbell on Unsplash