The lockdown in most countries means it's pretty hard to see anyone who you don't already live with. Friends and family members are separated. So are people in romantic relationships, which is pretty hard to deal with, especially if your beloved lives with incredibly strict parents who will come down like the hammer of Thor if they find out you're breaking quarantine to "snuggle."
That's why u/sugohfu ended up trapped in the small space between his girlfriend's desk and bedroom door, the only place he couldn't be seen when her parents came home early from an errand. The OP writes that they're in Malaysia, and they're both Chinese. While it's a stereotype that Asian parents are strict, he insists that in this case, it's true.

The entire story is on the subreddit r/TIFU, and for once I agree that this is a person who actually f—ked up. The OP says they created their Reddit account just to share this story, and continually updated as it went along to let everyone know he escaped. I actually believe that, because he really needed to kill a lot of hours squatting there.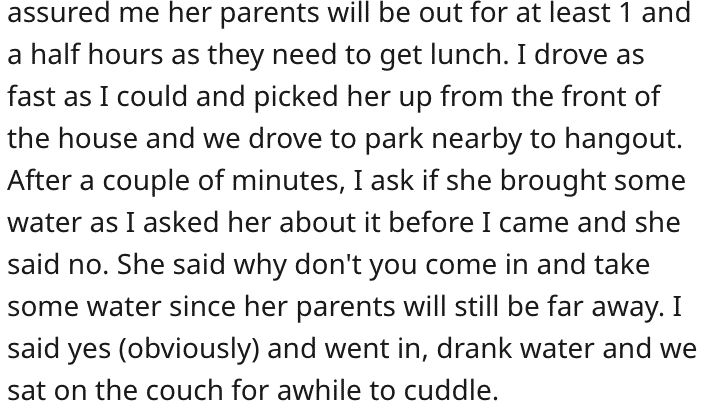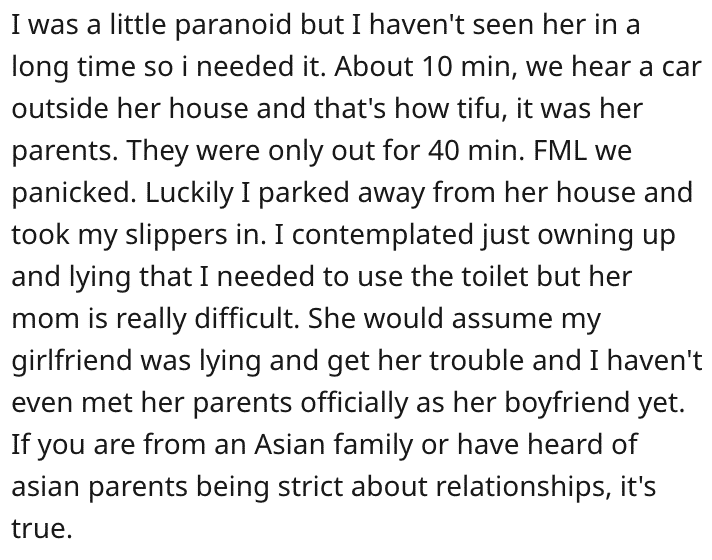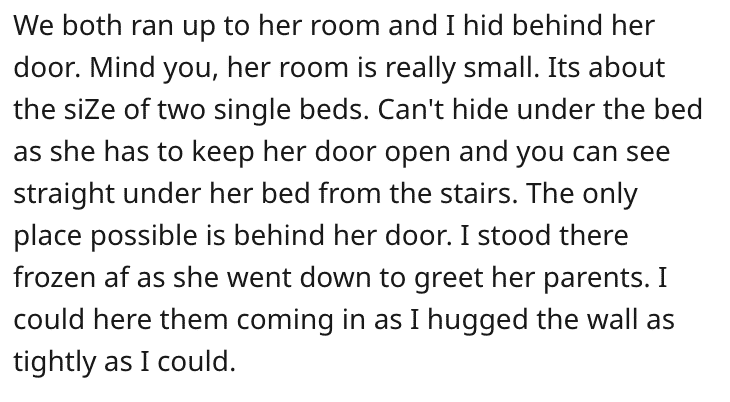 1 pm ish She comes back up and we try to listen whether her parents are coming up or not. They usually sit downstairs after lunch and nap, which they did. Gave me a little bit of relief as I could sit down in the floor. The space in between the door and her table is super tiny which is uncomfortable but I'm not complaining.

2pm Her dad comes up to shower and her door is right next to the bath area. Fuck I can hear the water rushing. But good news my girlfriend is in the room doing her work so she can look out. Its weird as I'm just standing up behind the door and looking at her look back at me. After his shower, her dad leaves to go to his store which leaves her mom downstairs. She gets on a long phone call which gives me a bit of room to relax. My girlfriend and I make out a bit to calm our nerves and I gotta say it did help.

For the next three hours, her mom stays downstairs and we try to formulate a plan but everything involves the timing of her parents which is impossible. Can't jump out the window cause it's grilled and she doesn't have the key..

7pm her mom calls her from downstairs that it's time to eat. And that's where we are at now. Its currently 9pm at this sentence and I can hear her family talking to each other. She has to turn off the lights and fan and air-conditioning so I'm freaking drenched in my sweat in the dark. I'm sitting down but I've got pins and needles in my feet now. I would stand up but because the area is so tight, I don't want to risk any noise. Oh remember how I haven't eaten and need to sh*t? That's attacking now. My stomach is growling and I'm making fart noises.

11pm but her parents are not sleeping. For some strange reason her mom decided to bake at like 10.30. starting to think they suspect something

damn, her mom went to bed but her dad is still watching TV. It's like 11:30pm and he is still watching? At least her mom is in her room so that is good.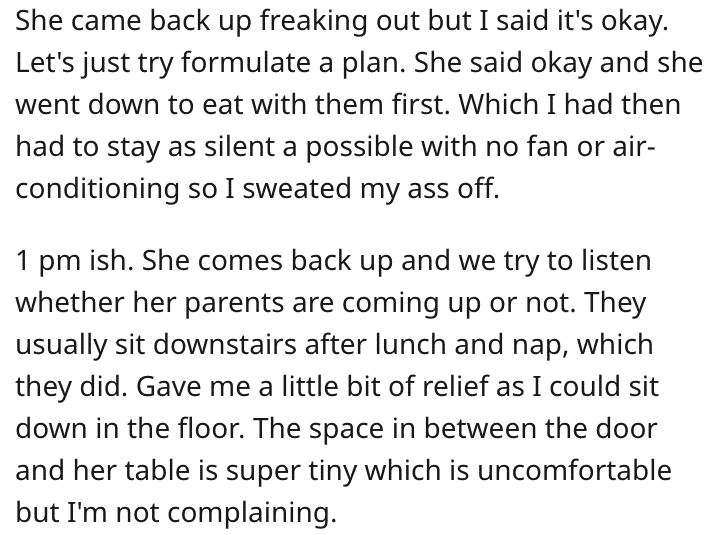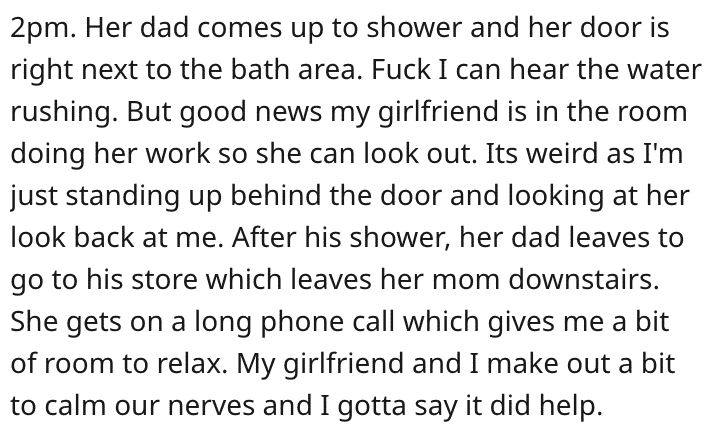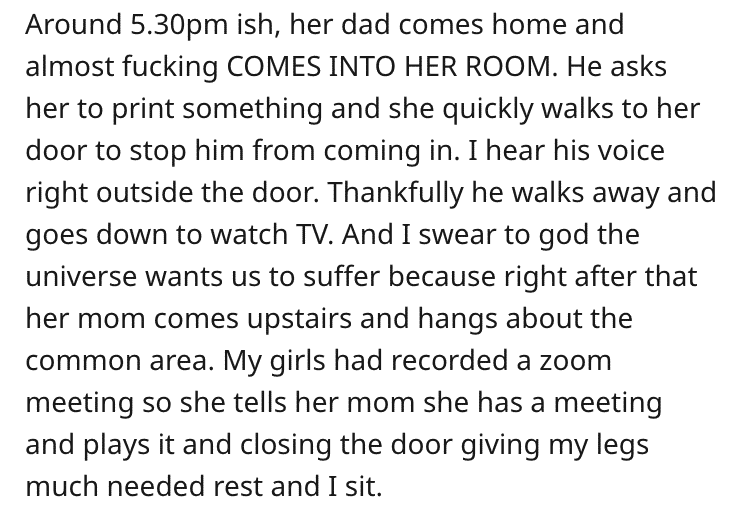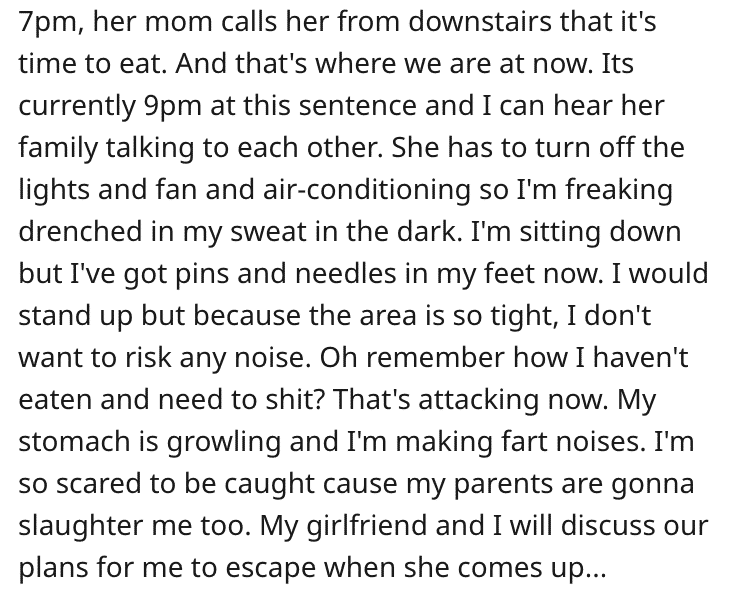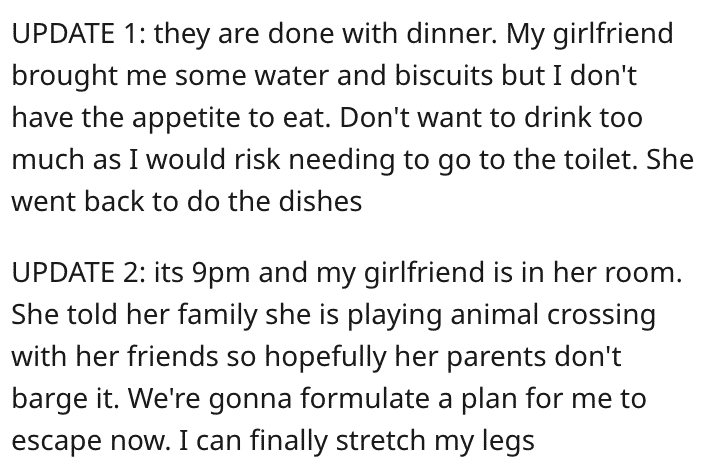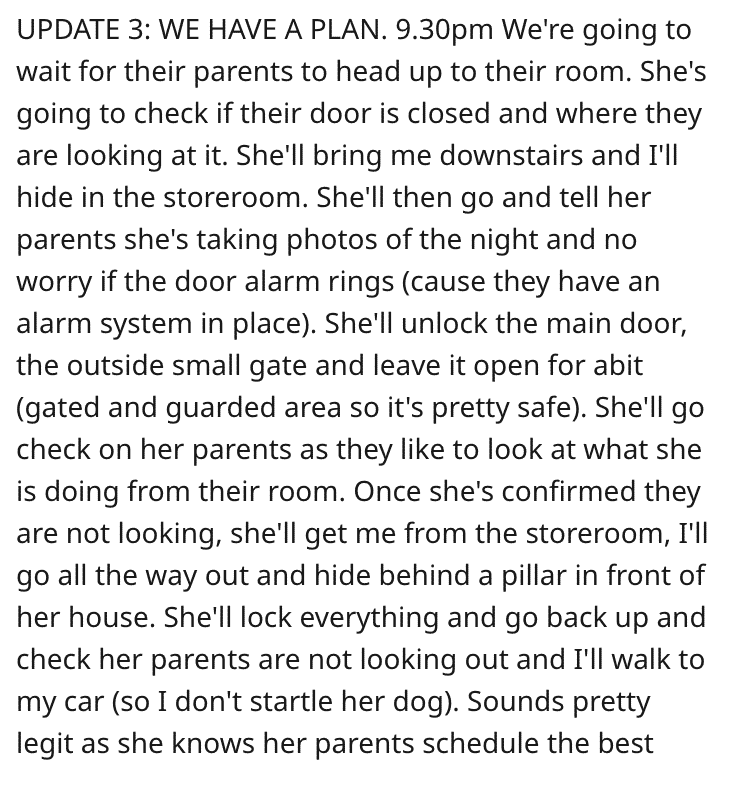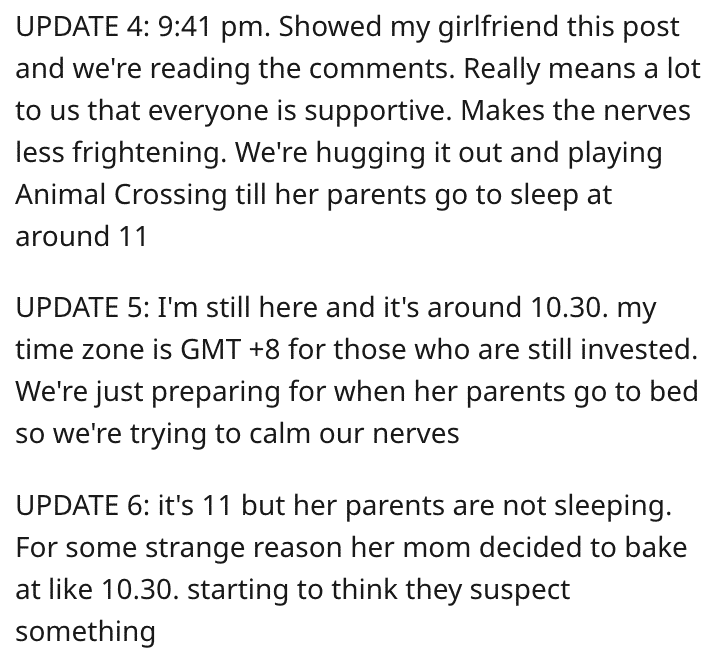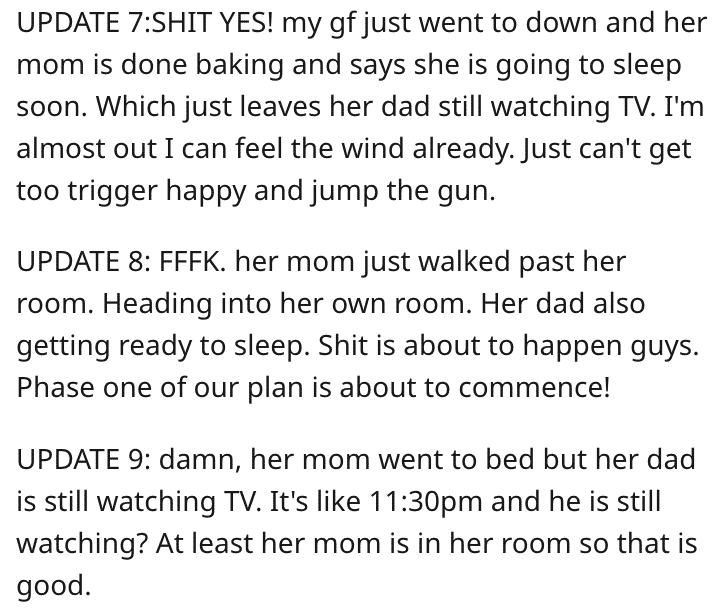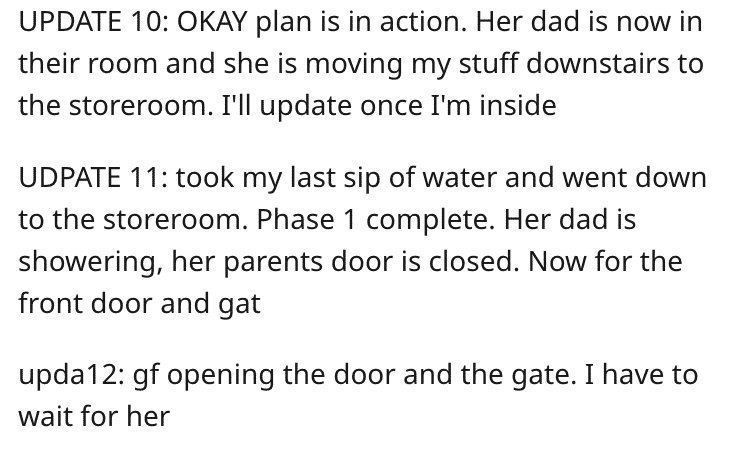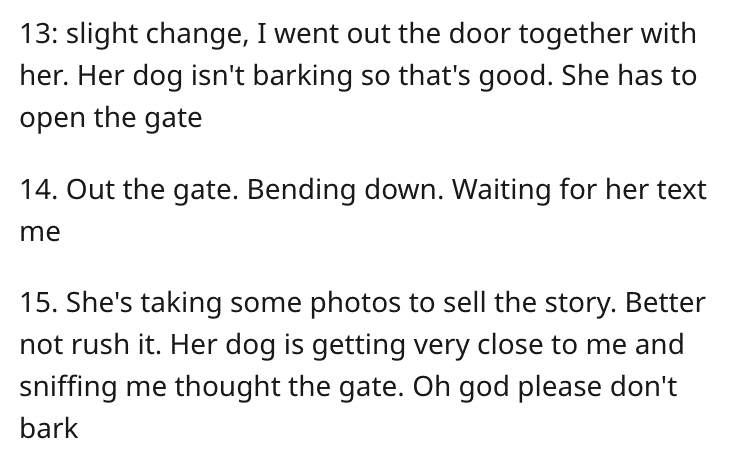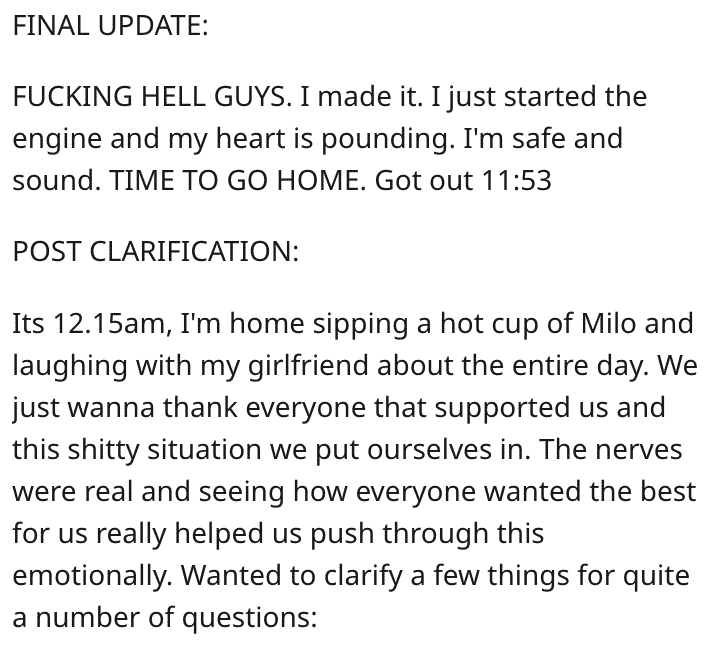 The two formulated a plan where the girlfriend said she'd be taking some photographs outside, which gave her an excuse to turn off their home alarm and go out. The OP kept updating as this was happening, writing, "She's taking some photos to sell the story. Better not rush it. Her dog is getting very close to me and sniffing me thought the gate. Oh god please don't bark."
Then finally, success:
F*CKING HELL GUYS. I made it. I just started the engine and my heart is pounding. I'm safe and sound. TIME TO GO HOME. Got out 11:53
Triumph! Let this be a lesson, kids. Have your elicit meet-ups somewhere with at least two exit points.
More of the best TIFU stories: