We don't always recommend dirty pick-up lines. In fact, we'd almost always recommend NOT opening with anything other than "Hi, I'm [YOUR NAME HERE]."
But sometimes, desperate times call for desperate measures and, hey, maybe it'll work?
If not (and, again, probably not), these filthy, inappropriate, R-Rated pick-up lines are at least good for a chuckle. Maybe even if you use them ironically they might win the day? Up to you. Enjoy and use responsibly!
The Dirtiest Dirty Pick Up Lines Ever:
---
1. One of my friends told me girls hate oral, do you wanna help me prove him wrong?
2. Is your name winter? Because you'll be coming soon.
3. Are you a drill sergeant? Because you have my privates standing at attention.
4. I love my bed but I'd rather be in yours.
5. I'm on top of things. Would you like to be one of them?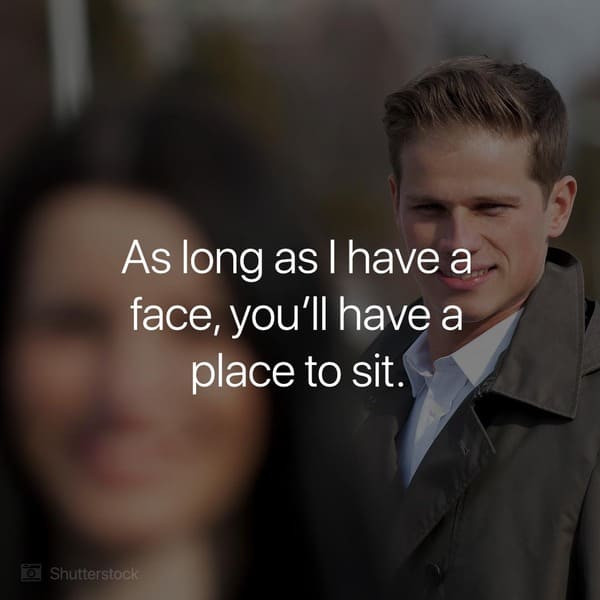 6. I'm not into watching sunsets, but I'd love to see you go down.
7. Can you tell me what time you'll come back to my place, please?
8. As long as I have a face, you'll have a place to sit.
9. If I flip a coin, what are my chances of getting head?
10. Your ass is so tight I want to crack my nuts on it.
11. I can tell you're into yoga, why don't you spend a little time showing me just how flexible you are?
12. Your body is made up of 70% water. . .and I'm thirsty.
13. Are you an elevator? Because I'll go up and down on you.
14. Why pay for a bra when I would gladly hold your boobs up all day for free?
15. I think I could fall madly in bed with you.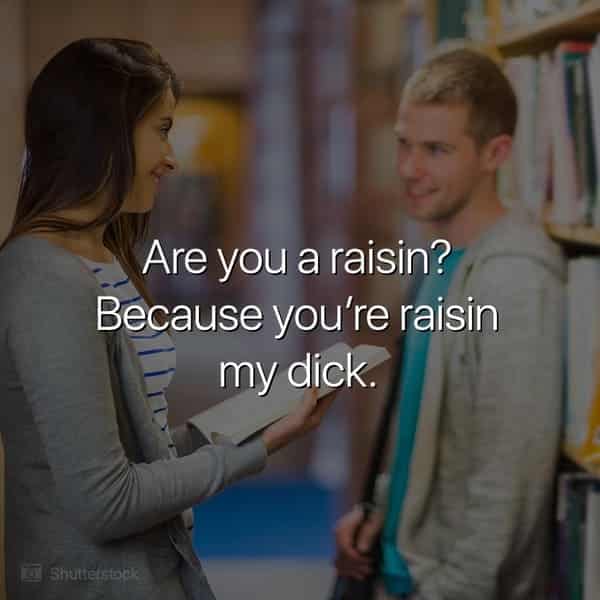 16. I'm not feeling myself today. Can I feel you instead?
17. Are you my homework? Cause I'm not doing you but I definitely should be.
18. Can you do telekinesis? Because you've made a part of me move without even touching it.
19. Dinner first, or can we go straight for dessert?
20. Are you a raisin? Because you're raisin my dick.
21. Are you a doctor? Because you just cured my erectile dysfunction.
22. I'm having trouble sleeping by myself, can you sleep with me?
23. I'm an adventurer and I want to explore you.
24. Are you a sea lion? Because I can sea you lion in my bed tonight.
25. If I was the judge, I'd sentence you to my bed.
26. Do you have room for an extra tongue in your mouth?
27. Do you like whales? Because we can go hump back at my place.
28. Nice dress. Can I talk you out of it?
29. Are you an archaeologist? Because I've got a bone for you to examine.
30. Want to go halves on a baby?
31. Do you want to save water and shower together?
32. Are you a trampoline? Because I want to bounce on you.
33. Do you work at Home Depot? Because you're giving me wood.
34. Hi, I'm wasted but this condom in my pocket doesn't have to be.
35. My dick died, do you mind if I bury it in your ass?
36. Fuck me if I'm wrong, but dinosaurs still exist right?
37. Are you a supermarket sample? Because I want to taste you again and again without any sense of shame.
38. Are you a tortilla? Because I want to flip you over and eat you out.
39. What is a nice girl like you doing in a dirty mind like mine?
40. I'd love to kiss those beautiful, luscious lips. And the ones on your face.
41. That shirt looks great on you… as a matter of fact, so would I.
42. Are you an iPhone screen? Because I could tap you all night.
43. Don't ever change. Just get naked.
44. You look great right now. Do you know what else would look great on you? Me!
45. My name isn't Elmo, but you can tickle me any time you want to.
46. Are you a pirate? Because I have a lot of semen waiting for you.
47. Your breasts remind me of Mount Rushmore – my face should be among them.
48. I don't think I want your babies, but I wouldn't mind refining my baby-making technique with you.
49. Let's play carpenter. First, we'll get hammered, then I'll nail you.
50. When I saw you, I lost my tongue. Can I put yours in my mouth?
51. Are you my new boss? Because you just gave me a raise.
52. If I were an enzyme, I'd be DNA helicase so I could unzip your genes.
53. Those clothes would look great in a crumpled heap on my bedroom floor.
54. I can tell you're into yoga, why don't you spend a little time showing me just how flexible you are?
55. Did you just come out of the oven? Because you're hot.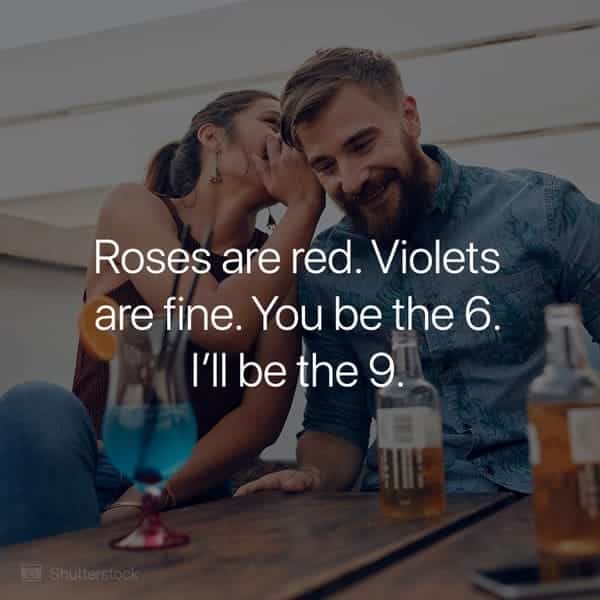 56. What has four legs and doesn't have the most beautiful girl on it? My bed. Want to fix that?
57. That's a beautiful smile, but it'd look even better if it was all you were wearing.
58. Hey, you wanna do a 68? You go down on me, and I'll owe you one.
59. Are you hungry? Because omelet you suck this dick.
60. You must be Medusa because you make me rock hard.
61. I spent over a grand on Viagra today, only to come here and see you and find out that I don't need it after all.
62. Why don't you surprise your roommate and not come home tonight?
63. I'm a freelance gynecologist. How long has it been since your last checkup?
64. I wish you were soap so I could feel you all over me.
65. I'll show you my tan lines if you'll show me yours.
66. Would you like to try an Australian kiss? It is just like a French kiss, but down under.
67. I may not go down in history, but I'll go down on you.
68. I wanna floss with your pubic hair.
69. Are those jeans Guess? Because guess who wants to be inside them…
70. If you were an elevator, what button would I have to push to get you to go down?
71. If I said you had a beautiful body, would you hold it against me?
72. Excuse me, but does my tongue taste funny to you?
73. I'll kiss you in the rain so you get twice as wet.
74. Your clothes are making me uncomfortable; please take them off.
75. I'm like a Rubik's Cube, the more you play with me the harder I get.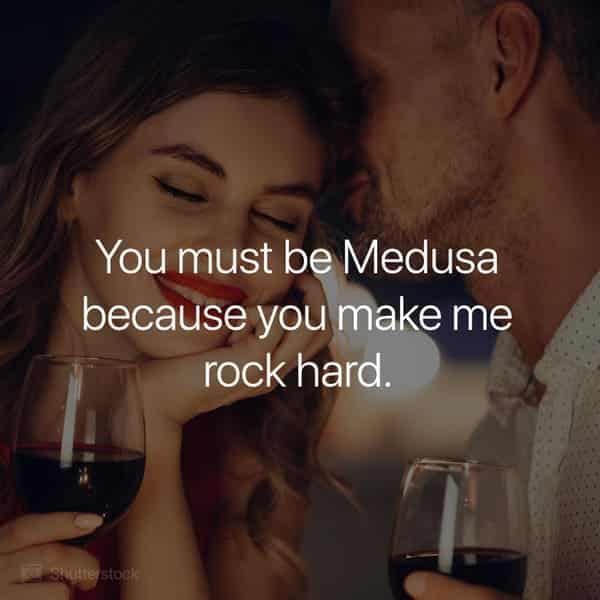 76. My magical watch says you're not wearing any panties? Oh you are? Darn, it must be an hour fast.
77. You look so good, I wanna kiss your lips and move up to your bellybutton.
78. You're on my list of things to do tonight.
79. Let's play a game. The fastest person to take their clothes off wins.
80. Do you need a stud in your life? Cause I got the STD and all I need is U.
81. Treat me like a pirate and give me that booty.
82. I lost my virginity. Can I have yours?
83. I lost my keys… Can I check your pants?
84. I've recently qualified as a gynecologist and I'd like to offer you my pro-boner services.
85. Let me guess your favorite position: anything that involves my balls bouncing against your ass.
86. Roses are red. Violets are fine. You be the 6. I'll be the 9.
87. With school, I just want an A. With you, I just want to F.
88. I'm a bird watcher and I'm looking for a Big Breasted Bed Thrasher. Have you seen one?
---
If you enjoyed this collection of dirty pickup lines, you may or may not also enjoy these links: