Look, I know it's been a long rough few months in quarantine, but please, please really consider if it's worth it to risk your health for a little canoodling. Whenever a Tinder hottie asks you to come over to their place, ask yourself, "Is this worth being intubated for?"
Who am I kidding? Making out is totally worth being put on a ventilator. This is a story about two young people who were willing to risk it all just to go on a date, but the danger came from a super unexpected direction. The problem was not the virus. It was a sandwich.
Samara Hnaien and Charles Harris are two Australians in their early twenties who met on Tinder. Everything's closed (duh) so Harris invited Hnaien over to his place for an at-home date. She said yes. As he was waiting for her to arrive he gave himself a little protein boost with peanut butter on bread. The only problem is that Hnaien is deathly allergic to peanuts. After a little smooching, things started to go downhill.
Hnaien told Buzzfeed that is wasn't long before something felt off. "My whole mouth started tingling mid-kissing basically, which is the first sign to me that I'm having a reaction, and I hadn't eaten anything, so I thought he must've had something that had peanuts in it," Hnaien said.
This story could have gone in another direction, but luckily, Harris is a decent person and he helped get her to the hospital, then stayed with her until 5:30 a.m.
"He handled the situation as best as he could've. I was actually really impressed," Hnaien said. "He was really caring and genuine and made me feel at ease and kept reassuring me to not feel embarrassed or anything like that because I was just mortified and felt so bad for him. … It's a pretty confronting experience stabbing someone with an EpiPen especially when you first meet them haha."
It's an amazing story on its own, but each of them made a TikTok of the night from their two perspectives, both of which have become extremely popular on the app.
Here's Hnaien's view:
Here's Harris's POV: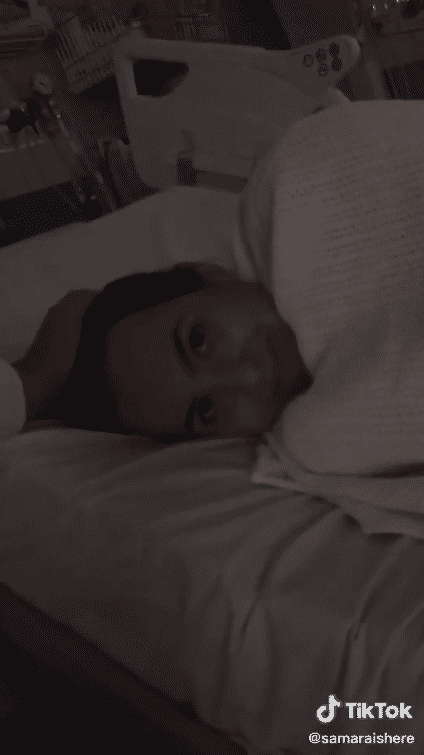 It seems like they plan to go out again. Sometimes intense drama can bring two people together. But if it doesn't work out, they've both still learned a valuable lesson: check in about allergies before you meet someone in secret during a pandemic.
More Tinder disaster stories: