It's rough out there, kids. Dating is now ruled by apps, teaching people to swipe left and right on other people for love. It makes everyone feel a little bit disposable and also protected by technology from any kind of accountability for how they treat others. Don't get complacent: technology is still capable of biting your right in the butt.
That's what happened to this kid, posting under the handle @hazposting on Twitter, who shared an absolutely devastating message he received from someone in his phone saved as Rachel Tinder.
He captioned it, "I'm deleting Tinder," and it's pretty obvious why.
im deleting tinder pic.twitter.com/m2We46pfWm

— haz (@hazposting) February 3, 2020
This young man wrote Ms. Rachel a very sweet message, texting:
hey, i had a really nice time last night 🙂 would love to see you again sometime?
The response to this was a screenshot of his own text along with "LMAO." His number in the screenshot was unsaved.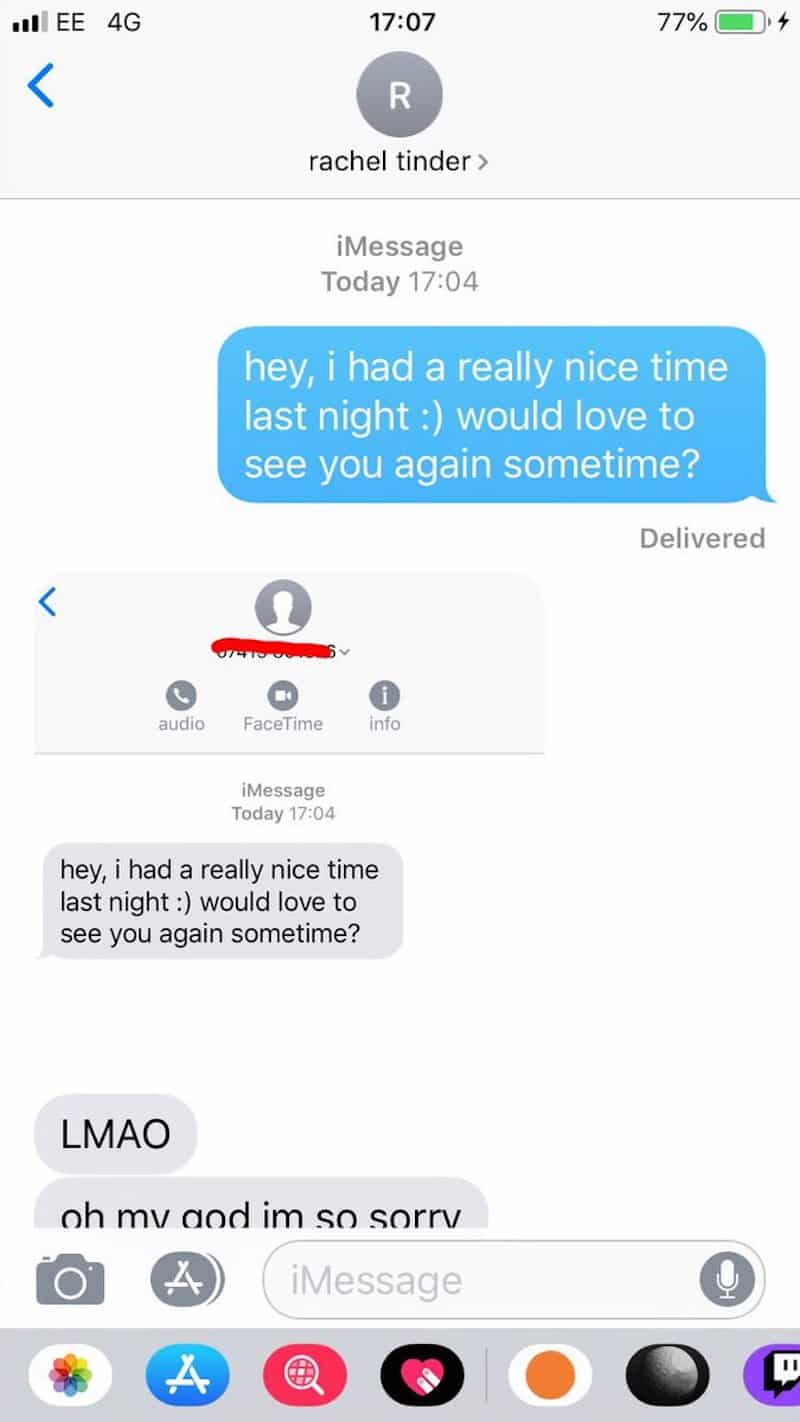 If it wasn't already obvious, Rachel clearly intended to send that screenshot to someone else, mocking her would-be suitor, but accidentally sent to him instead.
You can tell because she wrote immediately after, "Oh my god I'm so sorry." Too late, Rachel. Too late.
This is clearly a completely brutal thing to have happen to you, but this guy seems to be making the best of it, posting funny responses to all the people coming by to commiserate with him:
haha yeah do you have snapchat

— haz (@hazposting) February 3, 2020
— haz (@hazposting) February 3, 2020
its fine haha pic.twitter.com/FVYlfRzlBr

— haz (@hazposting) February 5, 2020
— haz (@hazposting) February 4, 2020
wish i could man

— haz (@hazposting) February 3, 2020
If it's any comfort, it seems like @hazposting is pretty thrilled that his tweet went hugely viral. It's been shared over 24 thousand times, and he retweeted what someone is claiming to be a video of him weeping over the tweet's success??? I guess if you just want to be Twitter famous, why not:
.@hazposting when I told him he got 30k likes 🥺 pic.twitter.com/bKs1tRruE3

— eve (@evewithers) February 3, 2020

Though some people have said this behavior explains why Rachel wasn't interested. I disagree. Someone with a sense of humor deserves a gentle letdown, at least, if not a second date:
fellas is it gay to be happy https://t.co/Pzp9CBQMNN

— haz (@hazposting) February 4, 2020
Rachel wishes she could get these numbers.
More Tinder horror stories: