Sure, social media gives us a peek into people's lives, but one TikToker is giving us a peek into the past—the life of a 1950s housewife.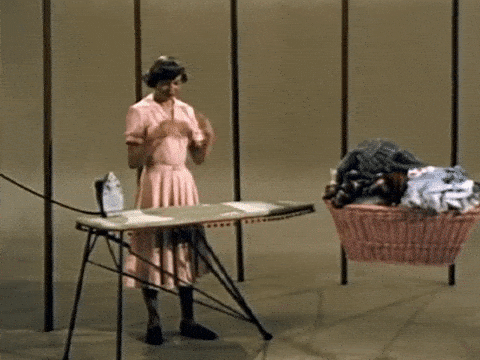 TikToker @otherworlddesign unearthed a diary from the 1950s. The diary details the life of an American housewife, Nellie, in 1957.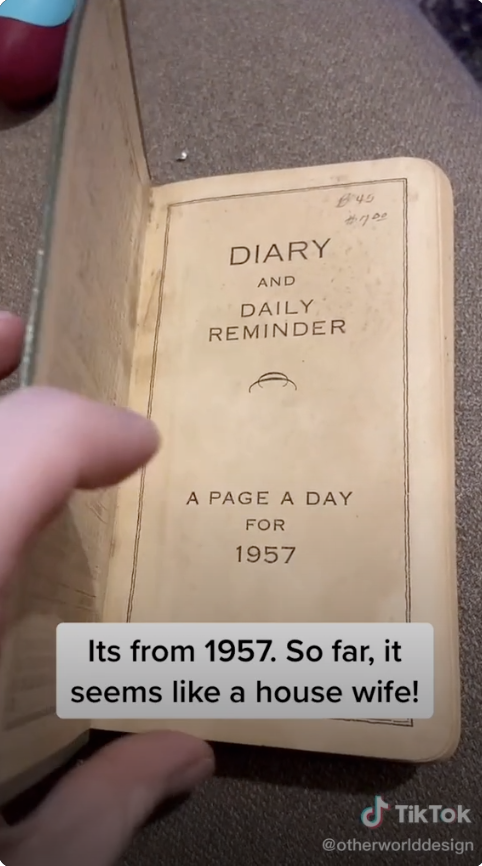 On March 13, the TikToker shared the first clip. "Found this old diary at the local thrift shop today. It's from 1957. So far, it seems like a housewife! She filled it out for the whole year. And tbh, she seems like a mood."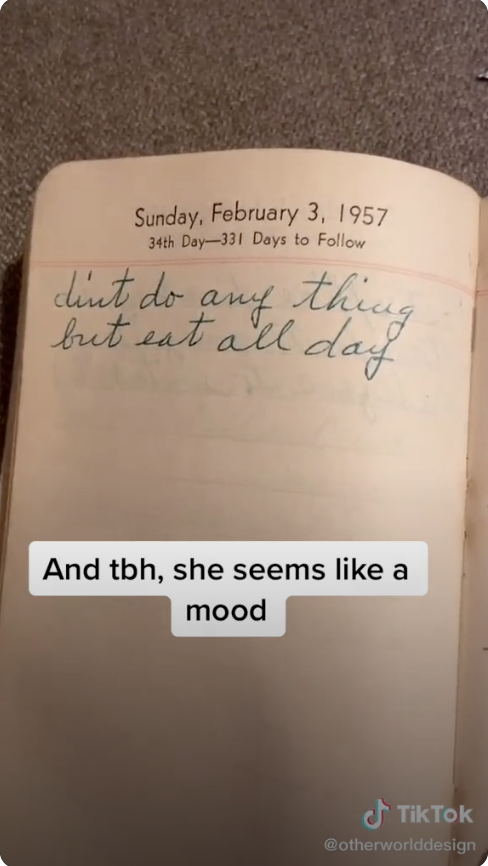 The diary was then flipped to February 3, a Sunday, which showed Nellie's writing. It read:
"Didn't do anything but eat all day."
The video went viral and has been viewed more than 1.2 million times.
Another entry dated Sunday November 10th was about how Nellie's friend Winnie invited her to dinner, but Nellie did not want to go.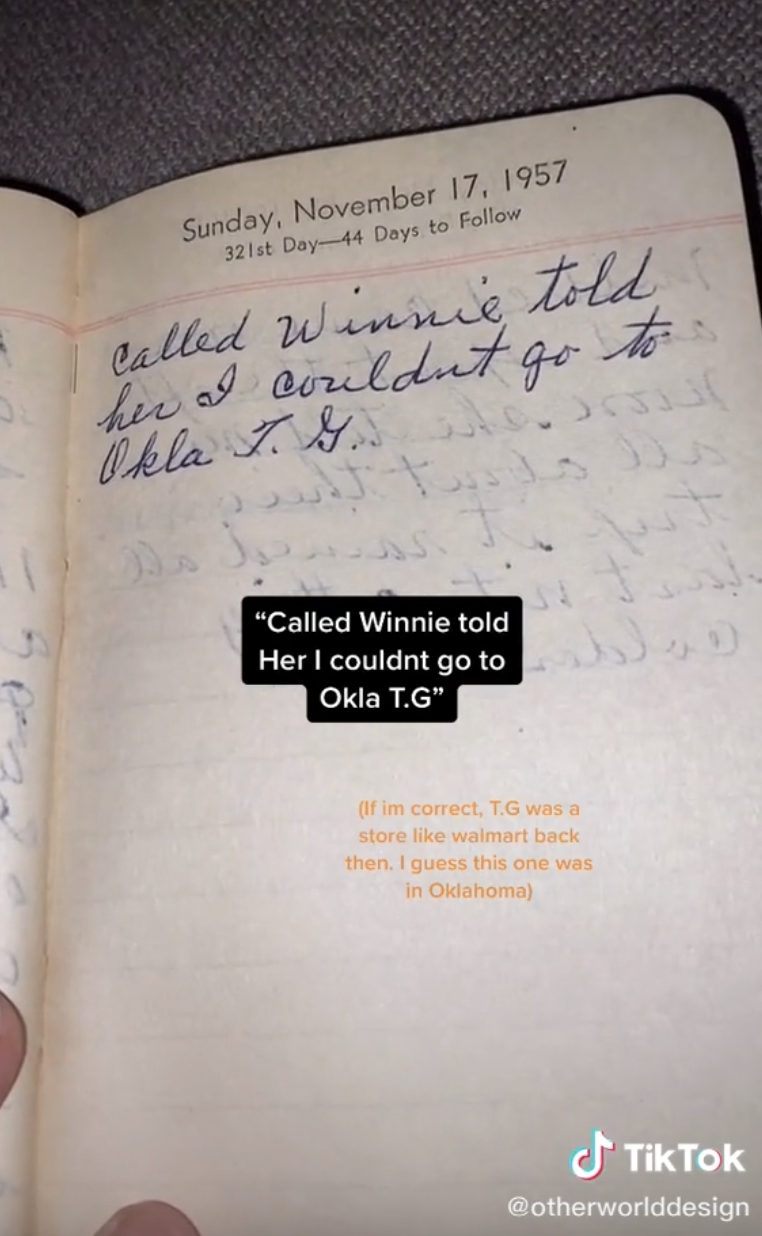 Then the entries get …weird. On September 24th, Nellie shares that she had nothing to do but "catch [flies] for the lizard and 'a little patching."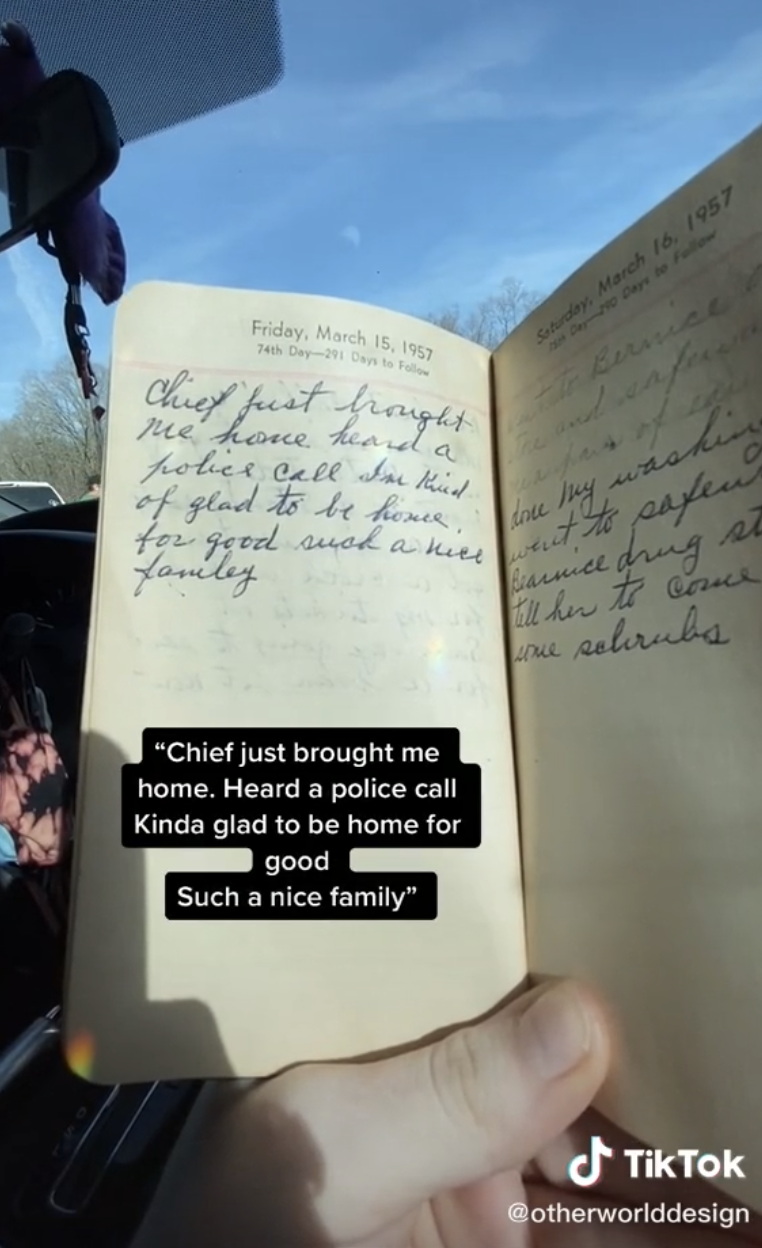 "Chief just brought me home. Heard a police call," Nellie wrote on March 15th. "Kinda glad to be home for good. Such a nice family."
People had QUESTIONS. They wanted to know why she was "brought home", then wondered if perhaps the police brought Nellie home.
Viewers asked @otherworlddesign to post in chronological order so they could get a better idea of what was going on with Nellie, but the TikToker wrote back that the entries are usually very short and don't reveal much.
Sunday November 17, a few days after Nellie decided not to have dinner with Winnie, Nellie "called Winnie [and] told her I couldn't go to Okla T.G.", which was likely TG&Y, a chain of stores in the United States.
On October 1st, Nellie wrote about a black couple's wedding.
"Today is a colored wedding and it's just as beautiful as the others," Nellie scribed.
It is possible that Nellie may have been referencing Bride and Groom, which was a reality series that followed engaged couples at their weddings. It aired from 1951 to 1958. Shirley Robinson and Ernest Brown were its first black couple featured.
Other entries are far more mundane, including one from March that describes Nellie cleaning out Christmas cards and throwing out trash.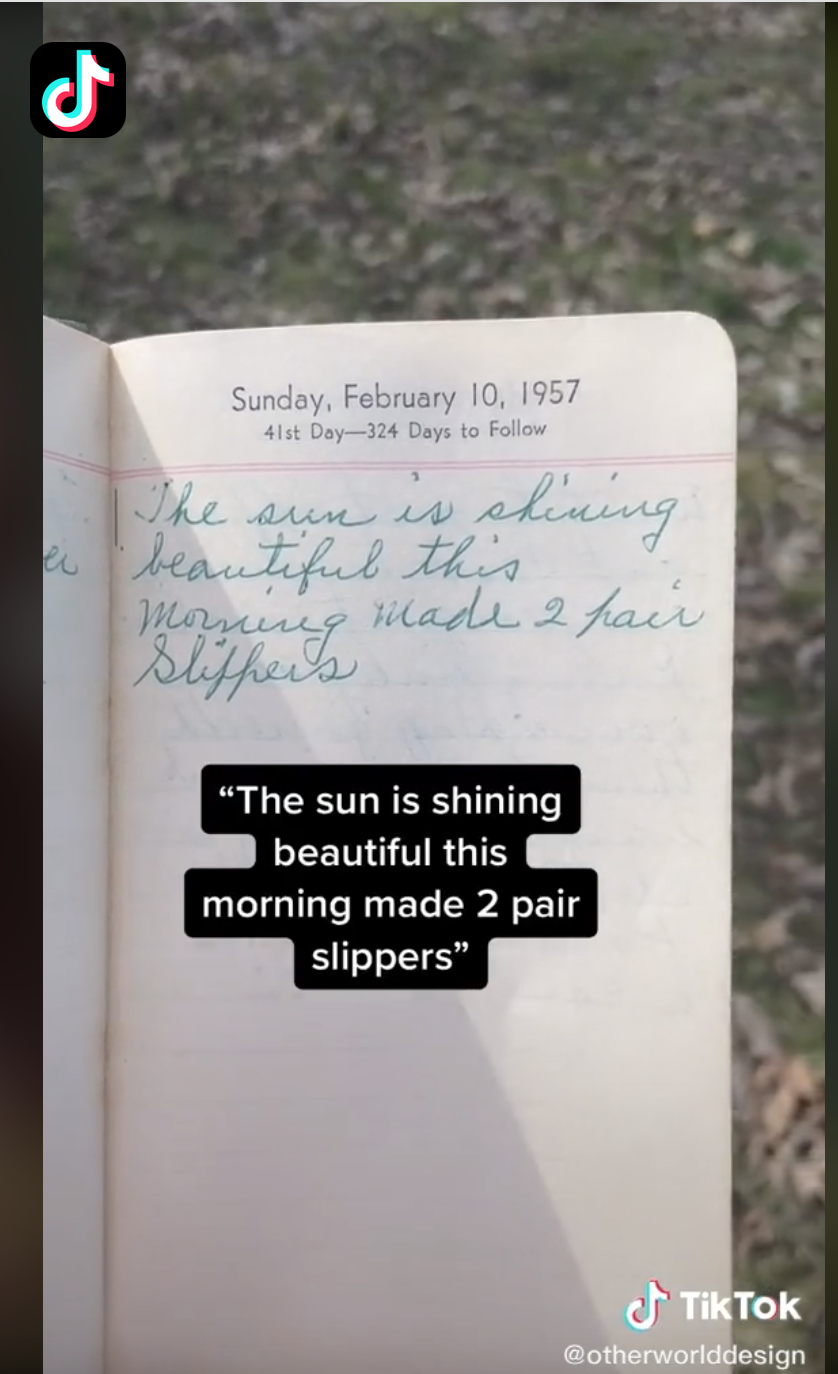 On October 6th, Nellie went riding with a man called Bob and Nellie's granddaughter.
"[I] scared Vicki nearly half to death. She was poking in a fox hole and I barked like a fox. Boy did she jump. [I] got some dogwood. Bob got a tub full of dirt. Bob and Vicki went in the creek, got some rocks."
Nellie seems to have lived in the southwest. The latest post on TikTok shares an entry in which Nellie says she is leaving Albuquerque, New Mexico.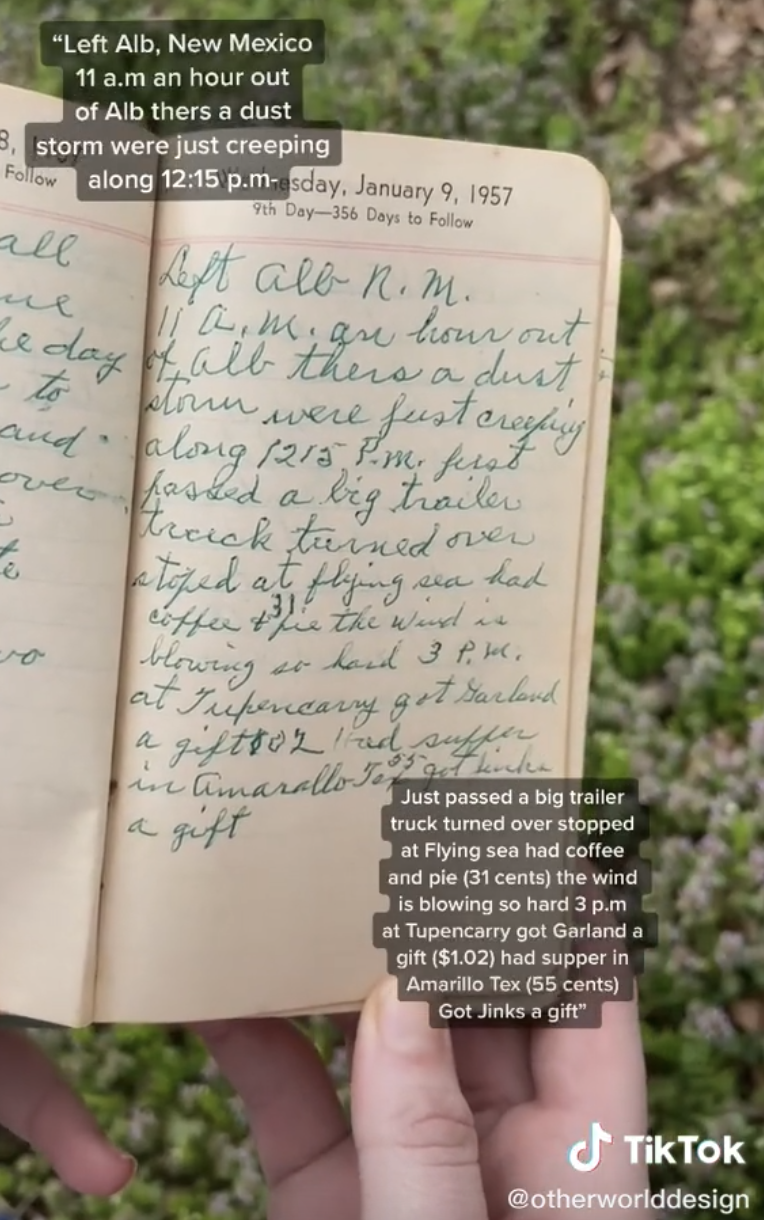 "11 a.m. an hour out of Alb [there's] a dust storm. We're just creeping along. 12:15 p.m. just passed a big trailer truck turned over.
"Stopped at Flying Sea [and] had coffee and pie (31 cents). The wind is blowing so hard. 3 p.m. at Tupencarry got Garland a gift ($1.02). Had supper in Amarillo, Tex (55 cents). Got Jinks a gift."
@otherworlddesign asked her fans where Tupencarry and Flying Sea may have been. She also shared that Garland was Nellie's son; she was not sure who Jinks was.
Watch the full video here: