When quarantines were beginning, the common understanding was that younger people were not as vulnerable to the coronavirus and that it was largely the immunocompromised and elderly populace who has to worry. Since then, it's been revealed that many young people have been hospitalized after contracting COVID-19. Many have died, and many of those that have recovered have been left with serious complications.
Karim Salmen is a 23-year-old who has been posting popular TikToks about his experience being hospitalized with the virus.
View this post on Instagram
Salmen told BuzzFeed News that he was been taking quarantine very seriously since the beginning, because he has been hospitalized for other conditions that affect his breathing in the past, a pulmonary condition called bronchiolitis obliterans, which makes the small airways in his lungs inflame. He also has a condition called pectus excavatum, meaning his breastbone is sunken.
"I believe someone close to me exposed me to the virus, but I am not sure," he said. "I haven't left my house. I have been under quarantine for four months."
Salmen lives in Miami, and he says he first knew something was wrong when he started throwing up. He vomited throughout the night and says he immediately started having the sensation he couldn't breathe.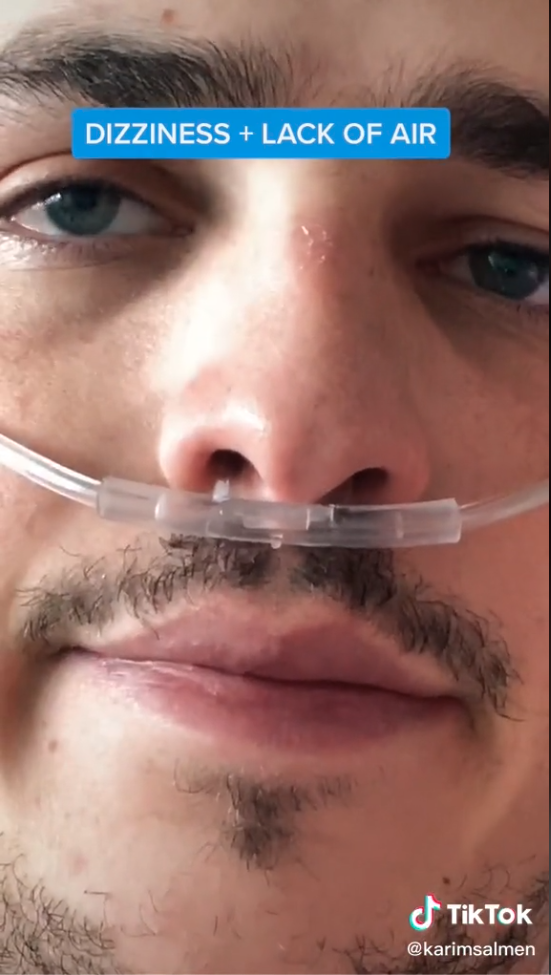 He started documenting his experience once he landed in the hospital.
"Some of the symptoms I have been experiencing are shortness of breath, coughing, dizziness, loss of appetite, and vomiting on the first day," he said. "Thankfully, I am not on a ventilator. However, I am receiving an oxygen supply."
At first, he was just on oxygen:
But then he was put on a stronger air distributor:
His TikToks try to warn people to take the virus seriously and wear masks no matter what.
"I decided to document this journey to spread awareness, as well as for everyone to see that this virus is not a joke. The only way to fight it is if we follow guidelines. … It really only takes one infected person to spread it to a lot of other people," he said.
He isn't sure how he himself got it, but because of his isolation, he assumes it was from someone who is close to him and maybe unaware they have the virus.
Luckily, Salem says his doctors think he will make a full recovery. But it has still been a difficult and isolating time.
Because of the virus, he hasn't been visited by friends and family.
He's looking forward to seeing them again. Keep following him @karimsalem to see when they're reunited
More viral TikToks: