There are a lot of weird baby names out there that people don't acknowledge enough as being weird. All the random Leighs thrown onto girls' names? Why? Who needs them? In general, I don't care too much about how people spell or pronounce their names because all words are made up, but racist white people have long mocked traditional African names or popular Black names in the U.S., so what goes around comes around.
There is apparently a video on TikTok of "conservative baby girl names." At first, I thought it might be serious, because Twitter user @coolstorybita posted a bunch of screenshots of the comments on the TikTok, and they are all people making up conservative baby names that are plays on words associated with conservatives:
These conservative baby girl names on TikTok have me 💀 pic.twitter.com/wGJuNTAz6N

— 🐝ta (@coolstorybita) June 14, 2020
Okay but that wasn't all of them 🤣🤣🤣 pic.twitter.com/cx5ScMZlDx

— 🐝ta (@coolstorybita) June 15, 2020
People on TikTok really like to roast people in the comments, especially with the format of adding emojis to insults or sarcastic remarks. I assumed that's what was happening. But when you look closer at the screenshots, they're mostly all "liked by creator," so I'm guessing they're either in on the joke or incredibly dense. But the joke conservative names still work.
Some of the greatest hits:
Holly Caust Deniyal
Rayshall Slurres
Rae Cism
May Kamerica Greigh Teigan
Blu Lyves Madder
Jenna Side
Connor
Miss Ogyny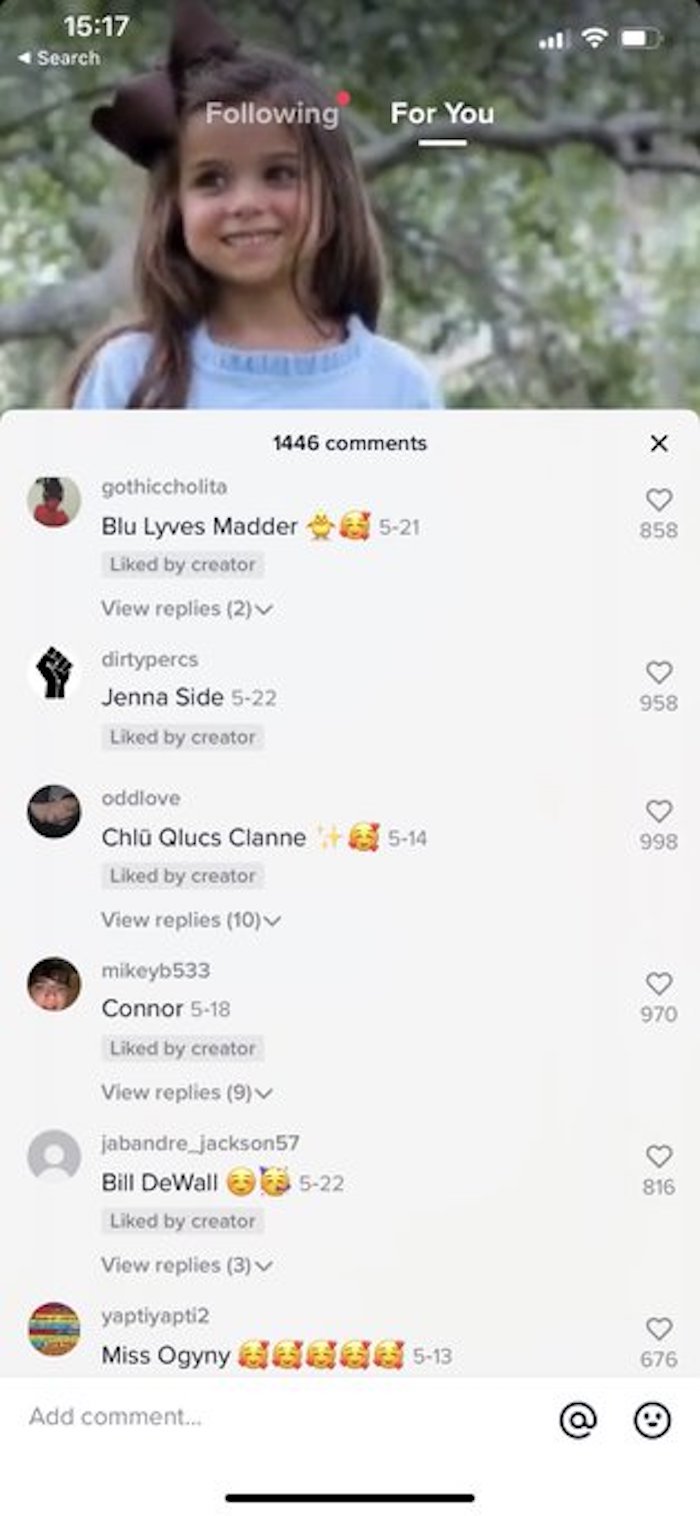 Airy Ann Rayce
Sleigh Vereigh
Wight Souprem Macy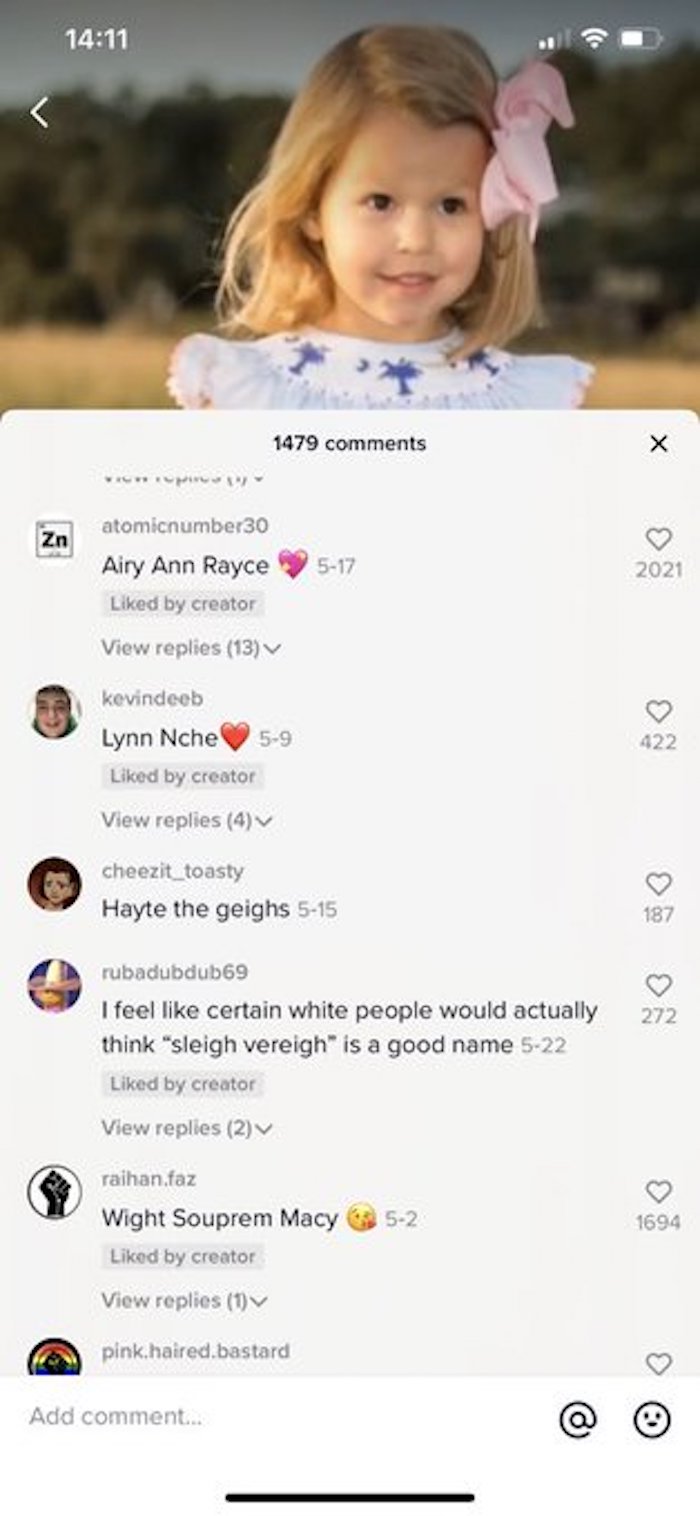 Xeno Phobe
Jerry Mandy Ring
Olive Smatter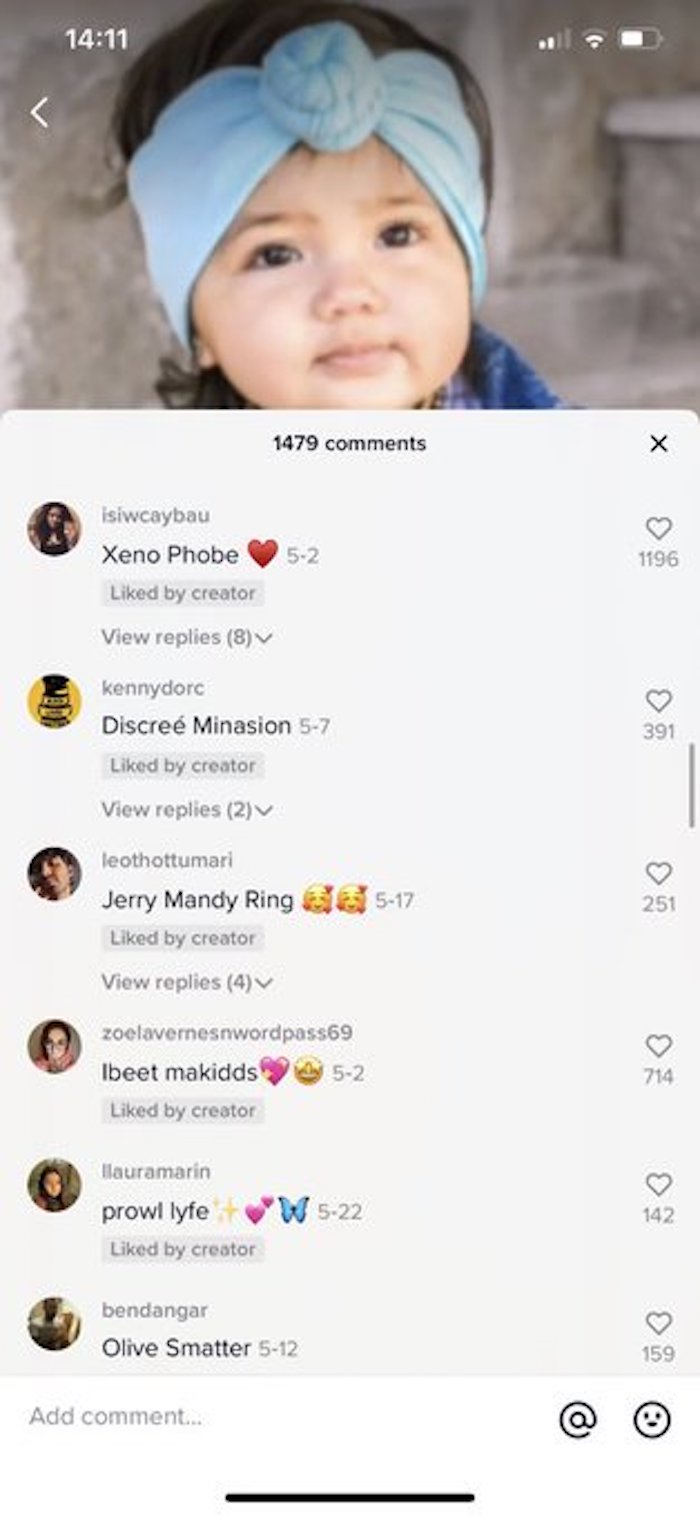 I eventually found the original post by @LayalKhalaf, and it seems as though the video itself is making the same kind of joke:
No ideas here that I'll be using, but I will think about it every time I meet a Keighlynn from now on.
More of the worst baby names: