Who amongst us hasn't dreamed of walking out on a crappy job, guns blazing, telling our boss where they can shove it? If you've ever had an abusive boss, you've probably played through this scenario in your mind quite often. But that's exactly what one man did by telling his regional manager Sandy—a name which honestly, must come second only to "Karen"—by telling her he quit while he filmed for his TikTok followers.
The incident occurred back in late June, when the man, 31-year-old Maxwell Dean, barged into Sandy's office and dropped the following bombshell.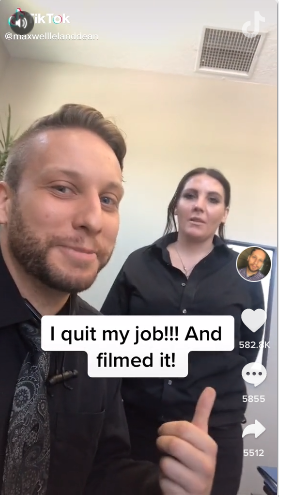 "Hey Sandy, I quit. You're a b—tch for talking to Mary the way you have and the way [you have] been treating us," said Dean in the short clip. "So, I'm out. Good luck." For her part, Sandy simply nodded her head and replied "OK," which is just classic Sandy, by the sounds of it.
In a series of followup videos, Dean explained his decision. "Here, let's give you the story guys," he said in the first video. He said he had been working for a property management company, and Sandy, the regional manager, was making all the other employee's lives hell, including his own manager who Dean said, would regularly break down in tears over the treatment.
Dean went onto say that he had already put his two weeks notice in—which technically means that he had already quit previously, but we can still give him this blaze of glory. He continued, detailing some of the abusive behavior that he and his coworkers had been subjected to from Sandy, and that finally, he had just had enough.
In the third part, Dean fired back at the "haters" who had evidently left comments about getting himself blacklisted from future jobs. "No one deserves to work for a boss who's going to treat them like sh—t, so I quit," he said, advising that others in a similar position do the same.
"Your mental health is super important so don't sell yourself short," he added. "Work for something better, and never give up. Be the best you."
Be that as it may, there are probably more constructive words Dean could have picked when telling Sandy off in the heat of the moment, however we wish him the best of luck in his future endeavors.
More viral TikToks: