Teachers in the United States don't have it easy.
They frequently have to work long hours, pour their own money into their classrooms, and find second or summer jobs — not to mention the ever-looming threat of school shootings that exists in the modern day. On top of all this, they're often held to higher standards on their off-hours than people working other jobs, despite teachers generally being woefully underpaid.
And these unrealistically high standards left one teacher in Texas in hot water after posting TikToks of himself dancing.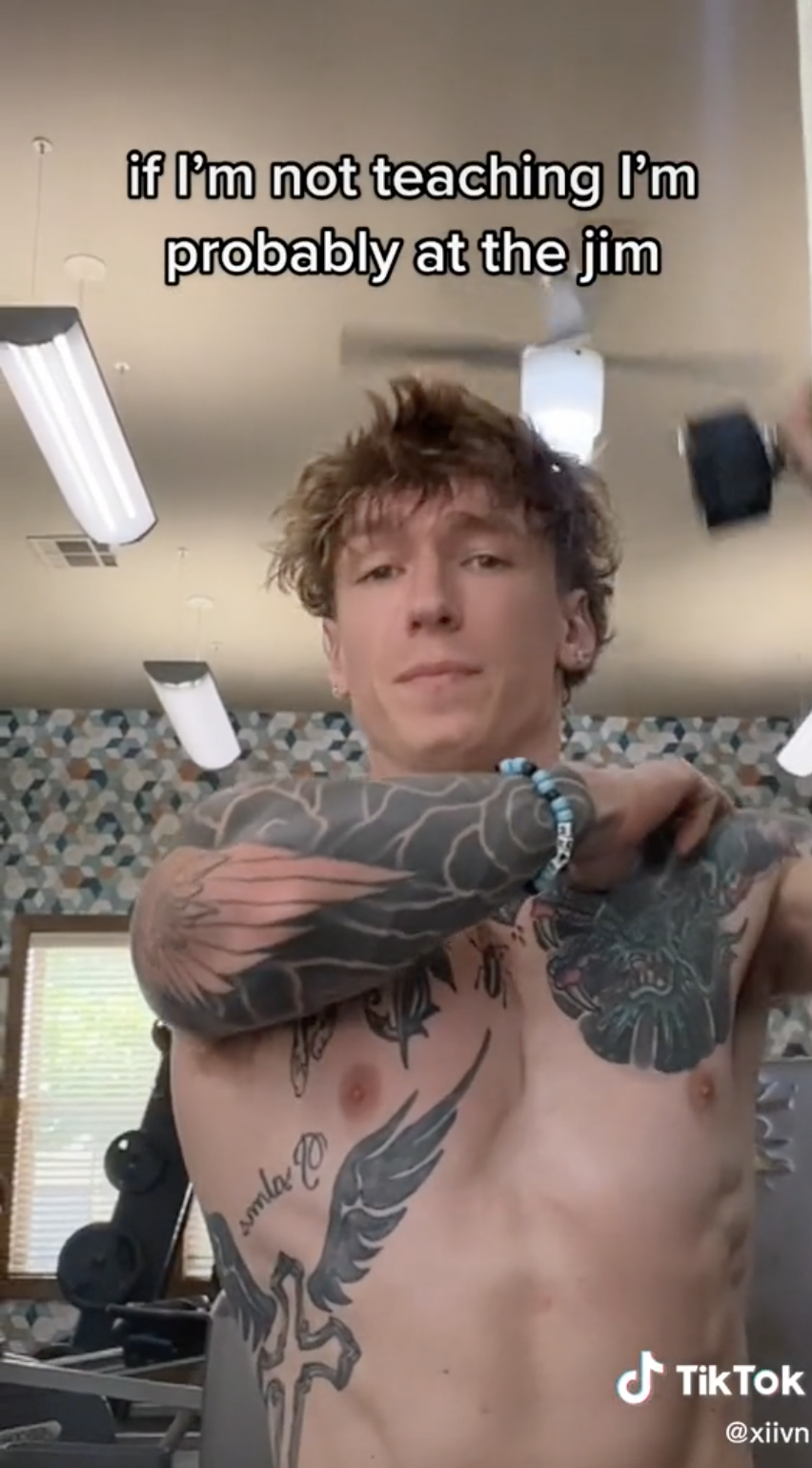 Christian Shearhod (@xiivn) has gained a following on social media for his energetic videos talking about teaching or just goofing around. He keeps things PG-13 as his students sometimes see his posts, but does sometimes make videos showing him doing TikTok dances or generally being shirtless and showing off his tattoos. 
In other words, he posts the same kind of fairly wholesome content as everyone else on TikTok.
But the idea of a teacher actually being a person apparently doesn't sit well with everyone, and recently, Shearhod posted a video saying he got put on leave from his school due to viewers calling in to his work to complain about his online persona.
"I make these TikToks to, you know, have fun, connect with my students, other teachers, promote healthiness, being a good father, all that kind of stuff, right? Well, some people, no matter what you do aren't going to like you," he explained. "So I had some people call into my HR — let's call them 'Karens' — and complain, and now I'm on leave. Which sucks, because I'm not going to get to say goodbye to the students I love and care for, but I know they're awesome and they're going to do great things regardless."
While it's unclear whether the "Karens" complaining were parents or nosy strangers, it's obvious from comments throughout Shearhod's videos that many of his students' parents are aware of his TikTok and, if anything, appreciate how engaged he is.
Either way, a number of people agreed that the school penalizing him for doing absolutely harmless things during his free time was both archaic and out of bounds.
"As a fellow teacher, I am so sorry this happened. It was so uncalled for," wrote @whitneysummer. "People need to normalize teachers having an outside life!"
"bruh it's none of the school's business what you do in your free time as long as it's nothing against the school or illegal like what," @hannah_potato128 agreed.
@edenthedoll chimed in to say Shearhod is "AMAZING and all you do is spread love and positivity! These schools should be encouraging and helping you not stopping you."
On the bright side, the TikTok teacher later told the Daily Dot that he's received over 50 job offers since getting put on leave and has accepted one in a nearby district. And it sounds like he has no plans to stop making his videos anytime soon.