Anyone heading home alone at night is potentially vulnerable. Even if you're perfectly safe, it can feel super creepy outside. And if you're not perfectly safe? that isn't something a lot of us want to think about, but it's good to have a plan for any scenario.
These TikTok users are trying to give people someplace to turn if they're by themselves and feel like they might be being followed, creating fake FaceTime calls for folks to play on their phones. That will give any potential stalkers the idea that someone is aware of where you and waiting for you at home—maybe even that they're been seen.
Good Morning America reports that one of the most popular TikToks like this was made by Mendy Perdew. She's made a few versions, usually with a close up of her face. In this one, she says, "Hey, I just got your text. Did I read that correctly? Did you say someone's following you?"
She provides a script for the viewer, prompting them to respond, "Yeah, I think so." "Do you need me to come out?" says Perdew. "It looks like you're right up the street from my house. Do you want me and Dave to come outside?'"
After the viewer is cued to say "yes," Perdew continues with, "That's not cool. I wanna get a look at this dude's face. I don't like that happening around here. Do you recognize the person at all?"
When the viewer says "no," Perdew answers that they're getting in the car to come pick her up and then they'll "ride around to see if we can figure out who it is."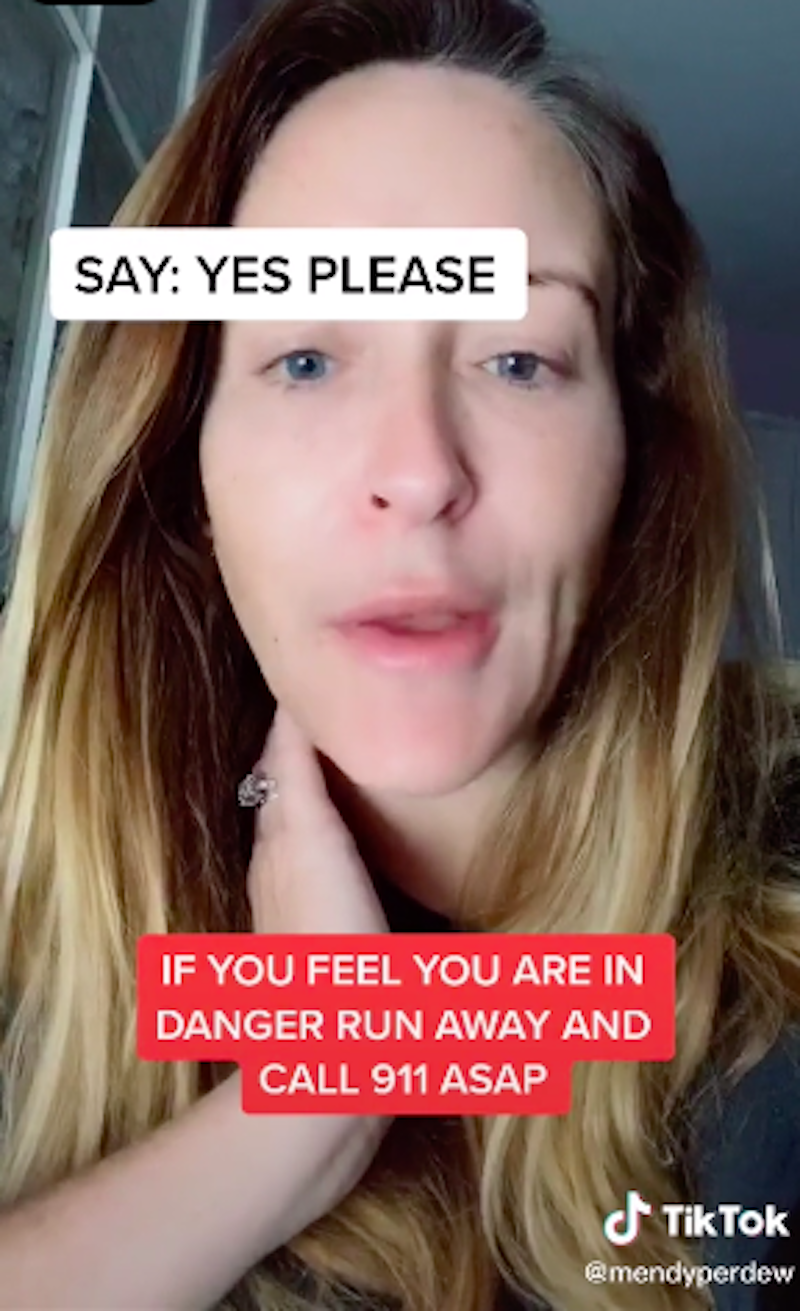 But there are a number of versions Perdew has made, including ones for kids walking home from school:
"My best friend and my mother work long hours and they find themselves in the dark walking across parking lots alone quite a bit," she told Mashable. "I do my best to always answer the phone, but life happens. I made the videos with them in mind hoping I could make a few more people comfortable crossing parking lots."
She also said that the popularity of her TikToks has led some people to comment that they've become more aware of their surroundings, which is a big part of safety.
Craig Conrad is a dad who has made similar videos for young people at college and heading to their dorms:
Of course, the safest option is to really FaceTime someone who knows you and where you are and have a plan for safely getting from place to place. Whenever you can, travel in groups, and yes, be aware of your surroundings. We shouldn't have to depend on TikTok to get us safely home.
More viral TikToks: