Stunt-like proposals can either go over big or fall flat, but one guy's viral proposal is leaving people divided.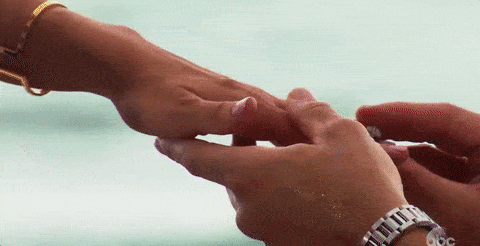 A man proposing with five entirely different engagement rings has gone viral for his over-the-top presentation.
"She Said Yes! Asked my best friend to spend the rest of our days together! & gave her 5 different options to choose from! @mz_miller I thought I knew what love was till you came into my life. Can't wait to see all the blessings that God has in store for us!"
In the background of the Instagram photos, there is, I am sure you will be shocked to learn, an actual helicopter.
In one photo, the man is on one knee with five entirely different rings. Another photo is of his newly minted fiance wearing all five rings.
The fiance wrote, "I SAID YES!!!! 💍 He proposed with not just one…. but FIVE rings 🥰 I had options."
The post then took off, going viral all over social media.
Some people thought the engagement was "cute."
Others were far more critical and thought it was because "he doesn't know what she likes" or he is indecisive.
Others joked about how over-the-top the whole thing was.
The couple, William and Britney Miller, visited CBS This Morning.
Gayle King said, "William, you are truly a blessing. It was very creative. To me, it sounds like that marriage is off to a very good start."
Of his visit to CBS This Morning, William wrote on Instagram
Never thought in a million years my and @mz_miller engagement would touch so many people. The support we've received over the last week is greatly appreciated, and to see @gayleking share it on CBS News is just 🔥 So humbled and thankful to continue this journey with my fiancé and best friend.