With lyrics like "Oh, look at her, she got the power" and "don't fuck with my freedom," Miley Cyrus' latest single "Mother's Daughter" aims to make a statement about self-love and confidence. But critics are claiming the presence of actress and model Angelina Duplisea in the accompanying video promotes a dangerous message about accepting obesity.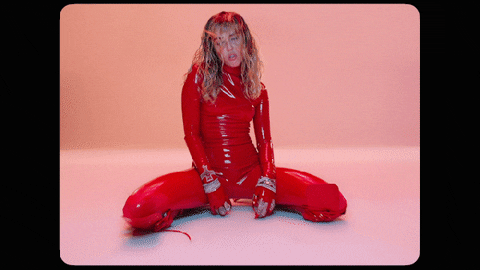 In Miley Cyrus' "Mother's Daughter" video, Cyrus—in a Britney Spears-esque red latex bodysuit—slithers among a diverse group of folks, including 6'7″ model Amazon Ashley, disabled and trans model Aaron Philip, skateboarder Lacey Baker, founder of Dear Flint Kids Mari Copeny, founder of Let's Talk Mother Melanie Sierra, and Miley's mom Tish. Phrases such as "You Are F*** Beautiful," "Virginity Is A Social Construct," and "Not An Object" flash on the screen.
Duplisea, who has 25k followers on Instagram, reclines nude on a divan, fanning herself. Her body is the sole focus of the lens, challenging viewers to confront their preconceived notions of what constitutes beauty. In a video intended to celebrate body positivity, it's a notable moment.
However, some Twitter users couldn't deal with Miley Cyrus' "Mother's Daughter" vid depicting a fat person in a sexually affirming way. In a now-viral Tweet, Pamela Umeh criticized the video.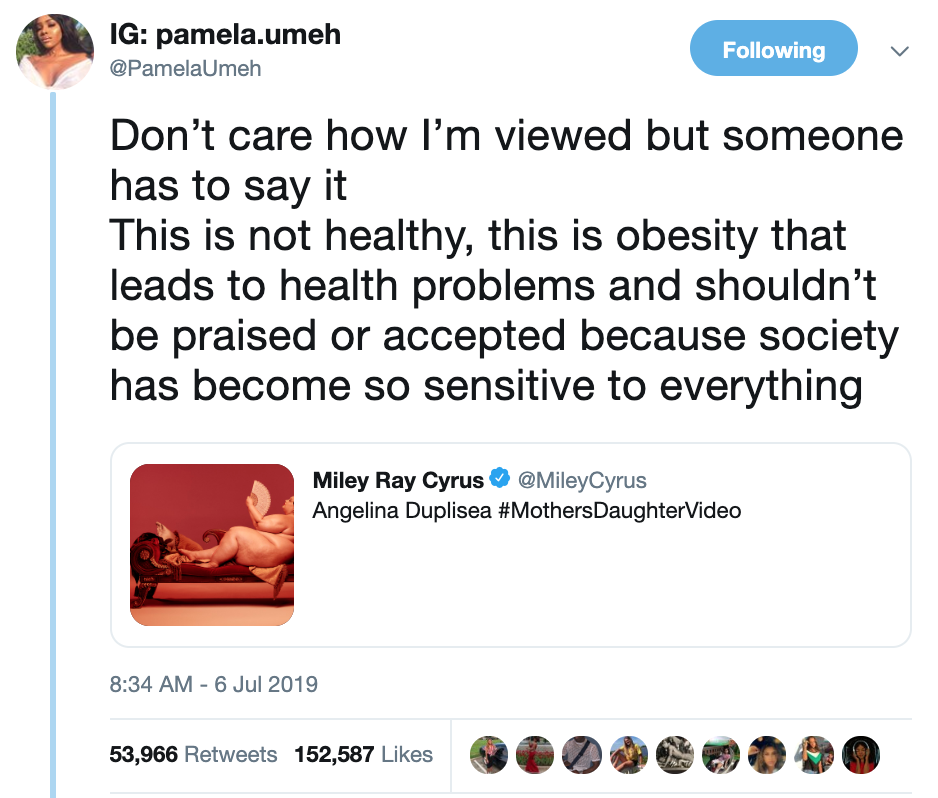 "Don't care how I'm viewed but someone has to say it This is not healthy, this is obesity that leads to health problems and shouldn't be praised or accepted because society has become so sensitive to everything," Umeh wrote.
*sigh* here we go again. showing fat bodies is not praise of obesity & related health problems. it's inclusivity. its representation. it's helping other people who look like her love themselves as they are and not be pressured into skinniness. fat people shouldn't be excluded +

— JJ✨ (@JusticeTierney) July 7, 2019
Do you really care about her health or you just felt you needed to make a comment about her size.

— SophiaTheFirst🌷 (@_okochasophia_) July 7, 2019
And while she deals with obesity, should we throw them out of the society? Or did you filter your brain so much that you can't understand the LOVE is needed in this world where cruelty is ruining humanity?

— #sayNoToViolenceAgainstWomen (@gbangucci) July 7, 2019
Few years ago I was seriously overweight and battling depression..I went to my Dr. for something unrelated. Soon as I walked in first thing he said..you need to lose 50lbs immediately. You know what..he was absolutely right. My feelings were hurt but he might have saved my life

— Tony Uptown (@UptownGooner) July 7, 2019
Others noted that size doesn't necessarily correlate to health and it's really only an issue to be discussed between a doctor and patient:
Skinny does not equate to healthy
And fat does not equate to being unhealthy
Read that again

— very rare🧩 (@quelinfluential) July 7, 2019
Cyrus and Duplisea took to social media to share a message that Duplisea wrote in response to criticism of Miley Cyrus' "Mother's Daughter" video: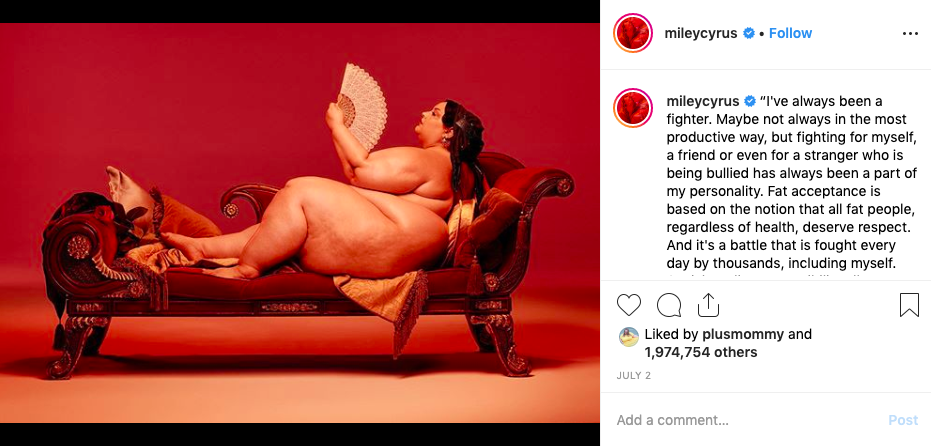 "Fat acceptance is based on the notion that all fat people, regardless of health, deserve respect. And it's a battle that is fought every day by thousands, including myself […] People just love to leave awful comments on fat folks photos in order to feel superior and I promise you, not one of these commenters actually cares about the health, family, environment or whatever bullshit reason they give for their vile behavior towards a fat person."
Alexandre Moors, who directed Miley Cyrus' "Mother's Daughter" video, told the Los Angeles Times that the video is about "the right to own your own body and make it free from the male gaze, in any way shape and form."
Cyrus herself has called the video a "feminist anthem." The song, which Cyrus co-wrote with Finnish singer-songwriter Alma, is from her latest EP, She is Coming, which was released in May.