We've all gotten texts from numbers we don't know.
And, you know, sometimes it can get awkward…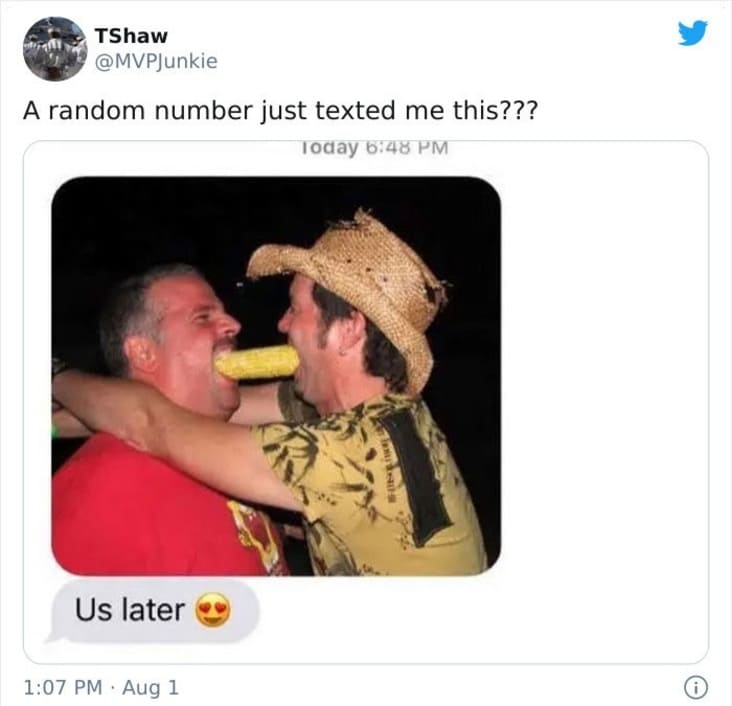 And other times they can be incriminating…

Not long ago, a man named Zachary Garrett posted some screenshots of an amazing interaction he had with a total stranger to Facebook, right around the birth of his baby was coming into the world. The images are of a group chat started by his grandmother, named "Meemaw" in the texts, which was supposed to just keep family members updated about his wife's progress in the delivery room.
Meemaw wrote:
"Yeah, can't wait. I know y'all are anxious. Love you both."
Garrett replied:
"We love you too! She was already at a 4 when they first checked her so it will probably be quick."
Then a surprise visitor weighed in.
It was a man named Bobby, who sent a picture of himself drinking from his water bottle and a message.
"Don't know how I got added to this group, cause I don't think I know anyone in it!! LOL But anywho CONGRATS ZACH!! My name is Bobby, by the way, shoot me your cashapp info and I will donate to the diapers," he wrote.
Meemaw obliviously followed this wonderful message and offer with another comment on the speed of births, but Garret was embarrassed. He apologized and explained that his grandmother had accidentally added his old Air Force number to the chat. But Bobby didn't mind.
"Anytime another life comes to us is a blessing and a beautiful thing!" Bobby wrote. "Just happy to see people happy! I'm serious tho, I will donate to the diapers cuz you can't ever have enough LOL."
https://www.facebook.com/photo.php?fbid=2550713764965996&set=ecnf.100000821938902&type=3&theater
Garrett thanked him profusely, but Bobby just replied, "You're welcome take care of your family is all I ask."
What a sweetheart. Garrett sent pics of the baby and his wife to the thread, so Bobby could see who the diapers were going to.
https://www.facebook.com/photo.php?fbid=2551879558182750&set=a.170246166346113&type=3&theater
https://www.facebook.com/photo.php?fbid=2551879564849416&set=ecnf.100000821938902&type=3&theater
The pictures and posts have been shared thousands of times, because folks love an accidental text story that doesn't end in an unsolicited d*ck pic or a hostile message. When people take the time to be kind, it makes a big difference in how others look at the world. Welcome, baby, to a loving universe.