Many of the rules of etiquette have long since been abandoned. Add in some social anxiety and it's clear that some people honestly don't know how to act when greeting someone. If they've got a companion, do you say hi to that person, too? What if you don't know them, though, or, worse, what if you've met them but don't remember their name?
A tweet asking that exact question has gone wildly viral, racking up over 144,000 retweets and 19,000 likes. That's a strange ratio, because the number of likes usually greatly outnumbers the retweets, even on the most popular of tweets.
But here's why: the tweet, sent by a user named Lindsay (@lindsaysturg) reads, "Is it rude for a girl or guy to say hi and hug your significant other but not acknowledge you? RT if yes, like if no. Trying to prove a point."
is it rude for a girl or guy to say hi and hug your significant other but not acknowledge you

rt if yes
like if no

trying to prove a point

— lindsay (@lindsaysturg) July 26, 2018
So the number of retweets is so high because most people think that YES, it is definitely rude for someone to say hi to your partner and not you, and the hug just puts it over the top. Acting like you're not there, especially while talking to someone like your significant other (not just a random acquaintance) is absolutely not a polite thing to do.
And the fact that Lindsay added, "Trying to prove a point" lets us know that she was clearly ignored by someone greeting her significant other, and she's not a fan.
The majority of people agreed that, yup, it was ill-mannered.
girl if you arguing w your s/o over this and they say no, y'all got an issue😭

— B (@bella_elenaa) July 27, 2018
I watched this happen yesterday & it made everyone standing next them very awkward.

— Payton Burgess (@_burgesspt) July 27, 2018
greeting and hugging my s/o? fine by me. not acknowledging me? not fine by me

— yenna 😤 (@jenna_katarina) July 27, 2018
It's very awkward when someone says hello to your significant other but not to you.. because it's like "hey I'm standing here a hello doesn't hurt to be said" just common courtesy

— Joy 🌹 (@JDarlinggg) July 28, 2018
Someone even added a poll tweet to measure what people thought, and the outcome was overwhelmingly "RUDE."
is it rude?

— sydney (@sydsanti) July 26, 2018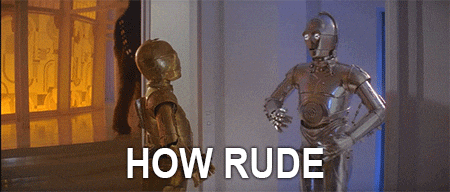 The general feeling seemed to be that it was okay if the person hugging your s.o. didn't also hug you, too, if you don't know them. But the ignoring part was just not OK.
I suppose it depends on if they know me or not, if they don't know me I don't expect them to hug me but regardless I DO expect them to acknowledge me in some way, shape, or form

— Sarah (@sarbearsteed) July 28, 2018
she's gonna full on HUG him and not even look me in the eye?? nah.

— k (@kristina__bae) July 28, 2018
They should acknowledge you but unless y'all are friends I wouldn't really want to hug them 😅 just a hello is good

— Carkthehungriestshark (@Care_200022012) August 1, 2018
One woman quickly pointed out that, actually, it's pretty rude of your s.o. not to introduce you if this happens. Her take got a lot of support from others.
It's rude for the significant other to not immediately introduce you.

— Laura Talbot (@mslaurascakes) July 28, 2018
This. I'd understand if they're closer friends with your partner and not you, but your S/O should introduce you nonetheless so you guys could get acquainted, and maybe even make things not feel as awkward.

— Calvin T (@Potehto) July 29, 2018
And other people thought that behavior was rude, even if you were with someone who wasn't your boo, but just a friend or whatever.
Even if it wasn't your bf/gf . If I'm with a friend and their friend speaks to them and not me and I'm standing there that's rude

— 🌻 (@leeciyah) July 28, 2018
Lol that's just rude in general. Even if the other person wasn't your significant other. If somebody comes up and your friend (person you're with) and they start carrying on a convo completely ignoring you. At least say hi smh

— Ambria Duncan (@AmbriaDuncan) July 31, 2018
But the tweet does have a whole lot of likes, too, so that means some people think this behavior is fine. Like this person, for example.
I never thought so? I mean, it was a guy hugging another guy and I didn't know him so surely that's fine?

— L (@lallyalley12) August 1, 2018
But is it ok to not acknowledge you at all?

— Levi (@LeviDekingLeaf) August 1, 2018
I thought it was

— L (@lallyalley12) August 1, 2018
Some people really didn't care.
Meh, I wouldn't care.

— A (@rougefoxette) July 31, 2018
But here's how we know for sure it's rude:
I do it when I'm trying to be rude so yeah

— ca§§ (@_thegreatcassby) July 31, 2018