There is no shortage of unusual, pervy, and outright befuddling conversations around the web. Whether the screencap in question of of a Snapchat conversation, a Tinder/Instagram DM, or a straight-up text message, the world's (men's) capacity for shooting their shot, often unprovoked, defies boundaries.
Sometimes these messages are from exes, desperate for a second (or third…or fourth…) chance. Sometimes, they are from complete randos who have a lot of time, not enough attention, and a desire for nudes. And sometimes, they just…must be seen to be believed.
Such was the case with Twitter user @NatalAbusaada, who shared a recent Snap of a conversation between her and a dude named Jon.
I'm at a loss for words this is by far the weirdest snap I've ever received in my life pic.twitter.com/GLLUu2WLGJ

— natle (@NatalAbusaada) January 4, 2019
Jon claims to have an uncle who works as an executive for  Sephora and also holds a share in Urban Outfitters (???) and could thus get free swag for Natal…provided she send him fart videos.
"ok my uncle is an executive for Sephora and has a share in Urban, so if you want you can pick whatever you want from their site and send pics of everything," he wrote. "I'll let him know and he'll get it from the warehouse. I can mail it to you or he can send it to a Sephora/Urban near you with your name." Ok, so far so good. "He sends my sister free stuff to try out all the time that she keeps." Kinda weird to mention that she keeps it, but ok.. "Just send lots of snap vids of you farting. I'll get u everything u want."
We do not condone kink-shaming (to each their own!), but a word of advice to Jon: don't put yourself out there with such aggression and not expect consequences.
A reply to Natal's tweet also dredged up Jon's Tinder bio:
We know this is Jon, because of the uncle/Sephora/UO connection. But we also learn that no, Jon is not joking, and is also willing to date a lucky girl rather than just getting her free makeup and fast fashion. Jon also claims that he "can probs b ur sugar daddy," though the free stuff is coming from his uncle, so we're skeptical.
parents gonna walk by her room like pic.twitter.com/H9Vmr2KX8E

— danny (@danielbaylock) January 5, 2019
Oh, and he's a finance major. A fact Twitter delighted in.
Everyone else just encouraged Natal to do the right thing.
Since the tweet went viral, it was revealed that Jon tries this tactic on many an unsuspecting young woman.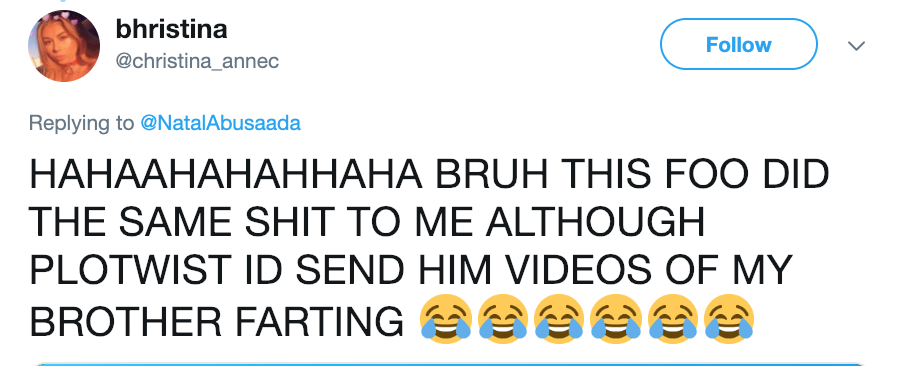 Unsurprisingly, it never works.