Do you miss going to concerts? The energy in the air, the excitement of the crowd, the chance to hear your favorite musicians in person? As some countries start to ease COVID-19 restrictions, event organizers are coming up with creative ways to keep fans safe and reinvigorate the music industry.
A new UK pop-up venue, the Virgin Money Unity Arena, is testing out how to have a concert during a pandemic, and on Tuesday 2,500 fans gathered at the outdoor venue for what people are calling the UK's first socially distanced concert.
The UK's first socially distanced concert is happening now in Newcastle.

Attendees have their own private viewing area with 6-feet of space between them.

A whole new world…pic.twitter.com/JD8UNGXJdF

— Rex Chapman🏇🏼 (@RexChapman) August 12, 2020
Musican San Fender played to a crowd that was cornered off in groups of five and seated in individual metal platform areas. This might sound carceral, but in reality it actually looked very nice. Or maybe my brain is warped from being in quarantine for so long, who knows.
"I will miss the mosh pits," Fender said in an interview with the BBC before the show, "but they will come. They'll eventually come back when we're allowed to do it again. I think it's fantastic that our region is going to lead the way on this, and we'll be the trailblazers for something that will hopefully continue on through the rest of the pandemic. It's not going to be the same as a gig you would normally have, but we've got to do what we can do."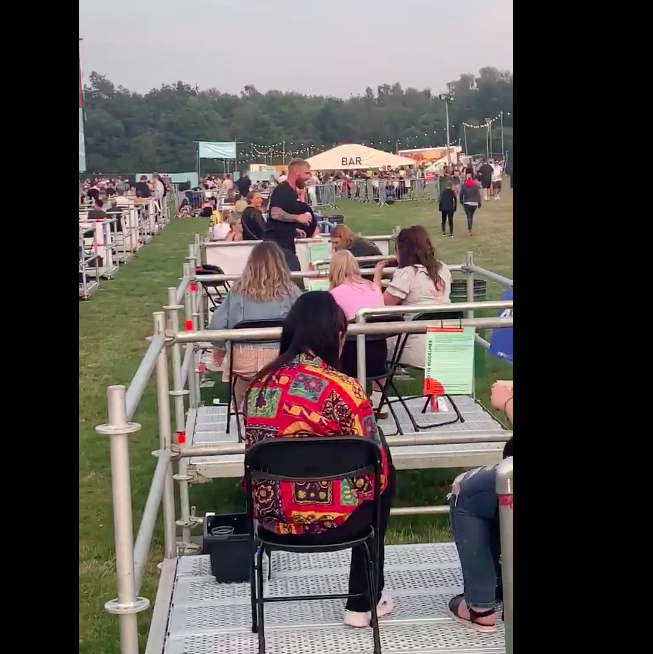 On arrival, cars are parked two meters apart before patrons are led to their own private platformed viewing areas. Snacks and drinks can be ordered beforehand or by using an app. Patrons were asked to wear masks and stay in their sections.
"We are delighted to play a part in bringing back live music events as we start to emerge from lockdown," said Helen Page, group brand and marketing director at Virgin Money. "This feels like a unique opportunity to celebrate music and all the wonderful emotions that come with experiencing it live alongside other music fans."
Enjoy More Trending Memes & News, Or Don't, Your Choice