Oh, Blockbuster. I spent so many weekend nights aimlessly wandering through the store with friends wondering if we should watch a classic or go for a new release. Maybe we wandered for at least an hour—that was part of the experience. Watching which videos other people picked. Making fun of stuff. Deciding on which candy to buy. It was an entire experience.
If you miss Blockbuster and live near Oregon, there's some good news. The last Blockbuster in existence is now on Airbnb—and you can stay there for a short time.
Located in Bend, Oregon, the Blockbuster is transforming into a nostalgic space you can stay overnight in. Sandi Harding, the store's manager, is offering three one-night reservations in September to thank her local community.
"In appreciation for all that the local community has recently done to support the last-of-its-kind during these uncertain times, this end of summer sleepover will offer movie lovers in Deschutes County the chance for a 90s-themed stay to relive the bygone Friday night tradition just as we remember it," read a press release.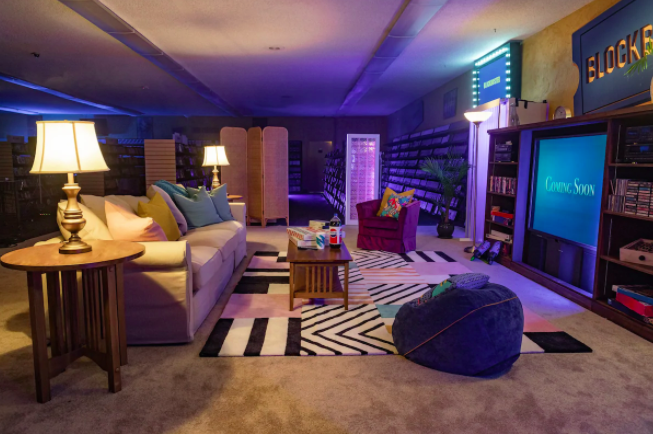 Starting August 17th, Deschutes County residents can reserve a stay for $4 on September 18, 19, and 20. Guests will have the entire store to themselves, and it will be cleaned up according to COVID-19 standards.
"As the last standing location in the world, our BLOCKBUSTER store is an ode to movie magic, simpler times and the sense of community that could once be found in BLOCKBUSTER locations around the world. Over the past few months, we've been missing the regular visits from friends, neighbors and tourists from around the world. So, we're opening our store to three quarantine pods of Deschutes County guests for a socially-distanced movie night, just like those of decades past," the Airbnb listing says.
And there's chips and candy!
"Whether you want to stay up until sunrise or pass out on the couch, we've created the perfect space complete with a pull-out couch, bean bags and pillows for you to cozy up with 'new releases' from the '90s," the description reads. "Crack open a two-liter of Pepsi before locking into a video game, charting your future in a game of MASH, or watching movie after movie. But be wary of reciting 'Bloody Mary' in the staff bathroom off of the break room, as you just may summon the ghost rumored to haunt the store. And help yourself to some NERDS, Raisinets and popcorn (heavy on the butter), but make sure you save room for a couple slices."
After the other remaining Blockbusters closed their stores in Alaska and Australia, the Blockbuster in Bend became the actual last, shining beacon of its kind. It has remained open during the COVID-19 pandemic with curbside pick-up—to many customers' delight.
"I had a customer come in and she said, 'I am so grateful that you reopened because I couldn't flip through Netflix one more time,'" Harding said to Vice back in May.
But it gets even better. To pay it forward, Airbnb will make a donation to the Humane Society of Central Oregon, which this Blockbuster has been partnering with for years. So make your reservation and then argue about which pizza toppings you should get.
More '90s stuff: