People across the political spectrum may disagree on how to deal with the immediate economic fallout of the coronavirus pandemic, but nobody is denying that it's wreaking havoc on individual Americans and families who are struggling just to stay afloat.
That Congress still hasn't come up with an additional stimulus package shortly after the enhanced unemployment benefits ran out, and months after the measly $1200 checks most Americans burned through is beyond frustrating. That Senate Majority Leader Mitch McConnell adjourned the chamber for recess until September without devising any sort of plan is downright reprehensible. And the fallout is being felt across the country.
Washington Post reporter Jeff Stein took to Twitter recently to share screenshots from the r/Unemployment subreddit, highlighting just how dire things have gotten for too many people.
"I'm on way to another state for a medical emergency with my fiance and I'm broke," wrote someone from Georgia. "Tomorrow my $250 comes in. The $600 pua was keeping her medicine in stock. I can't afford one copay."
Post tonight from Georgia on r/unemployment pic.twitter.com/8NBr9seiOV

— Jeff Stein (@JStein_WaPo) August 12, 2020
Multiple people posting on the boards expressed not only concerns about losing everything they have, but having it drive them to the point of being suicidal.
California. "toaster bath." Posts like these are increasing. If you are reading this and in need of help, call the National Suicide Prevention Lifeline: 1-800-273-8255 pic.twitter.com/ulAjm8rTEp

— Jeff Stein (@JStein_WaPo) August 12, 2020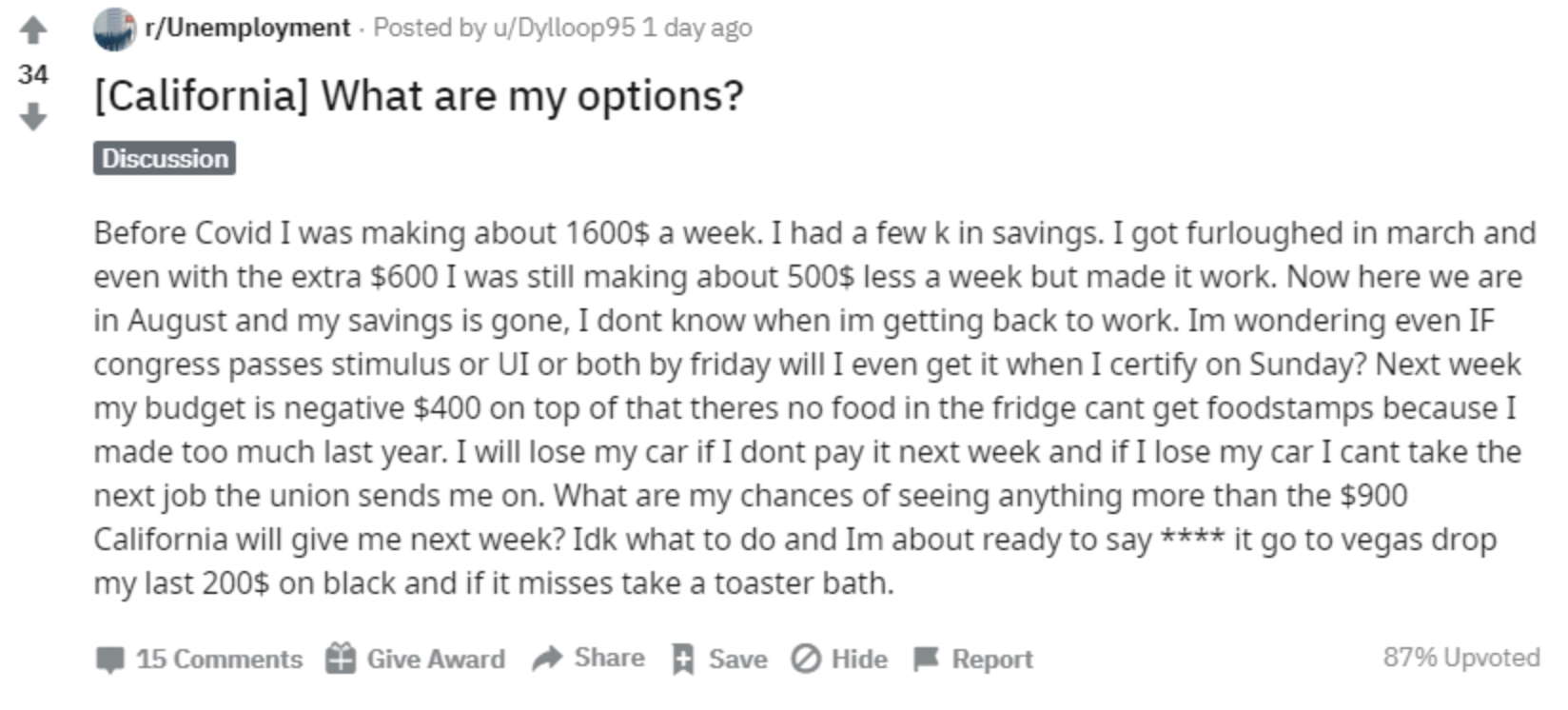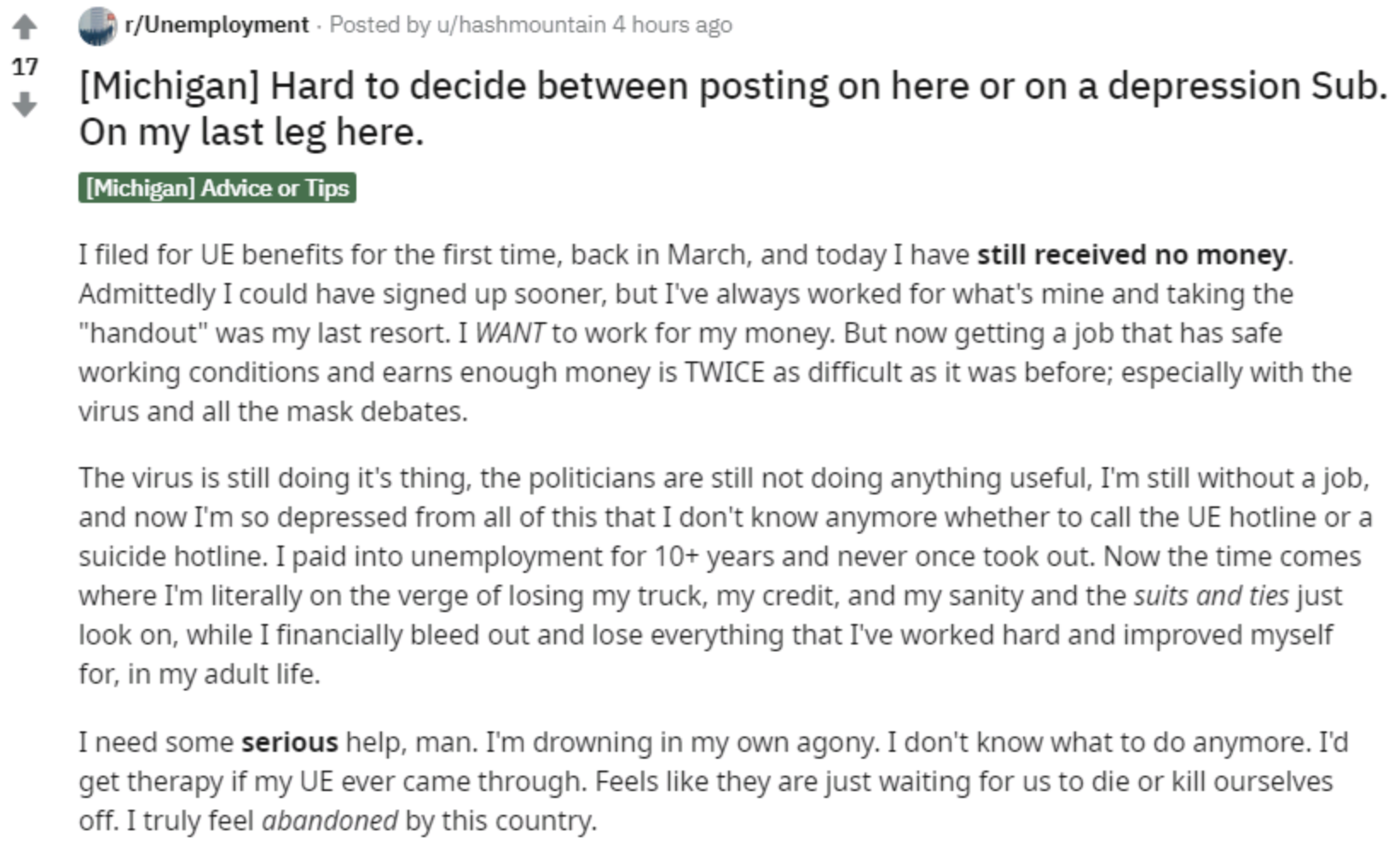 The posts are also revealing how broken the United States' system of helping its citizens was even before the pandemic came around, and how too many people are only a paycheck or two away from falling into a hole that becomes almost impossible to dig themselves out of.
"I will lose my car if I don't pay [for] it next week and if I lose my car I can't take the next job the union sends me on," said the above user from California.
Another person stressed that they were having to choose between paying their cell phone bill, buying food for their family, and trying to buy costly insulin — and said they ultimately had to choose the cell phone bill because it was the only way potential employers could reach them.
Please read this one. From somewhere in the United States of America. $18.91. pic.twitter.com/C6yqfaNKnH

— Jeff Stein (@JStein_WaPo) August 12, 2020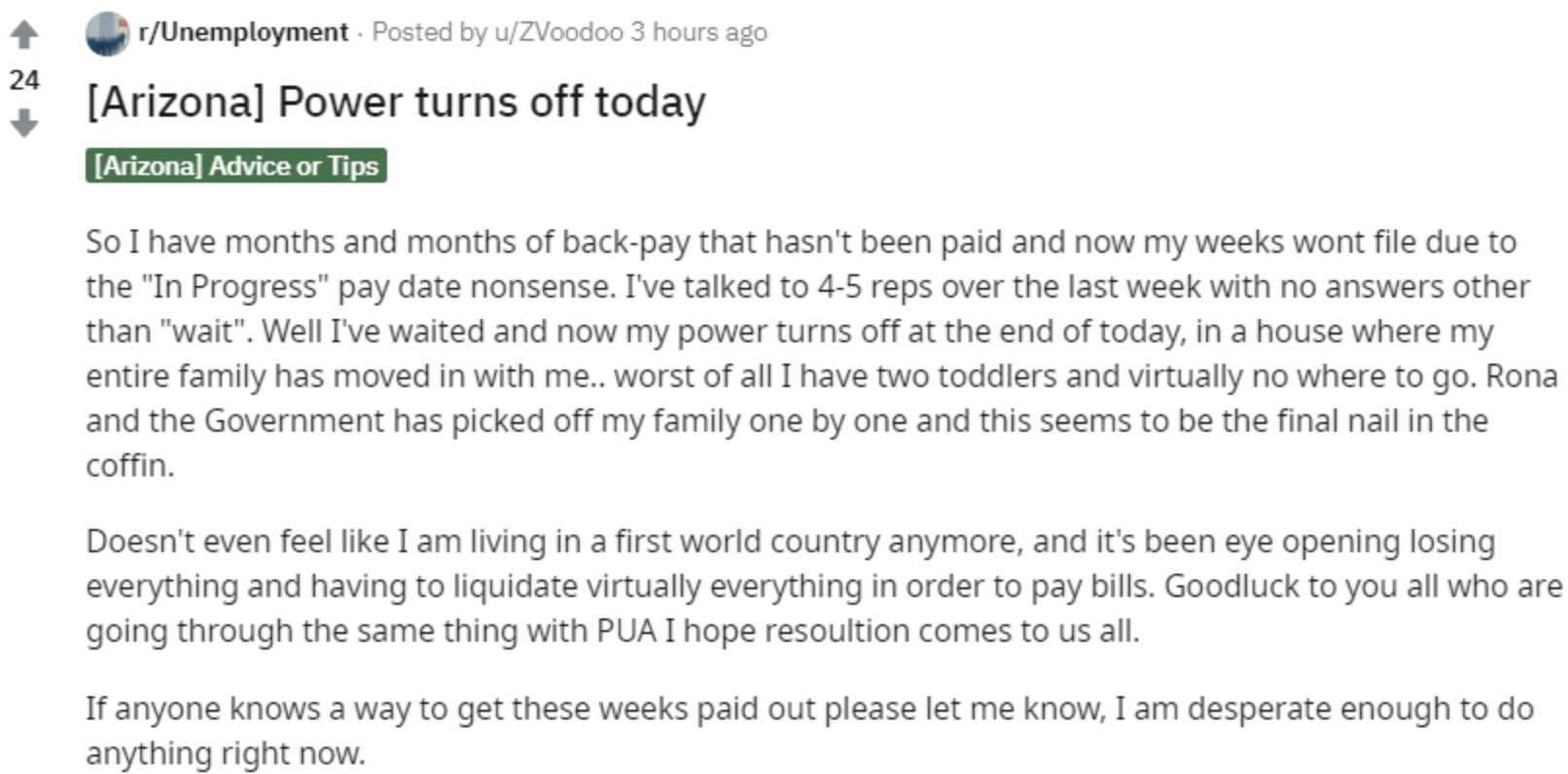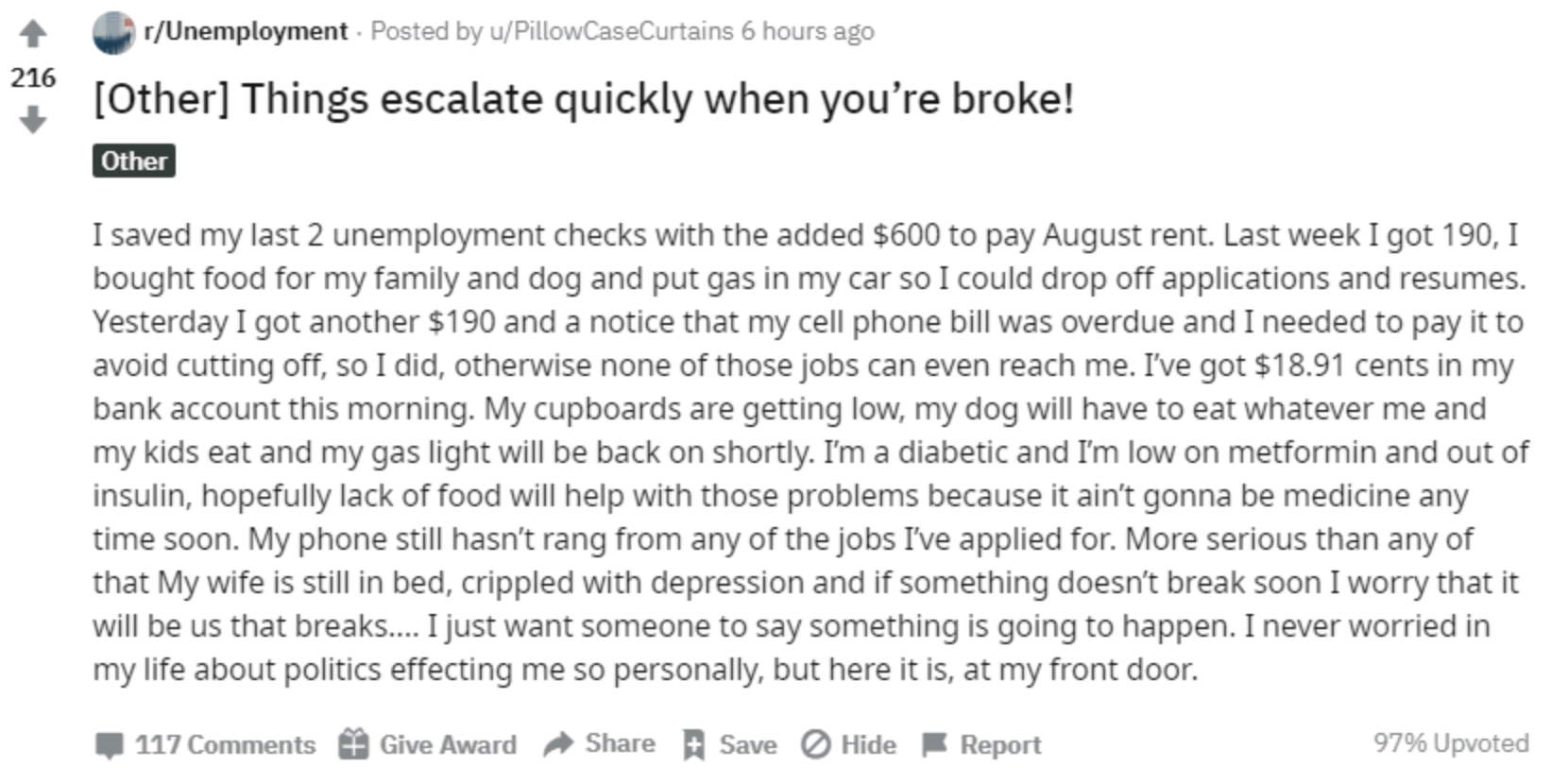 South Carolina. pic.twitter.com/gRrnNux3FO

— Jeff Stein (@JStein_WaPo) August 14, 2020
Up to 40 million people may be facing eviction in the coming months without governmental assistance in what the Aspen Institute says could be the most severe housing crisis in history. Federal protection against evictions ended last month, and while some states still have their own eviction bans in place, they can't last forever, and there has been no move to cancel rent.
But these accounts are showing that even staving off eviction isn't enough — millions of people will still be struggling to pay for their day-to-day essentials, while corporations get huge bailouts and billionaires get new tax cuts.
This one from the DMs. Woman with an infant torn between paying her utility bill and for his diapers. Sharing with her permission pic.twitter.com/DqxbQ1Gp5T

— Jeff Stein (@JStein_WaPo) August 13, 2020
Both federal and local governments in the United States have historically failed to prioritize affordable health care, enact effective rent control, and ensure that anyone struggling to afford food, housing, or other care for their families can find solid ground not just to stand on, but to build on.
The pandemic has both exposed and exacerbated these devastating ways in which our country has repeatedly failed its citizens, on a massive scale, but it's narrowing it down to these heartbreaking individual accounts that drive home just how bad things have really become.
Somehow, I don't think another $1200 is really going to solve things for anyone.
Enjoy More Trending Memes & News, Or Don't, Your Choice