There's a new term in town and it's in honor of Dr. Anthony Fauci, director of the National Institute of Allergy and Infectious Diseases and head of the White House's Coronavirus Task Force.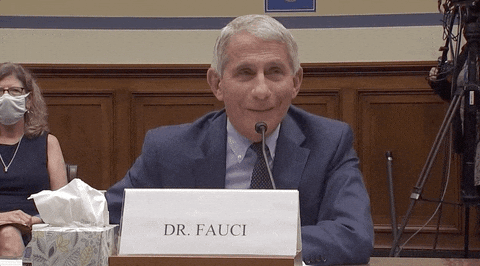 What is "Getting Fauci'd?"
The man himself had never heard of the term until an Axios reporter brought it up in an interview.
Basically, being Fauci'd is a term in the dating world for dropping someone because of their views on COVID-19. And the doc looooooved it.
Look at this big grin.
He responded with "I'm gonna Fauci you," correctly using the term in a sentence.
Here's an example of what "getting Fauci'd" means:
You're talking with someone on Tinder, they seem fun, you have a lot in common and when it comes time to meet up, they refuse to get COVID tested and want to dine indoors.
Oh no, not poor Craig!
The term is a reference to Dr. Fauci's serious precautions surrounding the spread of COVID-19 and reminds us there are some new dating rules to learn.
Fox News even got word of the term.
Oh no, it is not made up at all, friend.
Some people are embracing this new term and dating style and others realize they've been Fauci-ing for some time.
Dating platform Plenty of Fish even got in on the fun, devoting a tweet to the viral dating term.
Anyway, remember to wear a mask (or two!), social distance, stay home unless absolutely necessary and take care of each other.