After the FBI asked for help in identifying the people who mounted an attack on the Capitol last week, plenty of Americans were all too ready to help. They pored over photos and videos, circulated them among their social media followers to look for clues, and came up with positive IDs on more than one occasion.
But the dating app Bumble apparently wants nothing to do with it.
The popular service removed its political affiliation filter after women in Washington, D.C., began using it to identify MAGA men who were clearly in town for the protest-turned-riot.
D.C. resident Alia Awadallah was among those who noticed the influx of Trump supporters on Bumble the day after the riot took place.
"Some say it directly, others are obvious from MAGA clothing, location tags, etc," she wrote. "Is that info useful at all for law enforcement?"
I assume some used Tinder in DC and others just had apps open so location updated automatically. None posted any incriminating evidence of illegal acts, but are police tracking this? Is it useful as a starting point?

— Alia Awadallah (@aawadall) January 7, 2021
It's funny how obvious it is when people aren't local. My app went from real estate agents, accountants, and contractors to…none of that.

— Alia Awadallah (@aawadall) January 7, 2021
Another user replied to Awadallah's tweet to say that a friend of a friend was actually actively seeking out MAGA bros on Bumble and convincing them to send her photos from the Capitol.
"She's sending them to the FBI."
Get in girls. We're going hunting. pic.twitter.com/qIjmiXNoSV

— Dr. Lisa Corrigan (@DrLisaCorrigan) January 14, 2021
Of course, not all of the rioters needed much convincing. These are largely the same people who bragged about their exploits on social media as they were happening, and many seemed eager to continue doing so even after their insurrection failed.
This guy needs to be visited by the FBI pic.twitter.com/M7RSmi6MbG

— Grace Newbold (@GraceNewbold3) January 10, 2021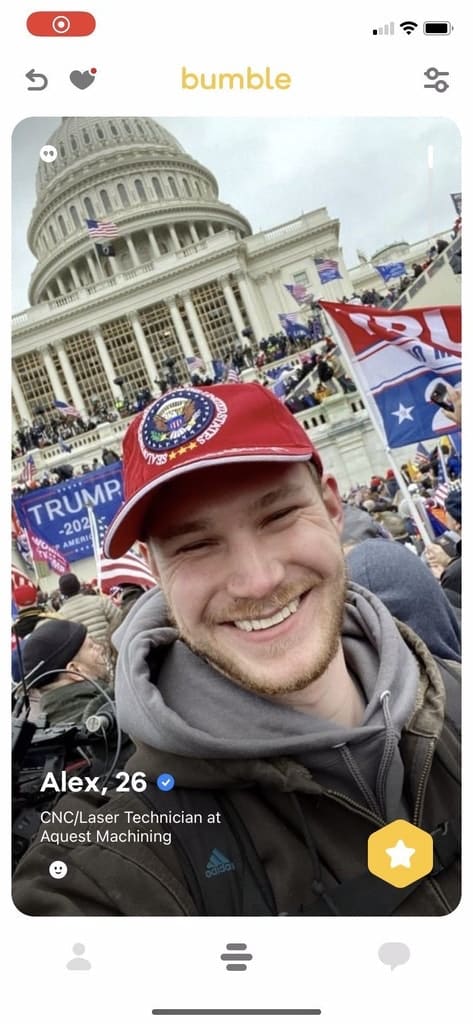 The Daily Mail reports that 26-year-old Brandon Fellows has been posting photos of himself inside the Capitol to Bumble and boasted in an interview that his profile has been "blowing up" ever since. He doesn't seem to have been arrested yet, and says he plans to go back to D.C. to "protest" the inauguration as well.
And surely he's not the only one openly posting pictures from the Capitol on his dating profile — but Bumble is making it harder to seek out those who are being so bold as to gloat about breaking into a federal building in an attempt to overthrow the results of a democratic election.
They say they've "removed any users that have been confirmed as participants in the attack of the US Capitol," but…is that enough? Or is it merely concealing evidence?
We've temporarily removed our politics filter to prevent misuse. However, please rest assured that we prohibit any content that promotes terrorism or racial hatred, and we've already removed any users that have been confirmed as participants in the attack of the US Capitol.

— bumble (@BumbleSupport) January 14, 2021
More high-quality links you may or may not enjoy: