Melody Marie Black, a Minnesota woman caught on tape at the Capitol riots, found herself in yet another viral video this week. This time, she was featured getting kicked off her flight home from Washington DC to Minneapolis.
In case you hadn't heard (because you were in a coma or on one of those fancy retreats with no WiFi), a group of so-called "patriots" stormed the Capitol Building in Washington DC on Wednesday, January 6th. They got in. Partly, because the Capitol Police were like "No. Stop." like Daria or Willy Wonka. Their inability to stop the protesters felt almost sarcastic, as seen in this video recapping the events:
New footage shows what it was like inside the Trump mob at the Capitol pic.twitter.com/GFvMBZ7YYA

— Insider News (@insidernews) January 8, 2021
At the tail end of that clip, you can see Melody Black, proud of what she's doing. Her week got a lot worse.
Capitol Hill rioters are facing the consequences for their actions, and those consequences are becoming viral videos for all to enjoy:
---
Melody Marie Black, proud Capitol Hill rioter, can be seen here excited to be a part of something historic: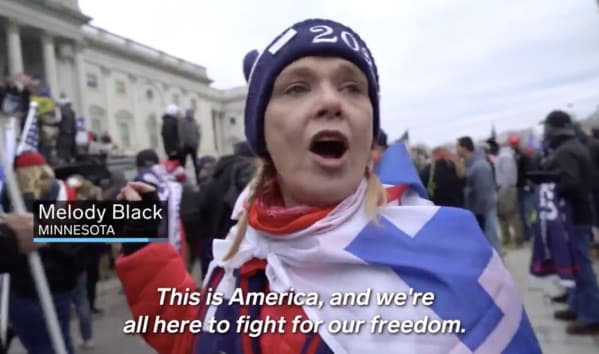 She, along with a mob of hundreds of people, breached the Capitol over the results of the 2020 election. The Senate eventually certified the results at around 3:30 AM, but only after the riot left 5 people dead, including a police officer.
I watched the entire thing on TV while also working at this very website. I needed to compile the funniest tweets of the day about being in your 30s, you see. I was distracted, I'm sorry to say, by the fall of Rome shown on CNN. I was, as the kids say… shook.
I bring this up because the people at this protest were not fazed at all.
Here's a clip of all of them partying afterward on the very same day.
Pretty chill vibe here in this hotel lobby, as Trump supporters decompress from today's events. All are violating local mask rules, despite multiple massive signs about the mask rule. pic.twitter.com/R98rwGDgaD

— William Turton (@WilliamTurton) January 7, 2021
The Hyatt? Folks. There's a Trump Hotel in DC! Where's your loyalty?
This fulfilled the prophecy spoken by CNN anchor Anderson Cooper, who claimed all these people would go to "Olive Garden tonight" as if nothing happened. They were in a hotel lobby, but the fact remains: people who attempted to stop the lawful democratic process through violence, went back to their lives as if nothing had happened.
Unfortunately, Melody Marie Black found herself in front of a new hurdle. Getting home:
Group from the insurrection gets kicked off plane. pic.twitter.com/Nenpochgtc

— TheWillOfSkrong (@AnonSkrongus) January 10, 2021
The video apparently shows Black being asked to leave the plane after being identified as someone who committed a crime on TV and then said her full name for the camera. Unfortunately, that's a no-no for Delta.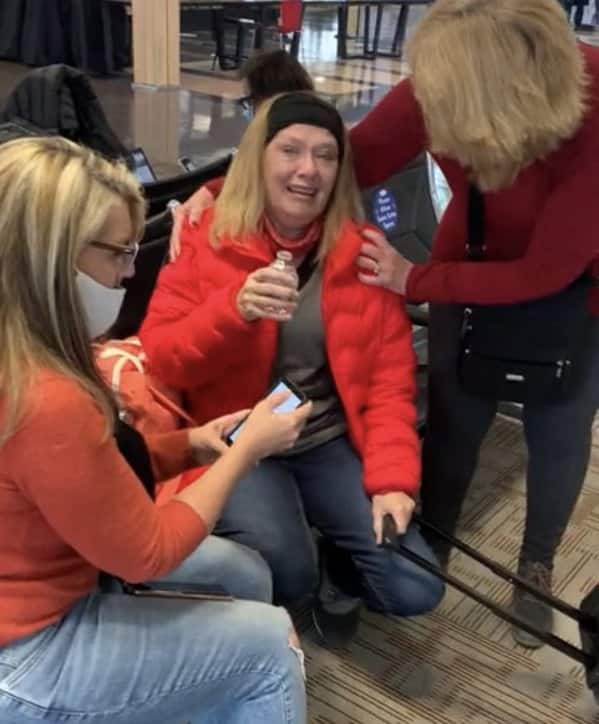 I know you might feel bad for her and for others who thought they were doing the right thing. You'd think that must have been the lowest point in her life. Sadly, you're incorrect. She was interviewed at a previous rally in 2019, and she drew a line in the sand then.
Here are all her thoughts on what's going on in this country right now:
This is Melody Black, a Trump supporter from Red Wing. She said Muslims were responsible for 911 and that Rep. Omar was part of Hamas…and more! (I'm clumsy, wasn't set up so half of it is off camera, you can hear her though).

There is a perfunctory "fake news" at the end. pic.twitter.com/3JKUgMXN61

— Jared Goyette (@JaredGoyette) April 20, 2019
Yikes. Tough to feel bad for anyone who's devoted so much time to hating other people. Black was one of several people featured in viral videos of authorities at the airport refusing service to criminals. Those videos included this guy who we all later found out wasn't kicked off strictly for his role in the riot, but for refusing to wear a mask during the flight.
The viral video of a man getting kicked off a flight was viewed 15 million times:
People who broke into the Capitol Wednesday are now learning they are on No-Fly lists pending the full investigation. They are not happy about this. pic.twitter.com/5GfHo1eVU8

— Ray [REDACTED] (@RayRedacted) January 10, 2021
The riot must have emboldened him enough to think he could get away with such an affront.
The man in that video wasn't just upset that he was facing consequences for his actions, but also upset that they "called him a terrorist." Not sure what name you want to give occupying a federal building to scare the government into doing what you want, but here we are.
Don't fret. Soon we'll all be back to flying around the world, and the only reason we'll be forcibly removed from a flight will be because it was overbooked.
---
More high-quality links you may or may not enjoy: